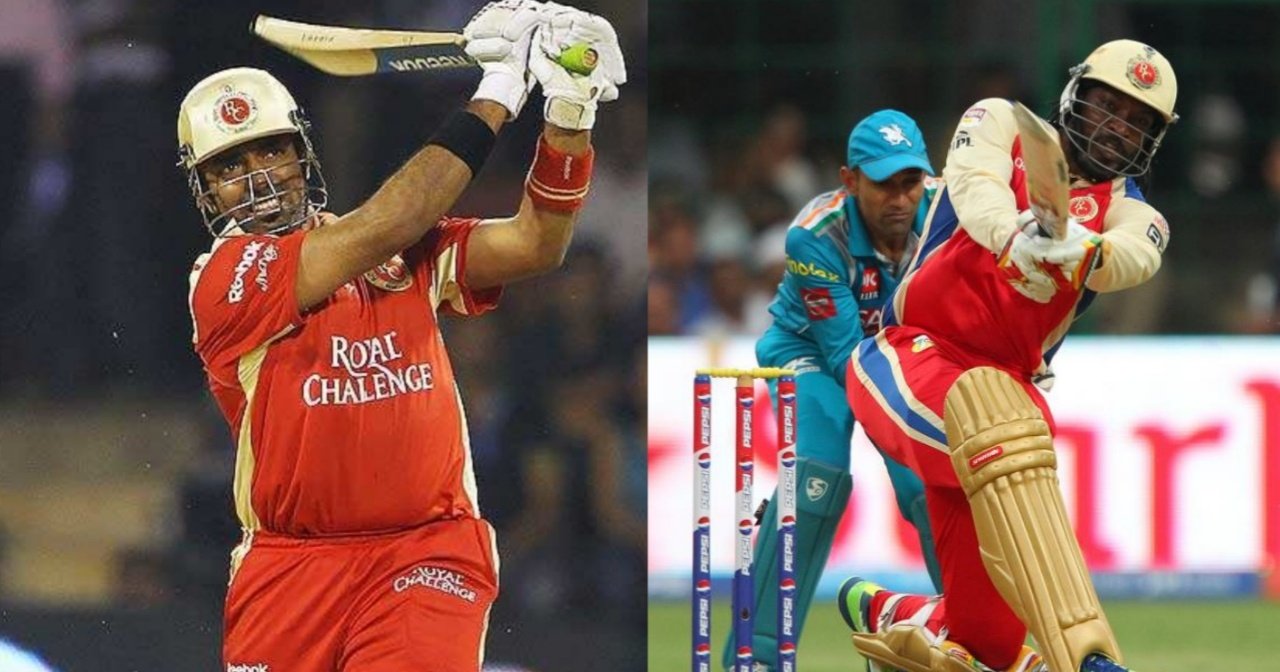 Royal Challengers Bangalore are one of the most entertaining teams in the Indian Premier League. Although they have not won the trophy yet, they have come close to it on a few occasions. A team that has always relied on its batting exploits to produce the preferred outcome, RCB is the owner of multiple batting records. A few RCB cricketers also have scored some of the fastest IPL fifties.
There was a time when RCB had a feared batting line-up. Almost every game they turned up, a record or two used to tumble. While the batting line-up is still good, the impact is now sporadic. In this article, we take a look at the top five fastest IPL fifties by a player for RCB.
5) 22 Balls – AB de Villiers vs Rajasthan Royals, IPL 2020
It is hard to score runs when you are under pressure. But for men like AB de Villiers, as proven on many occasions, it is an easy walk in the park. Against the Rajasthan Royals at the Dubai Stadium in IPL 2020, it was yet another AB masterclass.
He walked into bat when RCB were struggling in the chase. The likes of Jofra Archer were in the opposition bowling. None of it affected AB as he pulled off the chase comfortably. Aided by some poor bowling by Jaydev Unadkat, AB could reach his fifty in just 22 balls in this game.
4) 22 Balls – Chris Gayle vs Punjab Kings, IPL 2015
Chris Gayle has had a liking for Punjab Kings in the past. He has scored heavily against them in IPL history. Gayle still holds multiple records against them although he now represents the franchise.
The West Indian scored 117 runs in that game in IPL 2015 and helped RCB post a total of 226. The Kings were just all out for 88 as RCB won the game comfortably.
3) 21 Balls – AB de Villiers vs Rajasthan Royals, IPL 2012
It was one of those games where Chris Gayle did not walk out to bat in his preferred opening position. Instead, he came in at No.4. He did not have a great outing, though. AB de Villiers was the star of that encounter in IPL 2012.
The South African magician scored five sixes and three boundaries to bring up his fifty in just 21 deliveries. It was also a crucial inning since RCB was looking for an impetus to set up a good score. Inevitably, ABD delivered it and put RCB on course for a comfortable win at the Sawai Mansingh Stadium in Jaipur.
2) 19 Balls – Robin Uthappa vs Punjab Kings, IPL 2010
It was the pre-Gayle and ABD era where RCB was more of a conservative unit. In 2009, RCB had drafted Robin Uthappa from Mumbai Indians. Being a local boy and a player who was in form, there were huge expectations from him. However, he did not that well in 2009.
Next season, though, in IPL 2010, Robin was in top-form. He had a terrific impact in the middle-order. In that game against the Punjab Kings, he took apart the likes of S Sreesanth with some of his trademark hits. A knock that comprised four boundaries and four sixes, Robin got to one of the then fastest IPL fifties in just 19 balls.
1) 17 Balls – Chris Gayle vs Pune Warriors India, IPL 2013
Well, that was an evening that very few could forget. It was a rain-marred encounter, and the fans were not in a great mood. In came Chris Gayle, who delivered the best T20 knock to date in IPL 2013.
Although he took 17 deliveries to score his fifty, he got his next 50 runs in fewer deliveries. In that game against Pune Warriors India, Gayle made 175 runs to help RCB to put the highest total ever in IPL. Gayle's innings is still the highest-ever individual T20 score.