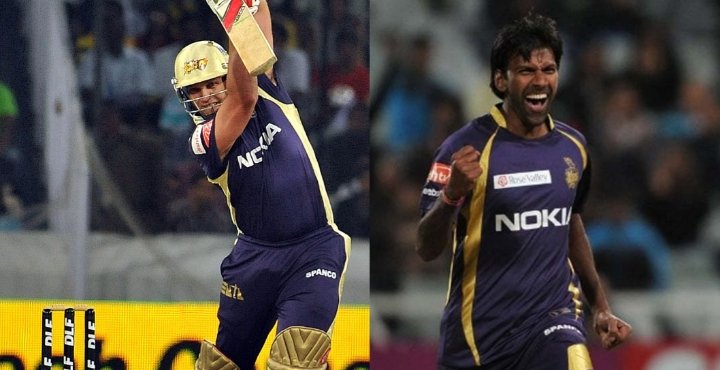 KKR playing XI for IPL 2021 is a matter of discussion in many cricketing circles right now. Some feel both Andre Russell and Ben Cutting should play in the team. On the other side, some fans think Sunil Narine and Lockie Ferguson also deserve a chance. Eoin Morgan will take a long time to finalize the KKR playing XI this year. However, he could take a lesson or two from the 2011 KKR playing XI.
The reason behind that is KKR did not qualify for the semifinals in 2008, 2009, and 2010. Gautam Gambhir then became the team's new captain. He formed a great team combination, which helped KKR win two titles in four seasons. Eoin Morgan will be keen to implement the same strategies and make the Kolkata Knight Riders successful. Speaking of the 2011 KKR playing XI, here's a look at the players who represented Kolkata in the IPL 2011 season opener versus the Chennai Super Kings. In that match, KKR lost by two runs. Here's a look at those cricketers and where are they now.
Openers of KKR playing XI – Manvinder Bisla and Jacques Kallis
Manvinder Bisla is best known for his knock in the IPL 2012 Final. Bisla's match-winning half-century helped the Kolkata Knight Riders win the IPL. Bisla opened the innings for KKR in the 2011 season opener against CSK. He could not get going in the middle as the right-handed batsman returned to the playing XI after scoring 27 runs off 29 deliveries. Bisla now does commentary for sports channels.
Jacques Kallis opened the innings for KKR with Manvinder Bisla in the IPL 2011 season opener. Kallis scored a brilliant 42-ball 54. However, his fifty went in vain as KKR lost the game. Kallis has retired from all forms of cricket now. He is England's batting consultant now.
Middle order – Yusuf Pathan, Manoj Tiwary, Eoin Morgan, and Gautam Gambhir
Yusuf Pathan scored 11 runs off 12 balls in that match. He even took one wicket with the ball. Pathan recently announced his retirement and won the Road Safety World Series 2021 with India Legends. Manoj Tiwary blasted a 15-ball 27 in the IPL 2011 season opener. Right now, Tiwary has joined politics.
Eoin Morgan scored a run-a-ball 6 in his first match for KKR in IPL 2011. The English player lost his wicket to Suresh Raina. Morgan is now the captain of England and Kolkata Knight Riders. Interestingly, Gautam Gambhir batted at number six in his first match as KKR captain. Gambhir has retired now and now works as a politician as well as a cricket commentator and expert.
All-rounders – Laxmi Shukla, Rajat Bhatia, and Iqbal Abdulla
Laxmi Shukla is another cricketer-turned-politician present on this list. Shukla scored 14 runs from 10 balls in the first game of IPL 2011. Shukla was the State Sports and Youth Services Minister in the All India Trinamool Congress. However, he resigned earlier this year. The other two all-rounders in KKR playing XI were Rajat Bhatia and Iqbal Abdulla.
Rajat Bhatia was not out on 0* in the match against CSK. He returned with 0/19 in his three overs. Bhatia has now retired from the sport. Iqbal Abdulla returned with figures of 1/26 in the game, while also scoring three runs. Abdulla is still active in domestic cricket as he plays cricket for Uttarakhand.
Bowlers of KKR playing XI – Lakshmipathy Balaji and Sarabjit Ladda
Interestingly, KKR went in with two Indian bowlers for their first match of IPL 2011. Lakshmipathy Balaji was one of the two bowlers. Balaji had done well for CSK in the first three seasons. He had figures of 0/25 in his first game for KKR. Balaji is now the bowling coach of the Chennai Super Kings team.
Sarabjit Ladda is a leg-break bowler from India. Ladda bowled three overs for KKR in IPL 2011's first match, where he gave away 29 runs. Ladda has even been a part of the Delhi Capitals and the Gujarat Lions in IPL. He participated in the 2019 Pokhara Premier League. In that competition, Sarabjit played for the Pokhara Paltan team.