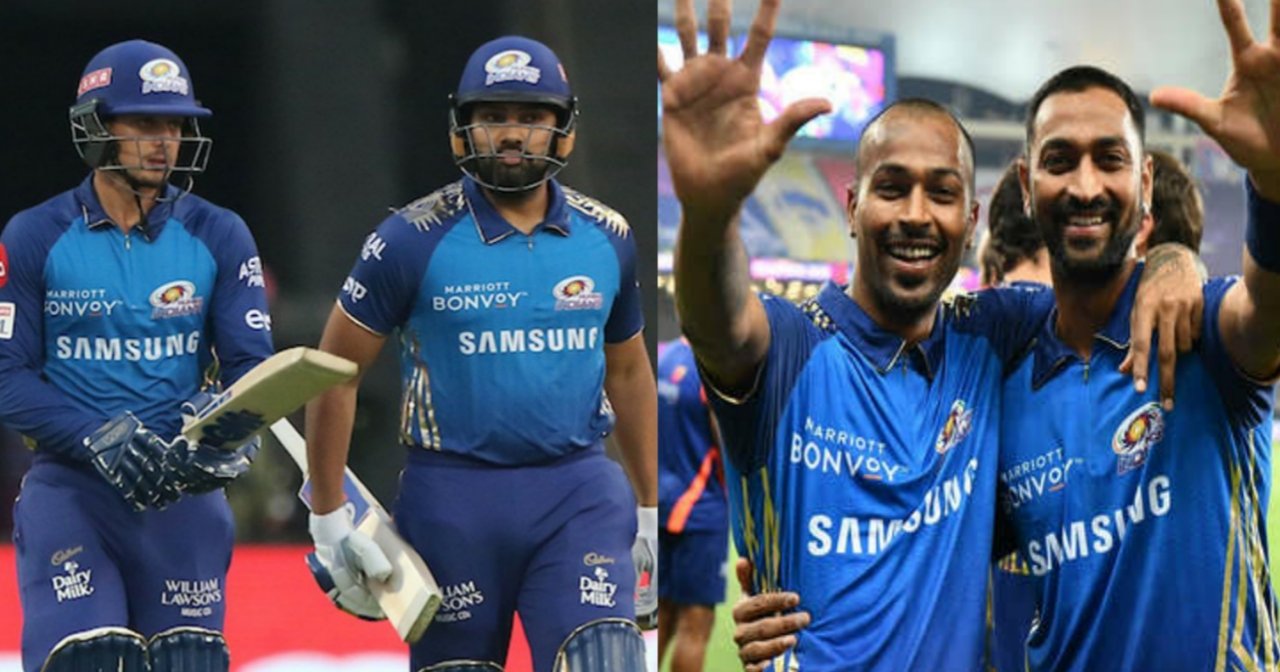 Mumbai Indians who are the defending champions needed to fill a few gaps in the Player Auction and they have managed to do that. They needed a couple of overseas fast bowlers and they bought the likes of Nathan Coulter Nile and Adam Milne for decent money. They even bought Marco Janssen, a youngster from South Africa who is a left-arm bowler and he can at No.8. They already had a core group that has helped them win back-to-back titles in 2019 and 2020.
Their squad looked strong even before the auction and with the addition of these players, it looks even stronger. They have a strong playing XI along with some great back-ups who can come in case of injury or loss in form. So, let's have a look at the strongest playing XI for Mumbai Indians for the upcoming IPL season.
Openers – Rohit Sharma and Quinton De Kock
The tried and tested opening pair of Rohit Sharma and Quinton De Kock will be back for the upcoming season. It has been a successful pair as De Kock takes on the bowlers and Rohit Sharma likes to take his time. It is a right hand-left hand combination which makes like difficult for the opposition bowlers.
Quinton De Kock has been a great player for Mumbai Indians as he has scored heavily in 2019 and 2020. There are reports that Pakistan might be touring South Africa and the South African players might miss a week or two of the IPL but in that case, Chris Lynn can replace Quinton De Kock at the top. It is a great combination for Mumbai Indians which is going to work again this year.
Middle-order – Suryakumar Yadav, Ishan Kishan & Kieron Pollard
The two uncapped players who can become capped before this year's IPL – Suryakumar Yadav and Ishan Kishan have been brilliant in the middle-order for Mumbai Indians. Both of them know their roles, and they performed them perfectly in the last IPL. In fact, Kishan was the highest run-scorer for MI as he scored more than 500 runs.
Kieron Pollard is always a dangerous T20 player and there is no doubt that he will win a couple of games for Mumbai Indians even this season. He even handled the captaincy duties in the absence of Rohit Sharma which is a great plus for the team. These three players form a formidable middle-order that can destroy oppositions.
All-rounders – Hardik Pandya & Krunal Pandya
The Pandya brothers have been great for Mumbai Indians over the last 3-4 years, and they will be hoping they continue their great run. Hardik might start bowling in this IPL which is a great plus for MI as he gives them an extra bowling option. Krunal has been on and off with his performances, but his current form shows that he might have a great IPL season.
Hardik Pandya has taken his finishing skills to a different level, and he can score heavily in the last few overs. Many bowlers will have sleepless nights thinking about Hardik Pandya and Krunal Pandya for the end overs.
Bowlers – Nathan Coulter Nile, Rahul Chahar, Trent Boult & Jasprit Bumrah
Most of their bowling was fixed and with the addition of Nathan Coulter Nile, it looks complete. Boult will swing the new ball and pick wickets upfront. Rahul Chahar who was in the Indian Test squad for a while will bowl in the middle-overs.
Jasprit Bumrah is a bank that will give you four overs in each and every game and Nathan Coulter Nile who didn't have a great season last year will be hoping to change that in the upcoming IPL season. This looks like a great bowling line-up that has the potential to even defend small totals.