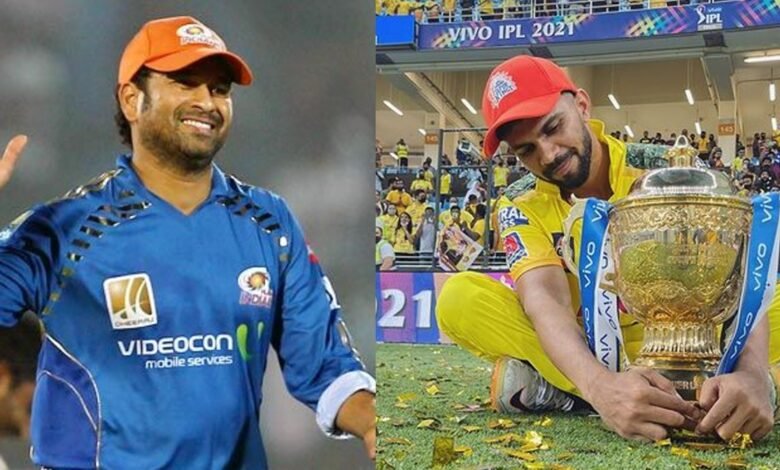 In the fourteen editions of the Indian Premier League, so far, it has been the overseas batsmen who have dominated the individual honours every season. However, thanks to the evolving approach of Indian batsmen, this aspect is slowly changing. Indian batsmen have been at their best in recent IPL campaigns. A few of them have also won the Orange Cap. In this article, we take a look at the list of five Indians to win the Orange Cap in IPL history.
1) Sachin Tendulkar (IPL 2010) – 618 runs
Team: Mumbai Indians || Games: 15 || Runs: 618 || Average: 47.53 || Strike Rate: 132.61
Sachin Tendulkar is the first entrant to this list of Indians to win the Orange Cap in IPL history. In the initial campaigns, Sachin missed a few games due to injury. He was not playing a lot of T20I cricket, and hence, he had to adapt to IPL.
The skilled talent that he is, in 2010, Sachin made run-scoring easy. He showed that T20 cricket was not all about brute hitting but technique and placement still held value. Including the highest score of 89*, Sachin made five half-centuries in that campaign.
2) Robin Uthappa (IPL 2014) – 660 runs
Team: Kolkata Knight Riders || Games: 16 || Runs: 660 || Average: 44 || Strike Rate: 137.78
Robin Uthappa had always oozed class, but it was in 2014 that he turned up a class apart. He displayed remarkable consistency and scored five centuries to accumulate a total of 660 runs. Robin also owns the rare distinction of scoring ten consecutive 40+ scores in IPL.
It was also the first occasion that an Orange Cap winner went on to win the IPL medal, as well. Uthappa got a chance for a comeback with Team India after the stint but could not make full use of it and fell out of favour again.
3) Virat Kohli (IPL 2016) – 973 runs
Team: Royal Challengers Bangalore || Games: 16 || Runs: 973 || Average: 81.08 || Strike Rate: 152.03
In the fourteen seasons of IPL so far, no batsman has had a better season with the willow than Virat Kohli had in 2016. The current Indian captain had a dream run that season which saw him score four centuries and seven half-centuries.
Almost against every team, Virat dominated and contributed to helping RCB reach the finals. It was also the year in which Virat showed that he is a top T20 cricketer and not just excellent in the other formats.
4) KL Rahul (IPL 2020) – 670 runs
Team: Punjab Kings || Games: 14 || Runs: 670 || Average: 55.83 || Strike Rate: 129.34
KL Rahul has been the best batsman in IPL in recent years. After doing well in both 2018 and 2019, KL Rahul won the Orange Cap in 2020 at UAE with excellent consistency. For a cricketer who was once regarded as a Test specialist, it was actually a stunning turnaround.
Although KL batted at a lower strike rate than he is usually known for, he did well to balance the captaincy duties along with keeping in mind the fragile middle-order of PBKS. KL scored one century and half-centuries in IPL 2020.
5) Ruturaj Gaikwad (IPL 2021) – 635 runs
Team: Chennai Super Kings || Games: 16 || Runs: 635 || Average: 45.35 || Strike Rate: 136.26
Ruturaj Gaikwad is the latest entrant to this list of Indians to win the Orange Cap in IPL history. The Maharashtra opener started the season as an uncapped player, but after the tournament was halted, he made his India debut. He came back to the UAE leg as a capped cricketer and displayed incredible consistency to take home the Orange Cap.
In 16 encounters, Gaikwad scored 635 runs at an average of 45.35 and a strike rate of 136.26. The right-hander's style was characterized by a cautious powerplay followed by acceleration in the middle-overs. He was particularly brutal against the spinners. Gaikwad also scored a century against Rajasthan Royals in the same season.