Cricket
News
"India will not listen to anyone," Sports minister Anurag Thakur reacts to PCB's statement, says it's impossible to ignore India in world sports
PCB had released a statement yesterday saying that India's refusal to come to Pakistan for Asia Cup 2023 will affect future ICC tournaments in India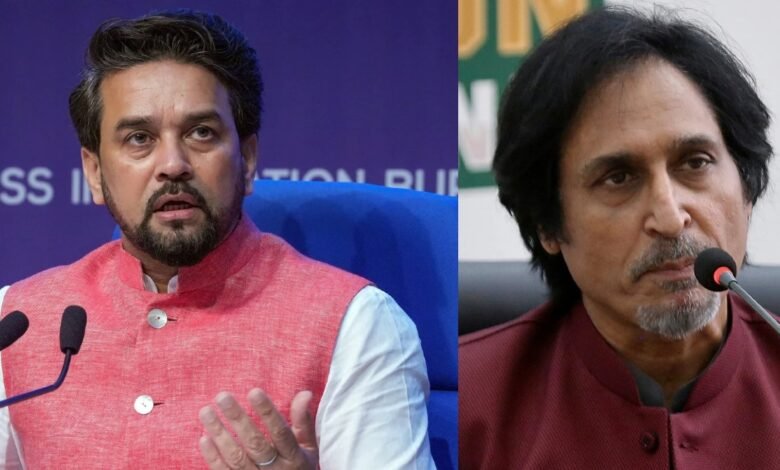 The sports minister of India, Anurag Thakur, has made it clear that although it's BCCI's matter where to tour and where not, one thing is for sure India has now put itself in such a position that it doesn't have to listen to what others are saying because it's not possible to ignore India.
Anurag Thakur was asked today in a Khelo India event about the statement that Pakistan Cricket Board (PCB) released yesterday. PCB, in its statement, talked about Jay Shah's decision not to send the Indian team to Pakistan for Asia Cup 2023 and almost stated in a threatening tone that if India doesn't come for Asia Cup 2023, it will affect the future ICC tournaments in India.
World Cup 2023 will take place in India and all teams will be invited: Anurag Thakur
After the statement PCB, some people started wondering if PCB was thinking about boycotting the World Cup in India next year and if the World Cup will have to be shifted out of India. Anurag Thakur put an end to all those speculations and stressed the fact that the World Cup will take place in India as scheduled and all the teams will be invited to take part in the World Cup including Pakistan.
#WATCH | This is a BCCI matter, the Board will comment on it. World Cup 2023 to be organised in India will be grand and historic. India has played a big role in cricket: Union Sports Minister Anurag Thakur, in Delhi pic.twitter.com/kw1xtMVgpt

— ANI (@ANI) October 20, 2022
But, Thakur, at the same time, also insisted that India won't listen to anyone and if there are security concerns related to traveling to Pakistan and the home ministry doesn't consider it safe for the players to travel to Pakistan, the Indian players won't travel there.
Whichever tournament ICC organizes, there is a certain share of revenue that all the member boards get from that and if any member board refuses to take part in an ICC event, ICC has the option of not sharing the revenue of that particular tournament with the member board that refuses to play. ICC can also put a temporary suspension on the member board in case of the boycott of a World event.