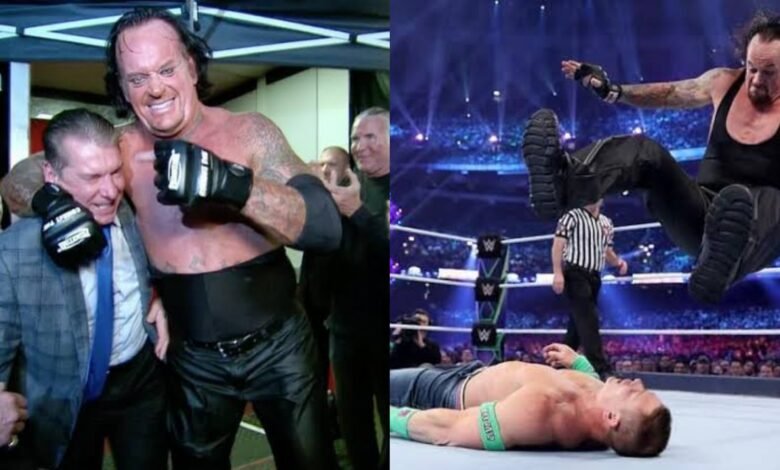 The Undertaker recently described how he felt frustrated by Vince McMahon and his creative plans for him at WrestleMania 34.
The Phenom was on Insight with Chris Van Vliet podcast recently and he revealed that he thought he had retired after WrestleMania 33. He lost on that WrestleMania in 2017 to Roman Reigns in the main event. After losing he left his hat and overcoat in the middle of the ring. This signified that he had retired. But then WWE asked him to return against John Cena next year at WrestleMania 34 after he underwent successful hip surgery.
The 57 year old veteran revealed to Vliet that he got a ring shipped to his Texas hometown and started training for a "45-minute war" against Cena.  His words, "…So, probably the hardest that I've ever trained, not ever I trained, but the hardest I've been able to train in probably 10 years. And I was ready, man. I was, my cardio, I trained for like a 45-minute [match]."  
He placed the ring in a building and after training, he was soon able to move again like before. Taker was training for a long match until Vince McMahon informed him that the match would last only few minutes.
What did Vince McMahon tell to The Undertaker before WrestleMania 34?
Vince called him to the office and said that the match will only be about 5 minutes long. It was going to be a squash match. The Chairman was even amused while informing him this because he knew how hard The Deadman was training. However, Taker didn't take this sportingly and told Vince that he will have a 30 minutes match or nothing at all.
The reason The Phenom wanted a long match was because he was unhappy with his own performance at WrestleMania 33. He didn't want his last match ever to be that underwhelming. That's why he accepted this match against Cena, even though he'd been thinking about retiring since WrestleMania 32.
He beat Shane McMahon at WM 32. Eventually, he changed his mind when Vince wanted him beat Cena and that's when he started the vigorous training. Finally both Cena and McMahon convinced him for the squash match. Taker pinned Cena after a Tombstone Piledriver in 2 minutes 45 seconds and his record is still 25-2 at Manias.