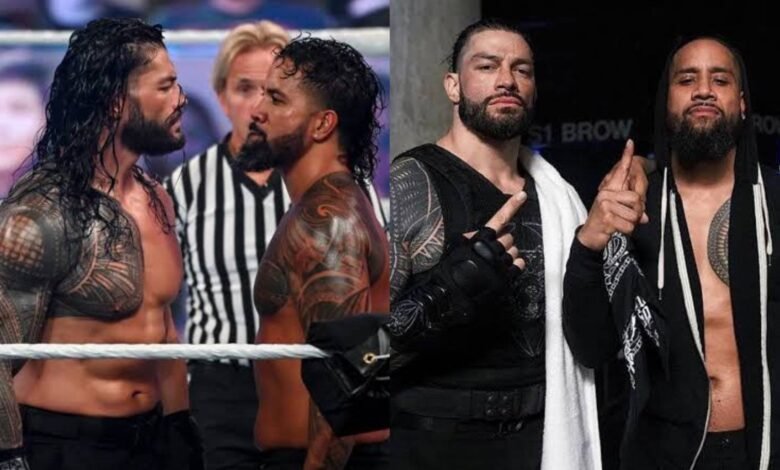 Roman Reigns and The Usos are part of the dominant Bloodline faction. It's called The Bloodline because of the blood relations its members allegedly have.
The Usos had broken records as the WWE Undisputed Tag Team Champions before losing them to Kevin Owens and Sami Zayn at WrestleMania 39. However, Roman Reigns is still going strong as the Undisputed WWE Universal Champion and will soon be 1000 days old.
They are all of Samoan heritage and WWE shows them as cousins on TV. But Jimmy and Jey don't claim to be that in real life. While on an interview with Chris Van Vliet, they revealed the astonishing fact that Roman is actually their uncle. All three of them are part of the famous Anoa'i family of professional wrestling.
Is Roman Reigns a real brother of The Usos?
Small detail I had not noticed is that Paul Heyman stares at the Usos when he says Roman Reigns is losing his patience.

This storyline has so many layers, man. Amazing. pic.twitter.com/mTwttzOWRf

— Wrestling Pics & Clips (@WrestleClips) April 15, 2023
It's a family that boasts legends like The Rock, Yokozuna, The Wild Samoans, Umaga and Rikishi. Most fans know that Rikishi is the father of The Usos but it's a little known fact that he is Roman's first cousin. Thus, Rikishi's sons, The Usos and Solo Sikoa, are actually Roman's nephews and should call him their uncle. But in WWE, it would feel awkward if they call Roman their uncle as they are all almost the same age.
What is The Rock to Roman Reigns?
Solo … the enforcer … eyeing the seat for the head of the table …

An Usurper from within the family for the tribal chief?

The Usos turn on Roman Reigns … backed by the one True … Maivia ..The Rock!

The End of the bloodline

Are you thinking what I'm thinking ? https://t.co/iaWtme1UTX

— Mr Magik (@AbiodunOdelola2) April 22, 2023
Also, a lesser-known fact is that The Rock is not really Reigns' cousin, although they call each other that. In fact, the two don't even share the same blood. However, they are part of the same family and people know them as distant cousins. The Rock's grandfather was "High Chief" Peter Mavia and Roman's grandfather was "Reverend" Amituana'i Anoa'i. The world knows them as "blood brothers" and they raised their families together as one, without a blood connection.
The Anoa'i family is easily the most extensive family of professional wrestling with wrestlers in WWE and other promotions too. It has provided some top superstars in past, present and will keep doing that hopefully in the future.