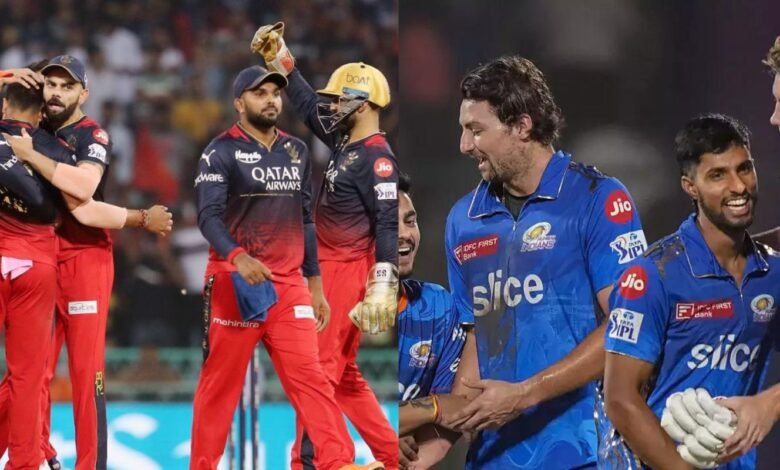 Gujarat Titans, Chennai Super Kings and Lucknow Super Giants have made it to the playoffs. It will be down to RCB, MI & RR on the final day of the league stage. Meanwhile, there are reports that rain could have an impact on the final match in the league stage between Gujarat Titans and RCB. Here, we take a look at what will happen to RCB and Mumbai Indians qualification scenario if the Bengaluru match gets washed out.
RCB and Mumbai Indians qualification scenario
If Mumbai Indians win their final game against SRH, they would need RCB to lose at least one point in their final game. That means, if the rain washes out the game, it will be MI that will enter the Top 4. However, if MI loses against SRH and RCB loses to GT by a big margin, it will be RR who will step into the playoffs.
For RCB, a washout in their last game will help only if MI loses the game against SRH. If MI wins, they would be on 16 points and then, RCB would clearly need a victory. Even if MI loses, RCB cannot afford a loss because their NRR is too close to that of RR. Then, RR would have a chance to reach the playoffs.
A tough equation for RCB
The good thing for RCB is that they would know what to do in their final game against GT. Yes, they do not have control over the rain. However, if the match does happen, RCB will be under tremendous pressure to win.
Also, RCB has a weakness in their home games, especially when it comes to defending scores under the lights. GT is the strongest team in the tournament, so far, and it is highly unlikely that a few would be rested. Hence, it seems to be a tough ask for RCB right now.