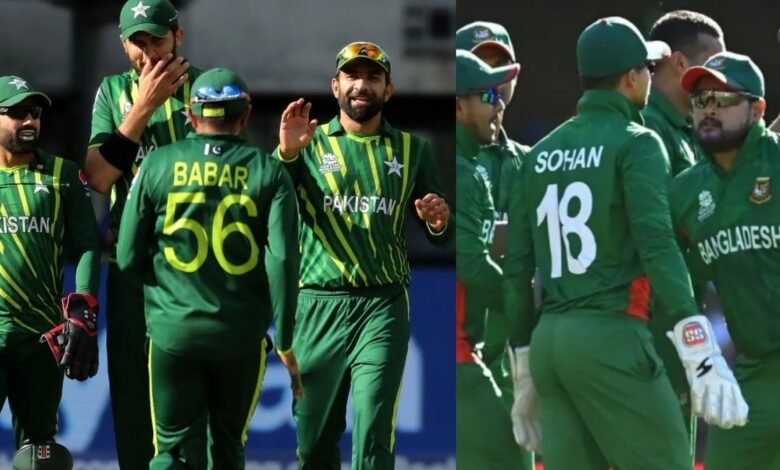 Before the T20 World Cup started, most had a straightforward opinion about the semi-finalists. However, rainfall and the brilliant performances of sides such as Zimbabwe have made the tournament interesting. Group 2 is heading for a close finish in the Super 12 stage. On that note, here, we take a look at how Pakistan, South Africa, and Bangladesh still have a chance to qualify for Semi-Finals in the 2022 ICC T20 World Cup.
The race is heating up for the Semi-Finals in the 2022 ICC T20 World Cup
Dominant performance to seal a commanding win 💪#WeHaveWeWill | #T20WorldCup | #PAKvSA pic.twitter.com/6PCBGBXVWR

— Pakistan Cricket (@TheRealPCB) November 3, 2022
For Pakistan to reach the semis, they have to first defeat Bangladesh. Next, they must hope that South Africa loses to the Netherlands or the game gets washed out. If India loses to Zimbabwe and Pakistan defeats Bangladesh, the Babar Azam-led squad will enter the semis due to a better NRR.
Bangladesh should defeat Pakistan to have a chance to reach the semi-finals. They would also want South Africa to lose to the Netherlands. If India loses to Zimbabwe, the Bangladesh side would hope that it is by a big margin. The NRR factor could come into the picture here.
South Africa will be under pressure to gain a victory over the Dutch. If they lose and if either Pakistan or Bangladesh win, then the Proteas will be out. If South Africa vs the Netherlands game ends as abandoned, NRR will decide the semi-finalists.
India will also have to win over Zimbabwe to be safe
Meanwhile, India will also be wary of a scare in the T20 World Cup. They must ensure that they win against Zimbabwe to reach the final four.
If India loses the game, they will hope that South Africa loses to the Netherlands. The result in Pakistan vs Bangladesh game must go in Shakib Al Hasan side's favour with a minor NRR increase. This would also put India in the semis.