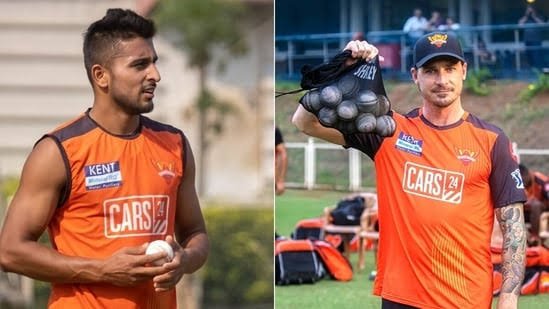 SunRisers Hyderabad has played a vital role in the rise of uncapped fast bowler Umran Malik. The right-arm fast bowler from Jammu and Kashmir has bowled express pace and troubled some of the best batters in the tournament. One of the key reasons behind the improvement of Umran Malik is the presence of Dale Steyn.
Malik made his IPL debut last year after joining the SunRisers Hyderabad squad as a replacement. He impressed everyone with his pace, but he could not control his line and length initially, which resulted in opposition batters scoring big runs against him.
Working with Dale Steyn, Umran Malik has improved his accuracy. Here's what he said about his coaching style in a recent interview after the match between SunRisers Hyderabad and Mumbai Indians:
"I am getting to learn a lot from Steyn and he is a cricketing legend. Even when we bowl for three hours in the nets, he is always there with us."
Umran Malik reveals how Dale Steyn celebrates when he takes a wicket in the nets
Fans would have noticed that Umran Malik celebrates with the chainsaw celebration after taking wickets in the 2022 edition of the Indian Premier League, and one of the retired fast bowlers who used to do that celebration in the past was Steyn.
Malik disclosed that Steyn is the umpire when he bowls in the net sessions, and whenever Malik takes a wicket in the nets, Steyn celebrates with the chainsaw celebration. Here's what he added in the same interview:
"Dale Steyn is the umpire during net sessions and whenever I take a wicket, he does this kind of a celebration. I tried it one day, and since then it has become a habit."
Umran Malik will be in action against the likes of Liam Livingstone and Jonny Bairstow this Sunday as the SunRisers Hyderabad will take on the Punjab Kings.