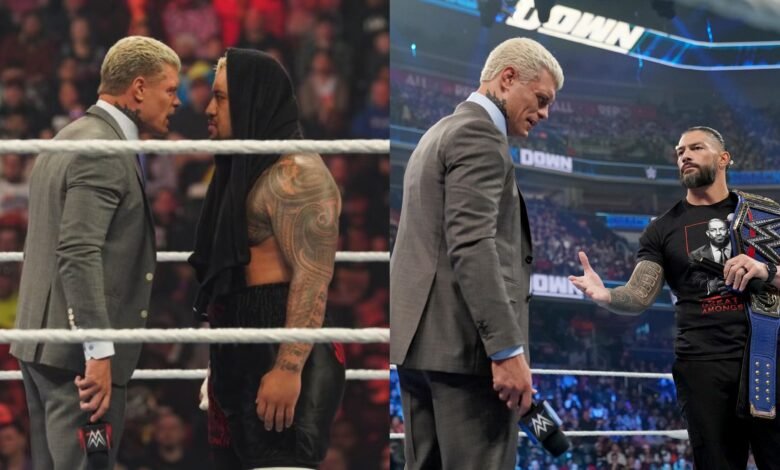 ​As we head for the mega event of WrestleMania 39, we have one of the biggest matches getting all set t​​o unravel at the grand night as Roman Reigns will be taking on the American Nightmare, Cody Rhodes in the main event of the night. There is a now woe added to the latter's camp and that too in a confrontation with Rhodes and he is Solo Sikoa.
However, the ones who have recently confronted the Tribal Chief are very well aware of the fact that he doesn't come alone to the ring. He comes with his entire family comprising the likes of Jimmy and Jey Uso, Solo Sikoa and his manager, Paul Heyman.
As Roman Reigns continues with his undisputed reign, the latest hindrance in his path to stall him from extending his tenure as the undisputed Heavyweight and WWE Champion of the world, the American Nightmare, Cody Rhodes.
The build up has so far been phenomenal even though it has been entirely verbal with both the stalwarts as both are still to lay hands on each other and yet the sparks are flying wildly.
However, the chapter had a new twist in the tale as one of the most dominant enforcers of the Bloodline, Sikoa confronted Cody Rhodes in the latest chapter of the rivalry.
The WWE Universe was quick to react to this sudden development as it was almost a foregone conclusion that we are just warming up to what is going to be an extremely perilous path for Cody from hereon.
Here is what Twitter had to say about Cody Rhodes and Solo Sikoa:
Cody Rhodes booked his fight with Roman Reigns after winning the Royal Rumble and the Universe went absolutely berserk. Ever since then the games are strong and it has all been in the mind of them both.
As things stand, the Usos have a renewed rivalry with Kevin Owens and Sami Zayn and most probably this will be a prolonged fight but as things stand, Roman's camp is still heavy in numbers as the Samoan giant stands tall by his side. Twitteratti absolutely loved the new twist in the tale and here is what they had to say.
He Can Squash Cody Rhodes In Real Life

— Sports Lover (@vlovecric8) March 22, 2023
It's not just a matter of business.
He always stands for Our tribal chief because it's a family business .

— 𝙿𝚛𝚒𝚢𝚊𝚗𝚜𝚑𝚞 𝙸𝚗𝚍𝚠𝚊𝚛 (@VyDWSGe74hoMWdZ) March 21, 2023
— Paul Wright (@skullhd1313) March 21, 2023
I was waiting for them to go at it. Solo was dressed to fight. pic.twitter.com/wR0o6lgCZ6

— Timothy Hutchings (@hutch3703) March 21, 2023
And I don't think we can solve them pic.twitter.com/NV0UtOe0LE

— Jonathan Mitchell (@Jon_Mitchell3) March 21, 2023
thats for sure I agree with you

— leo valdez (@leovald28584620) March 21, 2023
No you dont. Didnt Roman tell you to stop? 😂

Personal feelings gonna ruin the Bloodline, man. Dont play into Cody's hands bro.

— OUUCreative (@OUUCreative) March 21, 2023
Solo had to show Cordy the reason for that
Bloodline will always rule wwe

— Kapil saud🇳🇵 (@Kapilsaud17) March 21, 2023
Cody straight punked you outhttps://t.co/jCryhjcNY3

— Jay (@Bubba23XIfan) March 21, 2023
You're not ready. Cody will school you 💯

— Brian Fraime (@BrianFraime) March 21, 2023
Everyone forgot Solo was NXT champ and forced to vacate. The man ready 4 whatever

— Super Gremlin (@Super_Gremlin13) March 21, 2023