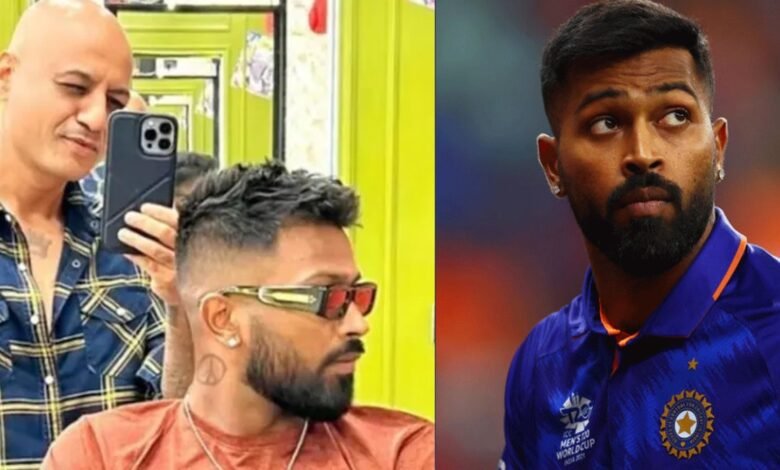 Hardik Pandya has been a geezer of elegance and there are very few people to rival his swagger when it comes to the 22 yards. As Asia Cup 2022 is almost on the doorstep, players are preparing in their own sweet way for the upcoming tournament.
Pandya has been in the form of his life ever since his return to the Gujarat Titans and the kind of command that he has shown in India's exploits in the international circuit since then, has been absolutely noteworthy, arresting a decline at times while on other occasions, blazing an attack to propel India's late blitzkrieg.
Haircut session for @hardikpandya7 ❤️ Hardik Pandya in London #worldcup2019 #cricket #london pic.twitter.com/k2KuO5ek9P

— Aalim Hakim (@AalimHakim) June 19, 2019
The possible form that Hardik Pandya would want to carry to Asia Cup 2022
The all-rounder took to Instagram to post about his new hairstyle and his fans seemed pretty pleased with the new hairdo of the hard-hitting stopgap skipper of Team India. He went to his favorite hair stylist Aalim Hakim and Instagram was already buzzing with the new trail blazed by the former Mumbai Indians all-rounder.
Hardik was heavily criticized for a slump in his form in IPL 2021 but his return to international cricket after recovering from his back injury witnessed an iconic turnaround of affairs as it felt like a Titan redivivus with his consistent performances leading the Titans to a maiden IPL triumph.
This is not the first time since he has posted with Aalim Hakim as there are earlier snaps of the duo being together ahead of his final season with the 5-time IPL champions, Mumbai Indians. Pandya led the Titans from the very front as he racked up 487 runs at a stunning average of 44.27 that starred four half-centuries.
It wasn't just with the bat where Pandya proliferated. He posted a stunning display even with the ball in his arms as he claimed 8 crucial scalps in the tournament before stitching together significant showdowns for Team India against a touring South Africa.
To all my fellow Indians, happy Independence Day 🇮🇳 pic.twitter.com/rHRXj7VWVo

— hardik pandya (@hardikpandya7) August 15, 2022
He led Team India to a 2-0 whitewash of the Irish forces before playing the deputy to Rohit Sharma in the Caribbean tour where Team India swept West Indies by a margin of 4-1 in a 5-match T20I series. Hardik would be hopeful of carrying a similar form to the Asia Cup where India starts their campaign against Pakistan.