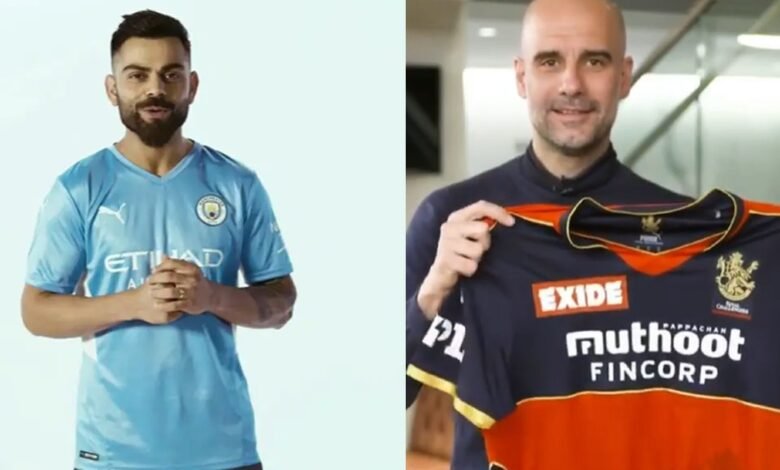 Indian test captain Virat Kohli has uploaded a video on Twitter today where he can be seen cheering for the Manchester City manager Pep Guardiola and that too in his native language Punjabi. Guardiola is one of the football managers Virat admires a lot and since both of them are associated with the same brand "Puma", they have had interactions in the past as well.
It was not so long back that Virat Kohli had interviewed Pep Guardiola on his Instagram page, and it had gone viral. Not just the cricket fans in India, but even the football fans in Europe, who generally don't watch a lot of cricket, had taken a lot of interest in the interview.
Pep Guardiola, although he is still a relatively young football manager, is already regarded as one of the greatest managers of all time and his managerial accomplishments totally justify it as well. Guardiola has managed three of the biggest football clubs in three of the biggest European leagues so far and has won a hat-trick of top division titles at all three clubs, which is nothing short of extraordinary.
Guardiola started his managerial career at his boyhood club Barcelona where not only did he win three La Liga titles, he went on to win two Champions League titles as well before he moved to Bayern Munich to prove his mettle in the German top division Bundesliga. During his 3-year stint at Bayern, Guardiola guided the club to the Bundesliga titles all three times.
Pep Guardiola has dominated as a manager in England
The challenge at Manchester City, however, was a different one for Pep Guardiola when he moved there in 2016. It was one of the richest clubs in England, so the budget was never going to be an issue, but to build a team that dominates every season in England was tough, as the Premier League is the most competitive league in Europe.
But, Guardiola succeeded in dominating England as well. Manchester City, under him, has already won three Premier League titles in 5 years, and they are now in line to win it again. Midway through the Premier League 2021-22, Manchester City are at the top of the table, closely followed by Liverpool and Chelsea.
Virat Kohli, in his video today, heaped praise on the managerial style of Guardiola and urged him to make sure Manchester City carries the momentum right through the ongoing season and ends up winning the top division title in England once again.
Chakk de fatte! 💪🏼 @PepTeam pic.twitter.com/OzBWXEF3wH

— Virat Kohli (@imVkohli) December 19, 2021