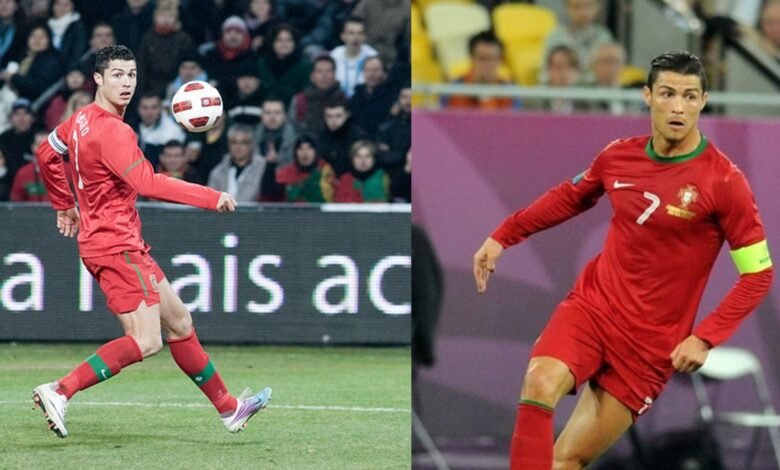 Cristiano Ronaldo toppled Ali Daei's long-standing record last night as he bagged a brace to become the highest international goal-scorer in the world. Late drama and a missed penalty intensified the clash between Portugal and Ireland.
A lot of hearts were broken on the 14th minute as Ronaldo missed the spot-kick and Ireland started probing the Portuguese rearguard with a couple of their late exploits.
A rundown of the Portugal and Ireland match
Their sudden bursts up front left Portugal stunned as they surged ahead in the dying embers of the first half. Diogo Jota had a golden opportunity to restore parity, but he could only manage to bundle his effort at the woodwork and drag the rebound wide.
The second half was all about Portugal as they kept on invading the Irish defence time and time again only to be refused in the last line of defence. Ireland started deploying time-wasting tactics and left the Portuguese attack frustrated and befuddled.
It needed the extraordinary to make the impossible happen and who better than the captain himself as Ronaldo hammered home a late, a very late brace to not only restore parity but also clinch a late victory in the World Cup Qualifiers clash.
Cristiano Ronaldo becomes the king of the world
Cristiano Ronaldo's brace propelled him to the top of the list of the highest goal-scorers in international football as he grabbed the milestone of 111 goals, beating the long-standing record of Iran's Ali Daei who managed to fire 109 goals in his glittering international career.
Ronaldo recently broke the internet as he made a surprise move to Manchester United, the club that catapulted him to reckoning. It was in a matter of six hours that the world got at the receiving end of high-theatrics and Ronaldo came home for Manchester United.
Twitter couldn't contain their excitement as he bagged the record of being the highest goal-scorer in the international circuit, toppling Ali Daei from the perch.
Cristiano Ronaldo🐐 is the top scorer in
UEFA Champions League
– Real Madrid
– Portugal
– UEFA Euro
– Club World Cup
– European Competitions
– FIFA Competitions
– UEFA Competitions
– World Cup Qualifiers
– EURO Qualifiers
🆕 INTERNATIONAL HISTORY#CristianoRonaldo #Portugal pic.twitter.com/kUdrFH1Naq

— Mahi VFCᴮᴱᴬˢᵀ ⍟ (@Itz_MahiVFC) September 2, 2021
A breakdown of @Cristiano 's international goals 🤩🇵🇹#Ronaldo @Cristiano #GOAT #Portugal #CR7 pic.twitter.com/p9x2sAjUtr

— Himanshupatel_ (@iHimanshupatel_) September 2, 2021
Cristiano Ronaldo is 36 years old, but looking and playing like he's 26. Unreal longevity. pic.twitter.com/2d1BCe5NzG

— TCR. (@TeamCRonaldo) September 2, 2021
🗣️ "You have become not only a national hero but an international icon and a role model for aspiring players all around the world. Parabéns, Cristiano!"

👏 FIFA President Gianni Infantino hails record-breaking @Cristiano 👑

👉 https://t.co/O3WZ8oM6hA pic.twitter.com/LfjfCneY5b

— FIFA.com (@FIFAcom) September 1, 2021
Greatest international scorer of all time.

🐐 @Cristiano pic.twitter.com/xSV2OrRnmY

— Arjun Pradeep (@IndianRegista) September 1, 2021
🇵🇹 𝗛𝗜𝗦𝗧𝗢𝗥𝗬 𝗠𝗔𝗞𝗘𝗥 🇵🇹

Created. Earned. #MUFC | @Cristiano pic.twitter.com/q6CVWipWVP

— Manchester United (@ManUtd) September 2, 2021
"It's Alien…."
Congrats bro! 🐐@Cristiano https://t.co/DVWwuSGBEt

— Rio Ferdinand (@rioferdy5) September 2, 2021
Man Utd's @Cristiano Ronaldo makes history!

He nets twice for Portugal to break the men's international goalscoring record 🇵🇹 pic.twitter.com/ZSqfptGXWJ

— Premier League (@premierleague) September 1, 2021
BREAKING: @cristiano scores twice for Portugal and becomes the greatest goalscorer in international football history.
He is, indisputably, the 🐐
👏👏👏👏👏👏 pic.twitter.com/tLXXVHwApx

— Piers Morgan (@piersmorgan) September 1, 2021
💥 He's done it!

🇵🇹 @Cristiano (110)
🇮🇷 Ali Daei (109)

🔥 A phenomenal run of 49 goals in his last 47 Portugal appearances makes the monster from Madeira the outright leading scorer in men's international history. Take a bow, legend 🙇‍♂️ pic.twitter.com/WFO7XbuKr8

— FIFA World Cup (@FIFAWorldCup) September 1, 2021