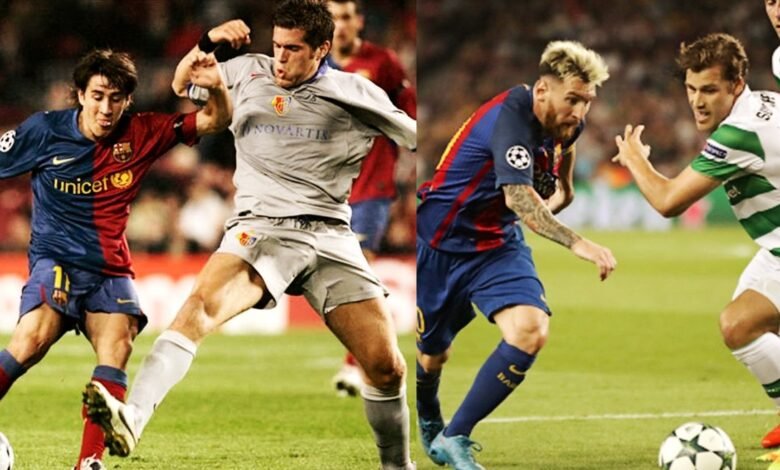 In 2019/20 UCL, Barcelona swept aside Borussia Dortmund to top their group and made history in the process. For 13 consecutive seasons, Barcelona topped their UCL group, a special record. They owe a lot to Messi for this record, as he has been phenomenal in group stage fixtures. Over the years, Barcelona have produced some magnificent performances in UCL. In this article, we will look at five such crushing victories of Barcelona in the UCL group stage.
#5 FC Basel 1893 0-5 FC Barcelona (22/10/2008)
This is not one of the memorable victories of Barcelona in UCL, but it is always remarkable to score 5 goals away from home. Leo Messi opened the scoring for Barcelona after a wonderful dinked pass over the defense from Dani Alves. Another floated pass over the defense, this time from Xavi, resulted in a sublime finish from Busquets.
Bojan Krkic scored Barcelona's third from outside the box, drilling the box into the bottom left corner. Early in the second half, Krkic scored again after being released by Busquets. Xavi scored a minute later in what was a carbon copy finish of Krkic's third goal. Barcelona went on to win the Champions League that year, beating the likes of Chelsea and Manchester United in the process.
#4 BATE Borisov 0-5 FC Barcelona (28/09/2011)
After a 2-2 draw with AC Milan in their game of 2011/12 UCL, Barcelona travelled to Belarus to take on BATE Borisov. Volodjko scored their own goal in the 19th minute to give Barcelona the lead after a pass from Dani Alves. Headers from Pedro and Lionel Messi tripled Barcelona's lead before half-time.
Alves registered another assist and Messi scored again to make the scoreline 4-0. Villa also got his name in the scoresheet to complete a convincing victory.
#3 FC Barcelona 6-1 Celtic FC (12/12/2013)
In 2013/14 UCL, Barcelona needed a draw against Celtic in the last group stage fixture to confirm qualification for the knockouts. Without Lionel Messi, Neymar played as a false nine, flanked by Sanchez and Pedro. Gerard Piqué opened the scoring after a deflected shot fell kindly to him.
Good work from Neymar down the right-wing resulted in a simple tap-in for Pedro minutes before half-time. Then, just before the break, Neymar scored his first UCL goal to give Barcelona a 3-0 lead. Neymar registered a hat-trick with two more wonderful hits as Barcelona won without breaking a sweat.
#2 FC Barcelona 6-1 AS Roma (24/11/2015)
After a 1-1 draw at Rome in the first game, Barcelona hosted Roma in their fifth game of UCL 2015/16. Alves put it on a plate for Suarez to register the first goal of the game. By half-time, Barcelona were 3-0 up as Messi scored his first and Suarez registered a brace.
In the second half, Messi assisted Pique and scored himself. Despite a chance for a hat-trick, Messi allowed Neymar to take a penalty and Adriano scored on the rebound. On the other hand, Roma got a penalty, but Ter Stegen produced a fine save to his left to deny Dzeko. Roma got a consolation goal in extra time, but the game was a show of strength from Barcelona.
#1 FC Barcelona 7-0 Celtic FC (13/09/2016)
The biggest victory for Barcelona in UCL came during the first match-day of 2016/17 UCL. Just three minutes into the game, Messi's thumping finish from close range gave Barcelona the lead. Celtic had a golden opportunity to equalize from the penalty spot, but Dembélé's shot was saved by Ter Stegen.
The first half ended 2-0, but Barcelona ran riot in the second half. They scored five goals, with Messi scoring a hat-trick and setting up a goal for Suarez. This is the most emphatic way to begin a UCL season and sadly performances like this are a distant dream for the current Barcelona side.