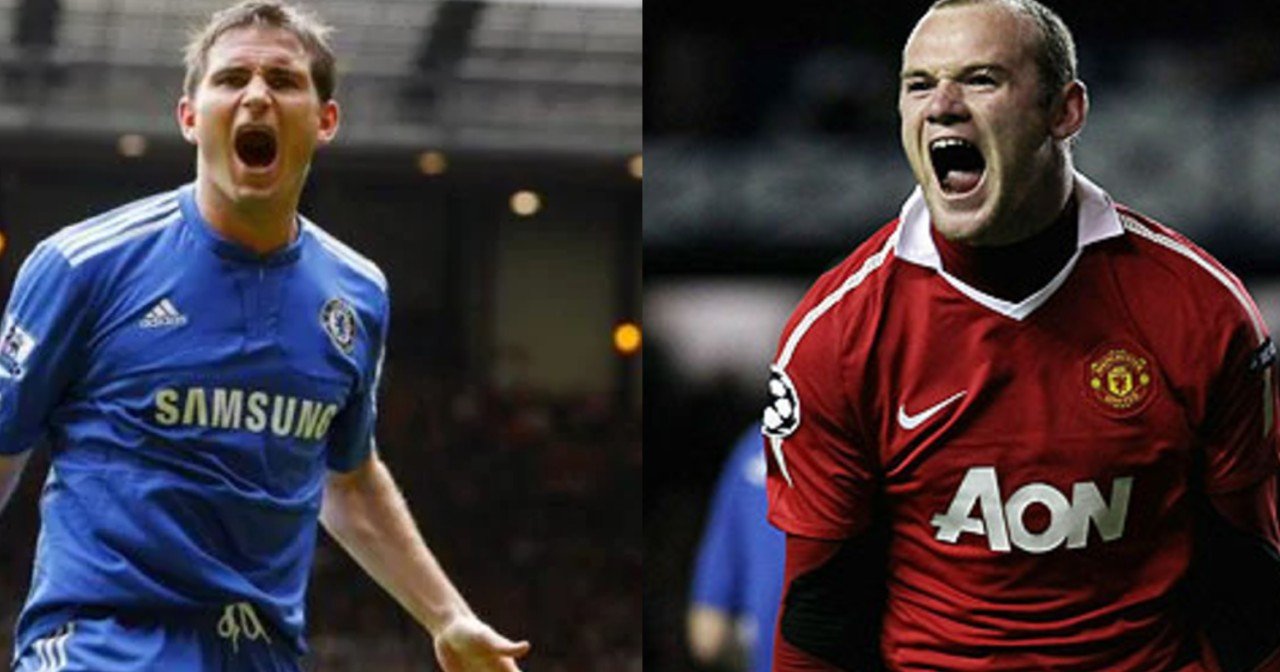 The Premier League is the most followed sports league in the world mainly due to the presence of world-class players who have captured the imagination of viewers around the world. Ever since it's inception in 1992-93, the Premier League has seen goal-scoring records set and consistently broken by the next generation of players. The players with the most goals in the Premier League include penalty box poachers, flashy wingers, second strikers and central midfielders who scored regularly. Here we look at the top five players with the most goals in the Premier League,
5. Frank Lampard – 177 goals
Lampard's goal scoring record is astonishing considering he mostly played as a central midfielder and sometimes even as the defensive midfielder in a double pivot. Lampard's main job was to assist the wingers and centre back and stop the opposition counter-attacks. But his amazing understanding of the game resulted in him making runs into the box from the midfield and depositing the ball into the net quite often with ease at times.
Lampard also holds the Premier League record for the most number of goals scored from outside the box. His best season came under Carlo Ancelotti in 2009/10 when he scored 22 goals in 36 appearances which is quite remarkable.
4. Sergio Aguero – 180 goals
The diminutive Argentine forward is often considered as the best striker in the modern game due to his consistency season after season after signing for Manchester City from Atletico Madrid in the summer of 2011. What separates Sergio Aguero from the rest is his adaptability as he has scored goals while playing under all the managers and in a variety of formations.
He stormed the Premier League in his very first season in England after scoring 23 goals, including the goal that sealed Manchester City's PL triumph in extra time. He won the golden boot in the 2014/15 season after scoring 26 goals.
3. Andrew Cole – 187 goals
In his first season in the Premier League, Andrew Cole scored 34 goals in 40 appearances for Newcastle United, thus winning the golden boot in his debut season. He was sold by Newcastle United in January 1995 to Manchester United for a then British record fee.
Cole scored 12 goals in 18 appearances for Manchester United in that season after his January transfer. He played an integral part in Manchester United's title victory in 1999 and 2000 by scoring 17 goals and 19 goals respectively.
2. Wayne Rooney – 208 goals
Manchester United's record goalscorer made his Premier League debut for Everton in the 2002/03 season before moving to Manchester United in the summer of 2004. He impressed the Old Trafford faithful in his debut season itself by scoring 11 goals. From 2006 to 2009, Rooney formed a lethal partnership up front with Cristiano Ronaldo and Manchester United won a hat-trick of Premier League titles.
After Ronaldo's departure, Rooney became even more consistent as he scored 26 goals in the 2009/10 season. He bid farewell to United in 2017 and returned to Everton for one season and is now representing Derby County in the Championship.
1. Alan Shearer – 260 goals
A record that might never be broken, Shearer sits comfortably at the top of Premier League goalscoring charts, having scored 52 goals more than the second-placed Wayne Rooney. Shearer was known for his brilliant headers and finishing ability inside the box.
From 1993 to 1996, Shearer scored more than 30 goals for three consecutive seasons. He then moved to Newcastle United and became a legend scoring over 100 goals for them in ten seasons.