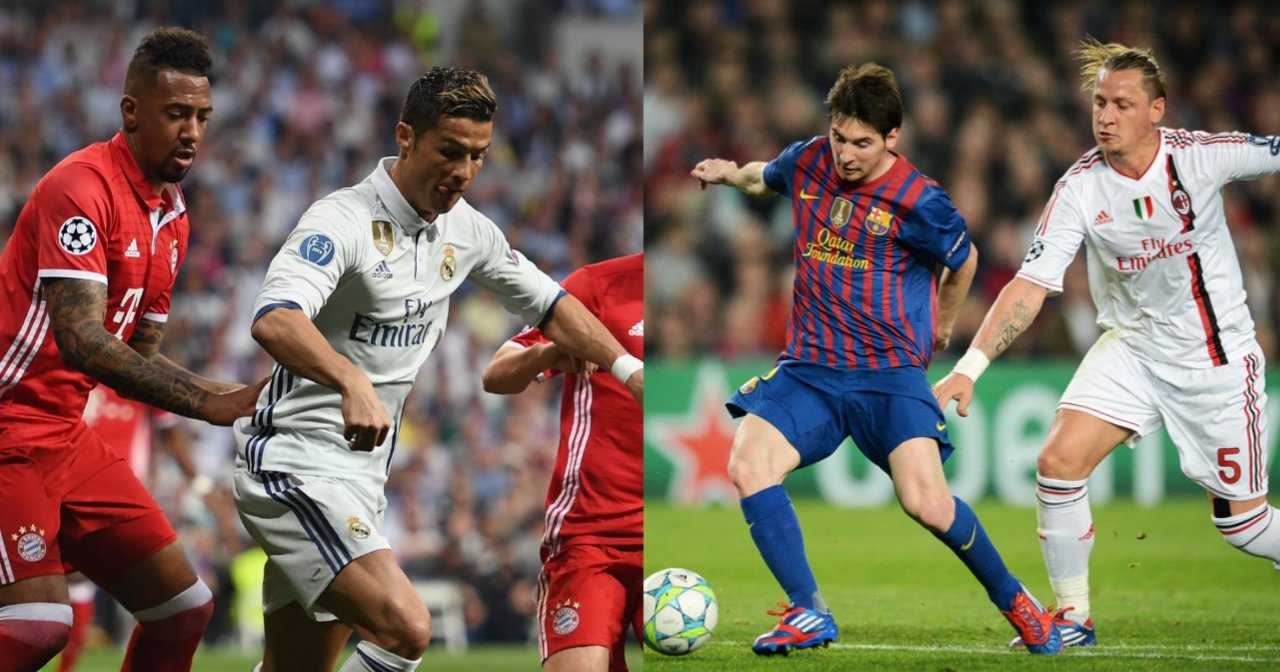 The quality of a striker can be measured by the number of goals he scores against top-quality opposition in pressure games. In club football, no stage is bigger than UCL knockout games and the performance of a player in these games are remembered more vividly than league fixtures. Only a few players have made a habit of scoring regularly in big games such as the UCL quarter-final fixtures. We will look at five such players in this article.
#5 Andriy Shevchenko – 9 goals
The current coach of the Ukraine team was a fearsome forward in his prime and even won the Ballon d'Or in 2004. His first UCL quarter-final goal for Milan came in 2003 against Ajax at home. The next season, he struck against Deportivo La Coruna. In 2004-05, he scored in both the legs against Inter Milan. However, his most impressive performance in the Champions League came during his time with Dynamo Kiev.
In the quarter-finals of the 98/99 season, Dynamo Kiev met Madrid and all the three goals that took them through were scored by Andriy Shevchenko. His last UCL goal for Milan came in the 2006/07 fixture against Lyon.
#4 Filippo Inzaghi – 9 goals
Inzaghi and Shevchenko at their prime formed a devastating partnership upfront. Inzaghi during his time at Juventus scored four quarter-final goals against Dynamo Kyiv in 1998. This includes a phenomenal hat-trick in the second leg. In 1999, he scored a goal against Olympiacos to help Juventus progress to the semi-finals.
After his transfer to AC Milan in 2001. Inzaghi scored four quarter-final goals. The first one came in 2003 at home against Ajax. Three years later, he scored a crucial second leg brace against Lyon.
#3 Raul Gonzalez – 10 goals
Raul's first quarter-final goal came in a forgettable tie for Real Madrid against Juventus as Los Blancos lost and bowed out of the competition in 1996. Raul totally has 71 goals in the Champions League and 66 of those came for Real Madrid. In 2000, he scored a decisive brace against Manchester United in the second leg of the last-eight stage.
He repeated his heroics against Galatasaray in 2001 but Madrid could not lift the title. At Santiago Bernabeu in 2004, Raul scored yet another brace against Manchester United. In his last UCL season, Raul scored in both legs against Inter Milan while playing for Schalke.
#2 Lionel Messi – 12 goals
The magician's first performance of note in UCL knockouts came in 2009 against Bayern Munich. Barcelona thrashed Bayern 4-0 in the quarter-final first leg, thanks to a brace and an assist from the Argentinian. The next season, he produced a stunning performance against Arsenal by scoring four goals in the return leg at Camp Nou.
In 2012, he scored a brilliant brace against AC Milan in the second leg. After a seven-year gap, Messi struck again in the last eight of UCL, this time against Manchester United.
#1 Cristiano Ronaldo – 25 goals
It is simply incredible that Ronaldo has more than twice the amount of UCL quarter-final goals as Lionel Messi. This stat shows why Ronaldo loves the Champions League as the Portuguese has several memorable goals in the last eight of UCL.
In the 2008-09 season against Porto, Ronaldo scored an incredibly powerful goal from a long way out with his knuckleball technique. In 2018, he scored a brilliant bicycle kick against Juventus, the reaction to which made him join Juventus in the summer. The hat-trick against Bayern Munich in 2017-18 is probably the most important three-peat of his Real Madrid career.