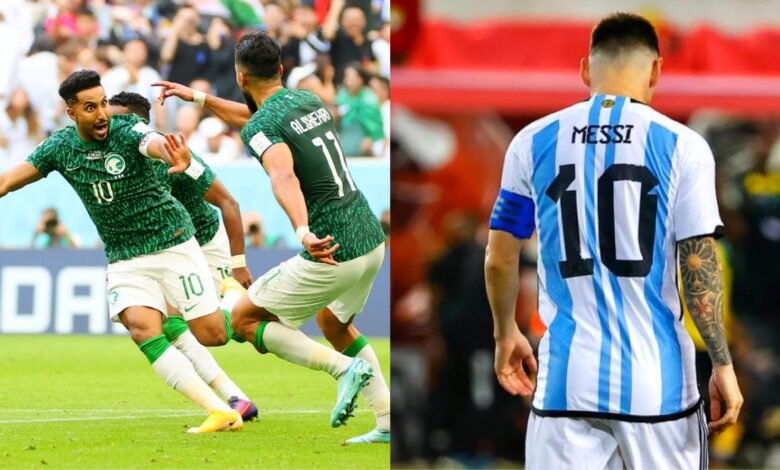 It was chaos at the Lusail Stadium as two teams, weighed differently in terms of the world ranking index, in terms of individualities and in terms of the greats of the game involved, went claws and fangs at each other's throat with the first major upset of the tournament being registered as Argentina was floored by the likes of a resolute Saudi Arabia.
Despite a lead in the opening half coming from the spot as Lionel Messi banged home the penalty to impart a lead to the Argentine contingent, Saudi Arabia kept on clawing desperately on the surface and eventually banged down the doors in the second half to leave Messi and company with a sour taste in their mouth.
As early as just 8 minutes, Argentina bagged the opportunity to surge ahead Al Bulahayi slammed into Paredes inside the box. Messi stepped up and calmly rolled the ball into the back of the net, signposting his greatness across the eons.
Thanks to a stroke of luck, a slightly early run from Lautaro Martinez allowed Saudi Arabia to breathe a sigh of reprieve as the second goal from Argentina that could have possibly put the game to bed was ruled out.
Despite all the huff and puff from the Men in Blue, the second half saw a completely different Saudi Arabian side injecting the needle of determination and hard work into their fabric as the Argentine rearguard started shaking.
Here is what Twitter had to say about Argentina vs Saudi Arabia
It was in the 48th minute when Saleh Alshehri smashed the equalizer sending the KSA crowd into an inexplicable bout of frenzy. Even before the Argentine unit could realise what had exactly unravelled at the other end, Salem Aldawsari hammered home the all-important leading goal that left Argentina stuttering and scrambling. Despite all their belligerence, lack of cohesion amongst the team members cost them dearly.
Twitter came alive in the brightest of colours as one of the major contenders for this year's title faltered early in the contest.
Arabic commentary on Saudi Arabia goal vs Argentina ✨
Goosebumps 🙌#FIFAWorldCup #KSAARG pic.twitter.com/ESOhR687gh

— Azka🇵🇰 (@azka_pak) November 22, 2022
Argentina had more offsides vs. Saudi Arabia, seven, than they did in all of the 2018 World Cup where they had six. Via @TNTSportsAR. 🇦🇷 pic.twitter.com/VEAhKXVsIx

— Roy Nemer (@RoyNemer) November 22, 2022
Argentina vs Saudi Arabia
Congratulation KSA, The Team of Game Changers…!#ARGvsKSA #ARGKSA #FIFAWorldCup #السعوديه_الارجنتين pic.twitter.com/Dm9f13wXmd

— Aizaz Mir Nasir Khan (@Aizaz_Mir5) November 22, 2022
Saudi Arabia fans are enjoying their win vs Argentina and Leo Messi. pic.twitter.com/dL39qUsndO

— FT90Extra (@FT90Extra) November 22, 2022
No minutes for Dybala. It's a shame for Argentina to lose vs Saudi Arabia. This is shame for scaloni pic.twitter.com/54ntZ5ZJ7p

— D10 Bianconeri ⭐️⭐️⭐️ (@Dybala10era) November 22, 2022
2-1 Saudi Arabia.

THEY HAVE TAKEN THE LEAD VS ARGENTINA WITH AN ABSOLUTELY SENSATIONAL GOAL!!!!!!!!!! pic.twitter.com/Oy9Ubocuiv

— 𝐀𝐅𝐂 𝐀𝐉𝐀𝐗 💎 (@TheEuropeanLad) November 22, 2022
Argentina in this game vs Saudi Arabia 🤣 #FIFAWorldCup #ARGKSA pic.twitter.com/lo3ZFD8Y0Q

— Mufaro (@mufarombu) November 22, 2022
Argentina vs Saudi Arabia man of the match pic.twitter.com/59mFUmKXBD

— Troll Football (@TrollFootball) November 22, 2022
History made at the Lusail as 🇸🇦 keeps 🇦🇷 at bay despite all the gung-ho. 🔥#ARGvsKSA #FIFAWorldCup pic.twitter.com/bjqDMY6x3q

— Lord Vader (@MadmaxVader) November 22, 2022