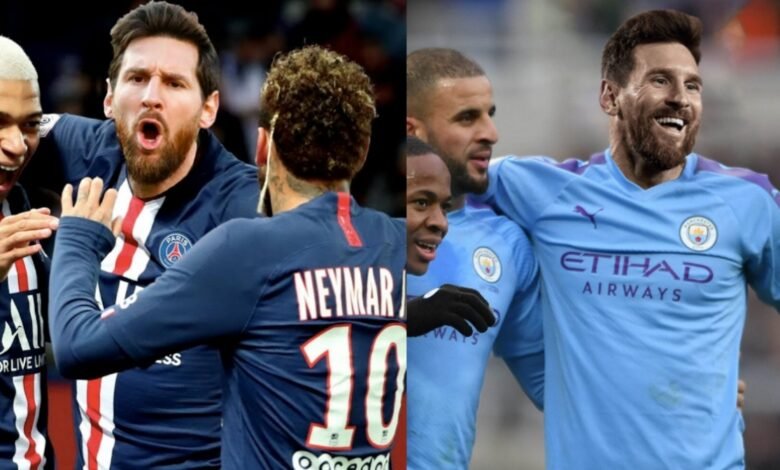 If there is one thing that we have learnt in the past few days is not to trust a rumoured transfer unless the pen is put to paper. From words of selling other stars to fuel the signature of Messi to contracts breaking down in the dying embers, this football world has turned crazy.
Raving about Messi and the reports that state that the Argentine sensation is headed to France to join Paris Saint-Germain, once again, nothing is assured until the last signature is done. We have seen De Gea not heading to Madrid because of a broken fax machine, di Stefano signing for Real Madrid despite Barcelona claiming his signature and countless other transfer moves that have met an unexpected conclusion.
Keeping everything in mind and also the fact that there may be a few clubs waiting till the end to conjure last-minute magic in order to gazump the God of football in their ranks, we will take a quick glance at four probable clubs who can onboard Messi for the upcoming season.
1. Paris Saint-Germain (PSG)
Needless to say, but PSG is in advanced talks to land the little magician this summer. Though the rumours were declined this morning about anything concrete, it is believed as per sources that PSG will be offering Messi £25 million a year to get into their ranks.
The French champions have already onboarded the likes of Gianluigi Donarumma, Sergio Ramos, Achraf Hakimi and Georgio Wijnaldum for the upcoming summer. To make this squad sound even more menacing, they already have the likes of Angel Di Maria, Neymar and Kylian Mbappé spearheading their battery up ahead. This means that if Messi puts pen to paper at Parc des Princes, that would literally render this team a World XI with superhuman talents in almost every position.
2. Manchester City
Though Guardiola has assured that he has no interest in roping in Messi, and he would like to vest his trust in the English attacker, Jack Grealish, with a purse as deep as City's, it won't be startling at all if they can lay their hands on the Argentine talisman.
They already have one of the best midfielders in Europe in the form of Kevin De Bruyne, and he has been wrecking other stalwarts like an untenable storm for a while now. With Grealish added to their ranks, things will turn more devastating for any other opposition colliding with the Cityzens. This midfield can literally become invincible if Messi arrives at Etihad in the dying embers.
3. Manchester United
It may sound as ludicrous as it can and especially after landing the likes of Raphael Varane and Jadon Sancho, splashing a boatload of amount on Messi looks out of bounds. However, if there is one reprieve for the Devils, and that is they will not have to shell out a humongous transfer clause amount. They have previously had brushes with successful free-agent transfers in the last moments of a transfer window that will point sharply towards Zlatan Ibrahimović in recent times.
The plus point here for Manchester will be that this can be a glorious shot at redemption for the Glazers who have so far been down and out ever since the takeover of the club. However, all their mistakes will be forgiven if they can manage to land the Argentine God. Another imperative hindrance that can play spoilsport is the hefty wages that United has been shelling to a few of their star players. Again, if you are Devil, there is nothing wrong with expecting.
4. Juventus
Despite all the cacophony, if there is someone who is very closely observing this entire situation, that is the Old Lady of Turin. They are waiting for the iron to get hot so that they can strike the telling blow at the perfect moment.
This will be a dream come true for all the fans in the world who would finally get to see Messi and Ronaldo combine before the icons bid adieu to the sport. They are silently monitoring the entire development and with not many signings in this transfer window may go for one massive splash which will blow their financial proceeds through the roof. Only time will tell, however, where will Messi arrive.