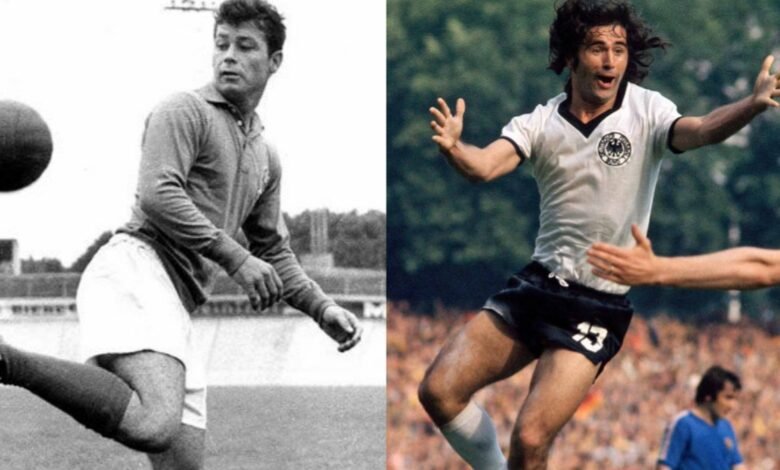 Playing and scoring in the FIFA World Cup is the dream of every professional footballer. Even relatively unknown names in club football have upped their game on the biggest stage, thus becoming a hero for their country. Scoring goals in the World Cup has arguably become tougher since the first edition in 1930. In this article, we will look at five players with the most goals in a single FIFA World Cup campaign.
#5 Guillerma Stabile – 8 goals
Stabile was an Argentinian striker who lit up the first-ever World Cup with his prowess in front of the goal. He scored eight goals in total and was the World Cup top scorer. He started the campaign with a hat-trick against Mexico as Argentina won 6-3. He followed it up with a brace against Chile.
He continued his fine form in the semi-finals too, with two goals against USA. He scored in the final too but Uruguay won the match and lifted the World Cup. Two other players have scored eight goals in a World Cup but stabile needed just four games for his tally.
#4 Eusebio – 9 goals
Still a worshipped figure in Portugal, Eusebio almost entirely carried the burden of a nation alone in 1966. Eusebio scored three in the group stages, including a superb brace against defending champions Brazil. His tournament got even better in the knockout stages as he netted a record four goals in the quarter-final against South Korea.
He was injured for the semi-final against England but still managed to score a spot kick. However, it was not enough to save Portugal's World Cup hopes. In the third place game, Eusebio scored the opening goal and paved way for Portugal's best ever finish at the World Cup.
#3 Gerd Muller – 10 goals
Third on the list of most goals in a single FIFA World Cup is the Bayern Munich legend Gerd Muller. He was the most clinical goal scorer of his generation, both at the club level and in International football. He lit up the 1970 World Cup with 10 goals at the age of just 25.
His tally included two hat-tricks, against Peru and Bulgaria respectively. He knocked out the defending champions England with a extra time goal in the quarter-final. However, his brace was not good enough for Germany in the semi-final as they were knocked out by Italy.
#2 Sandor Kocsis – 11 goals
Kocsis was part of the legendary Hungarian team of the 1950's which dominated the world, playing a brilliant brand of football. Kocsis has a goals per game ratio of 1.1, a number not bettered by anyone to have played atleast 50 International games.
He scored 11 goals in the 1954 World Cup, including four goals against West Germany who eventually won the tournament. Kocsis scored in every game of the 1954 World Cup other than the final and Hungary did lose the final to West Germany.
#1 Just Fontaine – 13 goals
First on the list of most goals in a single FIFA World Cup is Just Fontaine. Fontaine scored 13 goals in six matches at the 1958 World Cup. In the knockout stages of the World Cup alone, he scored a remarkable seven goals. First, a brace against Northern Ireland secured a semi-final berth for France.
Fontaine scored a goal in the semi-final but Brazil routed France 5-3. In the third place game, Fontaine scored four goals against defending champions West Germany. Despite his World Cup exploits, Fontaine's legacy has not lasted as he was forced to retire early.