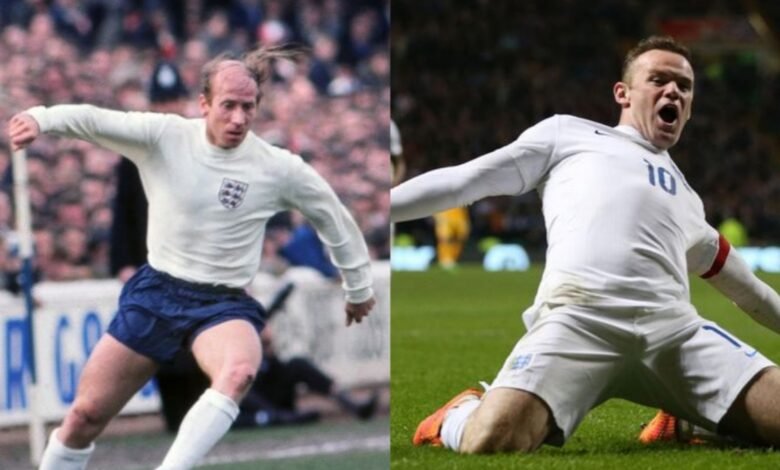 As the world is now split into multiple factions, citing poor sportsman spirit and disgraceful acts on the field, England will be colliding with Italy in the 2020 Euro final. However, this took them a long time and though it is still to be decided that where will the trophy exactly head, to home or to Rome, the English footballers have really shown some exemplary spirit to keep the masses entertained and hooked.
Over the glittering antiquity of football, England has produced some classic footballers who have gauged a million miles in the sky. Despite falling short of the ultimate glory on repeated occasions, they have always had extraordinary talents vying for glory. One of their major challenges has been dovetailing as a unit, while a chequered dalliance with fortune is another important reason for them to be missing out on glory.
In today's story, we will take a look at five of England's highest international goal-scorers. Spanning from the period of brutish and physical football to the range of some artistic creativity by Gerard and Owen, England has seen it all. This story, however, will be focusing on England's highest goal-scorers only.
Players with the highest number of goals for England:
5. Michael Owen – 40 goals
One of the most iconic English footballers to have played for illustrious clubs like Liverpool, Real Madrid, Newcastle United, Manchester United and Stoke City, he had a keen eye for goals. Always known for his ace positioning, Owen was known for locating even the remotest balls without any ado. He scored a combined 163 goals for all clubs from 362 matches.
He had played his heart out for Liverpool, appearing in 216 matches that saw him bagging 118 goals. He was also a crucial component of the English attacking force. Despite lacking the intensity and consistency in hammering those strikes, he still managed to score 40 goals for the Three Lions from 89 matches at a decent average of 0.45.
4. Jimmy Greaves – 44 goals
The man who always knew the back of the net like the palm of his hand, Jimmy Greaves was good at one thing and one thing only, scoring goals. He was an absolute legend for Chelsea and Tottenham Hotspur grabbing 344 goals for the clubs combined. Barring these two clubs, Greaves plied his trade for A.C Milan, West Ham United and Barnet. From a total of 579 appearances, Greaves managed to smash 382 strikes for all the clubs combined.
His scoring form for England knew no relent, either. His extraordinary goal-scoring average was what lifted him to the top five goal-scorers for England. Playing just 57 matches, Greaves bagged 44 goals at an astonishing average of 0.77. Despite being an intimidating apparition amongst footballers, he could only play eight years for the national team.
3. Gary Lineker – 48 goals
Unlike Greaves, Lineker was a perfect balance between being a creative midfielder and a prolific striker. Barring his goal-scoring prowess, he also had an eye for those perfect long balls. He could whip in those menacing deliveries selflessly, and could pump in those strikes with tantamount brilliance.
He played an imperative amount of time for Leicester City, Barcelona and Tottenham Hotspur and managed to end his club on a note of 238 goals from 438 matches. His eight-year stint with England was equally impressive as he bagged 48 goals from 80 matches at a stunning average of 0.6.
2. Bobby Charlton – 49 goals
Sir Bobby Charlton was an absolute beast for Manchester United and also constituted the Holy Trinity of himself, Denis Law and George Best. Charlton was a part of the infamous air-crash and before the explosion happened, he and Dennis Viollet swapped seats with Tommy Taylor and David Pegg. Rescued by the unscathed United custodian, Harry Gregg, he returned to football after surpassing the monstrous trauma that consumed him.
They say legends never die and United are the comeback kings, and Charlton was no exception to this motto. Not only did he managed to come back, but staged a strong turnaround, leaving the world in absolute awe of him. His numbers for England are equally scintillating, with 49 goals from 106 matches with a fine goal-scoring average of 0.46 goals per game.
1. Wayne Rooney – 53 goals
Wazza was one of the most phenomenal players to have graced the sport in English colours. He was totally famished for goals and simply didn't want to stop, irrespective of a vertiginous decline in his last years for Manchester United. Sadly, every single time Rooney has been named amongst the greats, people have connected him with that extra-terrestrial strike against city rivals, Manchester City.
Rooney is way more than that, and the way he has been hammering around with those wonder strikes for both United and England has been nothing short of classic. Rooney is not just a perfect striker, but he was also an artistic game-maker. He ranked third in the all-time assist charts with 103 assists. He also struck 253 goals for Manchester United, being their second-highest goal-scorer of all time throughout all competitions. Surprisingly, that acrobatic flipper is also England's highest goal-scorer with 53 goals from 120 matches at a stunning average of 0.44.