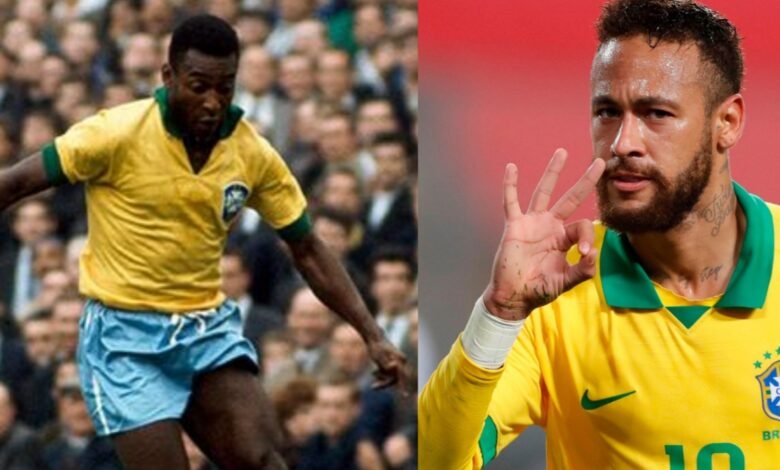 Ever since we have started watching international football, Brazil was always a treat for the eyes. Unfortunately, their game has come down the slope by leaps and bounds and they are nowhere close to what they used to be at one point in time. But the players who have graced the game in the yellow previously were altogether of a different breed and they took the sport to another level.
Brazil has always been a high-scoring nation and the way they have conquered the world with an exotic brand of football is nothing short of wondrous. Spanning from Pele to Ronaldo Luis Nazario De Lima, every single attacker that the Selecao has put forth has come out in flying colours. They have always been a high-scoring unit given the prolific goal-scoring finesse of their strikers.
In this story, we will sneak a peek at five of their players with the highest international goals for Brazil across all competitions.
Players with the highest number of goals for Brazil:
5. Zico – 47 goals
Arthur Antunes Coimbra who is popularly known as Zico was one of the most intimidating strikers of his time for Brazil. Much to everyone's surprise Zico was almost about to give up on his game for Brazil after he was not picked up for the Munich Games despite firing home the qualifying strike against Argentina in the 1972 Summer Olympics.
Zico's ubiquitous presence in the attacking third made him a reckoning menace for the Selecao. He featured in 70 games, bagging 47 goals in the process at an average of 0.67. He scored a goal after every 115 minutes on an average.
4. Romario – 55 goals
In the popular opinion that many Brazilian fans have left, Romario must be ranked right after Pele when it comes to the race of greatness. Despite a disputable life off the field, his heroics and exploits on the field are too overwhelming for others to refuse his greatness. It is said that even when Romario entered the twilight of his career he was equally menacing as his initial days in the sport.
A career that saw the downside of life way too early due to a hedonistic blur and his frequent brushes with disputes also stayed witness to 55 international goals from the 70 games of which he was a part.
3. Ronaldo – 62 goals
A man whose career was sacrificed in pleasing the Gods who cursed him with career-threatening injuries over and over again, Ronaldo was undoubtedly one of the best forwards Brazil had ever produced. The man known as El Fenomeno to the footballing world wasn't just an adroit finisher but his brilliance in the field with his scintillating dribbles and his firm finishes made him one of the most notable strikers to have graced the sport.
Just by the tender age of 21 at the 1998 World Cup in France, Ronaldo had achieved 200 senior goals, touring across the span of four nations and was already ennobled with the honour of being a top-scorer in a season in the Copa Libertadores, Eredivisie and La Liga. It was in 1998 that his dalliance with injuries started spawning, and he redeemed himself in glorious fashion when he helped Brazil to lift the 2002 World Cup with eight goals to his tally. From 98 international caps, the man has managed to blast 62 international goals.
2. Neymar – 66 goals *
Despite being infamous for his dramatic rolls on the pitch after a mere touch from his fellow counterparts, Neymar is undoubtedly one of the best strikers Brazil has in the active roster. He is a man who houses blistering speed and skills up his arsenal and the menace he poses to a field is compounded by an exotic range of thunderbolts from the yonder.
Despite a dalliance with a hedonistic lifestyle that has landed him in trouble on multiple occasions, his towering presence helps Brazil to challenge any opposition on their given day. The PSG striker has managed to register 66 goals for himself from 105 games at an average of 0.63 and given his age, he stays very much in line to topple the record of Pele, especially with the Copa América and FIFA World Cup coming up.
1. Pele – 77 goals
Edson Arantes Do Nascimento who is popularly known as Pele, the Emperor of Football, was one of the best footballers that the galaxy must have witnessed. His brutal flicks, his rampant strikes, his excellent twist and turns and his crazy repertoire of skills that left the defenders and custodians starstruck also made him an untenable threat to the opposition.
Pele spearheaded the Brazilian attack alongside Garrincha and Vava and whenever the other two lingered along the fringes of dynamicity, Pele was outright explosive. From the 92 games that he played, he went on to score 77 goals, an average which is close to almost 1.00 that is deemed as Godly in international football.