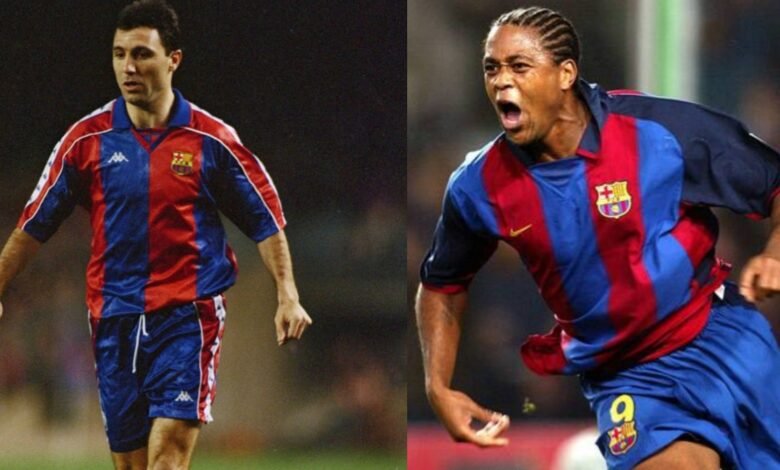 Football is a global sport and the popularity of football has arguably never been higher. The game is also reaching the far corners of every continent of the world. The consequences of following such a widespread game is people tend to forget many players who represented their own club. In this article, we will look at five forgotten stars who once represented Barcelona.
#5 Rivaldo
Rivaldo was an absolute menace for the opposition defenders in his first season at Barcelona. He was the league top scorer and looked set to achieve many more accolades. He did win all the major trophies at FC Barcelona except the coveted Champions League.
Primarily playing on the wings, Rivaldo often attracted defenders and scored many spectacular goals throughout his career. He won the Ballon d'Or in 1999 and scored more than 20 goals in the league twice during his tenure. He was a phenomenal player but his attacking counter-parts Ronaldo Nazario and Ronaldinho both always grabbed the limelight out of him.
#4 Bernd Schuster
Schuster is among the forgotten stars who once represented Barcelona only because of the club's dreadful decline during his time. Schuster was a midfielder with brilliant technical qualities but was a controversial character throughout his career.
He formed a deadly partnership with Diego Maradona and even after the Argentine's departure continued to influence Barcelona. However, he regularly had disputes with the management and was sidelined in 86/87 due to his behaviour. He left a year later and it is said that an entire generation of football fans have forgotten to embrace his impact on Barcelona.
#3 Romario
Regarded by many as the man who re-invented the centre-forward position, Romario was a beast in the box during his prime. But his very small stature allowed him to run at defenders and dribble past them too. He came to Barcelona in 1993 and lit up Camp Nou in his very first season.
He won the Pichichi award in 93/94 and looked set for a long career at Barcelona. However, problems started surfacing after the 94′ World Cup. He missed training sessions and soon the Barca management were not happy over his behaviour. He moved to Flamengo in 1995 and his short career makes it easy to forget his contributions.
#2 Patrick Kluivert
Kluivert is another victim of playing for the right club at the wrong time as Barcelona enjoyed little on-field success during his tenure. Kluivert joined Barcelona in the summer of 1998 and was a clinical striker for six seasons. He has 145 goals for Barcelona in 308 matches.
Kluivert was trained as a kid by the Ajax academy and hence completely embraced Barca's brand of football. He often dropped deep to combine with the midfielders and was unselfish in his play. Kluivert's contributions deserve more respect but he won just one La Liga and no other major trophies with FC Barcelona.
#1 Hristo Stoichkov
Stoichkov was so popular among Barcelona fans in the '90s that it is a shame now that his name is among the forgotten stars who once represented Barcelona. He was a passionate character and his versatility made him a favorite among teammates too.
As a part of Cruyff's dream team, he won every major trophy. Individually, his Ballon d'Or success in 1995 ranks as his greatest moment. He scored 162 goals in 341 games in his eight seasons at Barcelona. He also won four consecutive league titles under Cruyff, a record that might never be equalled.