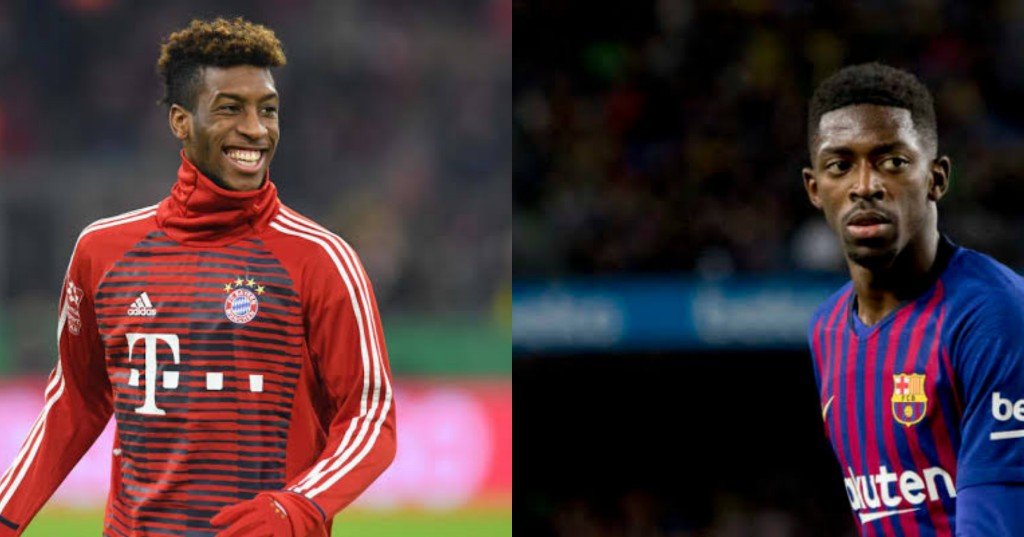 Manchester United has been heavily linked with the rising Dortmund sensation, Jadon Sancho for the last one month. Despite talks coming to a recent halt as the German club has clarified the fact that they are not in a position to sell Sancho due to his secret contract with the club which was renewed under the wraps, United still believes that the English international will be coming back home this summer and it will be United to sport the star in their depleted ranks.
One of the primary reasons for the transfer most likely to fail is the winger's valuation which has set by the German club. He is valued at 100 million Euros while Manchester United is not ready to shell out a single penny more than 50 million. Experts have claimed that Sancho is one of the brightest European prospects but the billing label pinned on him by Dortmund is exorbitant.
Going by the rumours, Manchester United has already started looking for possible replacements for the English winger as the feeling of letting him go is taking over slowly and steadily. Given Old Trafford's history of nurturing stars from the rags, the management will be inclined to scrap the plans for Sancho and opt for a more utility footballer at a lower price. We will look at the five most likely options for Manchester to replace Sancho.
1. Ousmane Dembele (Barcelona)
With his career at Camp Nou plagued by injuries, this exciting winger has entered into a receding phase as Barcelona plans to off-load him at the earliest possible opportunity. Spain didn't really get to savour the Frenchman's brutal speed and crazy skills as his game time at the Catalans were extremely limited.
He was bought by Barcelona from Dortmund at a whopping price tag of 105 million Euros, a move which brought nothing but ridicules on the Spanish stalwarts. This will compel them to at least pin a 90 million bill on Dembele in case if he wishes to switch loyalties.
Now the fun part here is after Barcelona's crushing defeat at the hands of Bayern, the entire squad barring four players have been put up for sale.
With Dembele looking for more game time and United looking for a proper right-winger, this love story would work out wonders for the two parties involved.
However, given Dembele's injury-prone outings, Solskjaer will have to make a lot of mountains move to ensure that the sum they will splurge on this youngster mustn't go down the drain.
2. Kingsley Coman (Bayern Munich)
This German winger has also been perennially linked to Premier League for quite a while now but the move never really materialized. Coman is one of the most gifted wingers in Europe at the moment as his raw pace down the wings laced with his ability to play on both planks, makes him a stellar footballer to grace your ranks.
Featuring in Bayern's colours a staggering 36 times in this season, though not as a regular starter but an effective substitute, Coman has been slowly falling out of favour in Flick's equation due to his frequent injuries.
However, an ability to use both his feet with tantamount brilliance makes him a perfect combination with Mason Greenwood. The duo does possess an exciting capability to switch plans and given both of their speed, especially Coman's, it can have a devastating impact on the opponents.
Like Dembele, his season has been plagued with injuries too and this will be the potential cause for Ole to frown profusely, in case if they are bringing the German onboard. However, with time these niggles can definitely be dealt with.
3. Federico Chiesa (Fiorentina)
He is the most exciting and the likeliest contender to replace Sancho as this 22-year-old lad can be a massive boost in the United ranks. What makes him the heaviest contender to win this race, in case if United fails to land Sancho, is his knack for goals.
A prolific goal-scorer that comes coupled with his searing runs down the right-wing makes Chiesa an extremely favourable option for United to explore. To add to its benefits given the low-key profile of this Italian, his price tag isn't as exorbitant as the other two options.
With age on his side, he can be a long-term target for United, given the fact that the team actually decides to splurge on a paradigm shift in their playing ranks.
The 2019-20 season reaped gold for Chiesa as he was involved in 20 goals in all that included 11 goals and 9 assists.
Now to compete with United, up ahead is Italian stalwart, Juventus as they may let go of Federico Bernardeschi and Douglas Costa due to their frequent under-performance in recent months.
4. Douglas Costa (Juventus)
The Brazilian winger is a phenomenal moniker in the ranks of Serie A but lately he hasn't been quite a regular part of the Bianconeri squad. Signed by Guardiola during his tenure at Bayern Munich for his searing pace and strong built, Costa's ability to muscle out his marker along with his scorching speed to outrun them makes him a hot favourite as a replacement for Sancho.
Costa's initial stints with Juventus were indeed eye-catching but with time, he has fallen out of favour at Turin and in Sarri's plans, he was a total misfit.
Looking for more game-time, Costa will eagerly look forward to probable suitors who are willing to use him as a first-team component.
With United's woeful right-wing showdowns, Costa will very well be in the radar of Ole as the Norwegian will have to refuel his tanks after a pathetic slowdown in the second half that saw United being terminated from the Europa League.
5. Adama Traore (Wolves)
The man who left Manchester City reeling as his brutal pace outdid the Blue defenders in a flash and his muscle outpowered them of the game. In the wake of City's defeat at the hands of Wolves, Guardiola said, "He is a motorcycle! It's almost impossible. Nobody can handle this pace."
Though he is not a hot pick for the other Premier League sides because of his inconsistency, his spasmodic bursts of excellence can leave his counterparts baffled and obliterated.
With 6 goals and 9 assists that saw him headlining the midfield of Wolves, Traore has established himself as one of the fastest players of the Premier League.
His partnership with Raul Jimenez has been absolutely exhilarating to watch as the duo has left the opposition defence terrorized with their sudden shots and bursts of acceleration.
He has averaged a staggering 5.1 dribbles and 1.3 key passes per game to make him one of the most towering midfielders of the League.
Now given his age, he still has all the time in the world that Ole can use on his wings. Especially against a defence that contemplates parking the bus against United, Traore's long rangers can be real handy for the Baby-faced assassin.