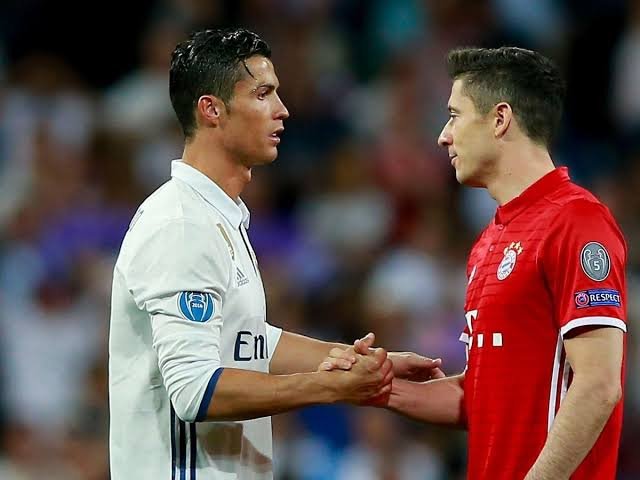 ​On Saturday night, Polish striker, Robert Lewandowski fired two thunderous strikes and teed up another two to take Bayern hammer and tongs to the quarter-finals of th​​e Champions League.

In the process of being involved in all the goals in yesterday's match at Allianz Arena, he has posed a serious challenge on one of Ronaldo's Champions League record which has withstood the test of time for the last 7 years.

Lewandowski has already managed to fire home a whopping 13 goals from 7 games which are four adrift of Ronaldo's haul of 17 in the 2013-14 season, the highest number of goals scored by an individual in a particular edition of UCL.

If Bayern manages to make their way to the finals, they will still have three more games in their hand for Robert to surpass CR7's enviable record.

The Polish marksman has already beaten the Portuguese striker hands down in this year's European goal tally in all competitions as he has managed to blast a staggering 53 goals vis-a-vis Ronaldo's 36.

When asked about the fact that whether Lewandowski was in hot pursuit of this incredible feat, he replied, "It's not a goal of mine. We have a few more games in the knockout round and I am just as happy creating goals as scoring them."

Despite relishing a wondrous season that has seen him surpass Ronaldo's goal tally in comprehensive fashion and also mounting a challenge to rattle Cristiano's long-standing record, his overall numbers in the league are way behind the Portuguese goal-machine.

CR7 is Champions League record goal-scorer of all time with 130 goals while Lewandowski has managed a decent 66 next to his name. The figures relay the fact that he would need at least another 4-5 seasons of destructive football to emulate Ronaldo's feat, considering the fact that the latter stops scoring completely.

The big man from Poland was involved in scoring one and assisting another two in the first leg against Chelsea while he amped up his efforts in the return leg. He scored a brace that included a spot-kick and squared off another two for Perisic and Tolisso to inflict a punishing defeat on Chelsea.

His magical numbers of 53 goals in this season have come in 36 matches out of the 44 appearances which he has been a part of.

Lewandowski's phenomenal outings in this season include a crushing 4-goal display against Red Star Belgrade on 26th November, a scintillating hattrick against Schalke in Bundesliga on 24th August and another stunning three-star outing against Latvia for Poland.

To underline his brilliance, adding up his involvements in the domestic league games in the last couple of seasons, he is second in all of Europe as his astonishing count of 67 has only been outdone by Barcelona captain, Lionel Messi.