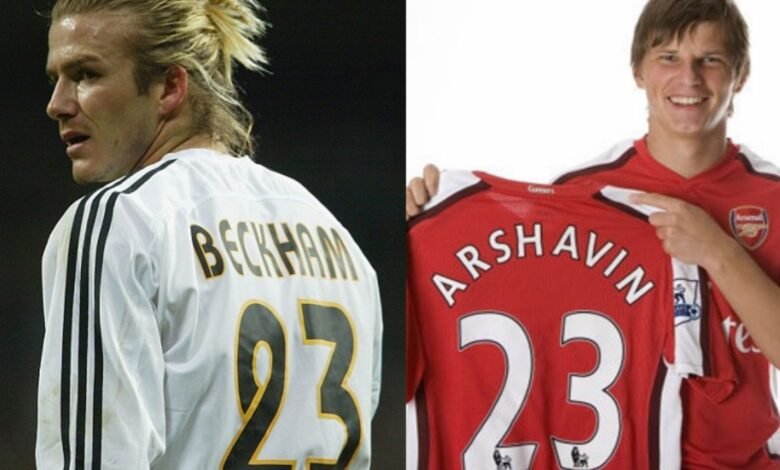 Footballers are recognized by the numbers they have on the back of their jerseys, players are remembered for their jersey numbers. As Tony Adams once said, '"Play for the name on the front of the shirt, and they will remember the name on the back." Shirt numbers speak for themselves, number 10s are known for their creativity, number 7s for their skills and pace, number 9s for their goal-scoring abilities, and so on. The number 23 is not really a common and famous number worn by players in the sport, but some significant players have worn the number over the years. This article looks at the 5 popular players who have worn jersey number 23 in Football history.
#5 Luke Shaw
The English left-back was signed by Premier League giants, Manchester United for 30m pounds, then a world record transfer fee for a teenager. 2014 was the breakout year for Luke Shaw as he earned his big move to the Red Devils and also got selected in the squad for the 2014 World Cup. Shaw has been significant for both his National team and the club, he scored his first-ever international goal at the Euro 2020 final, which was also the fastest ever scored in a European final and fifth fastest in the tournament's history.
Initially, he struggled a lot with his injuries and failed to impress everyone. Shaw suffered a serious injury in 15/16 which saw him sit out for at least 15 months, a setback that everyone said was too much to take for him. Luke Shaw worked hard and easily was the best left-back in the league the previous season, surprising everyone. Luke Shaw had a great Euro 2020 as well, it will be exciting to see how he does in the upcoming season.
#4 Jamie Carragher
A Liverpool legend through and through, Jamie Carragher wore the number 23 for 17 seasons at Anfield. The iconic defender played for the Merseyside club from 1996-2013, becoming the club's second-longest ever serving player. A one-club man, Jamie made his final and 737th club appearance on 19 May 2013, Carragher also holds the record for the most appearances in European competition for Liverpool with 149.
In his tenure at the club, his Liverpool honours were two FA cups, two Community Shields, three Carabao Cups, One iconic UCL at Istanbul and one Europa League. He retired as a legend, a fan favourite and a very prestigious player in the club's history.
#3 Sol Campbell
The former English centre-back donned the number 23 jersey during his time at Arsenal. His five seasons at Arsenal saw him make 195 appearances while wearing the number 23. He joined Arsenal on a free transfer from direct rivals, Tottenham Hotspur, as a result, he has remained a deeply unpopular figure among Tottenham fans.
While at Arsenal, he won two PL titles, two FA cups and being a famous member of the Invincible Arsenal side that won the 2003-04 season without losing a single game in the league. He also scores Arsenal's only goal in their 2-1 defeat to Barcelona in the 2006 UCL final. In 2006, Sol joined Portsmouth where he won a FA Cup, then joining Arsenal again before he finally hung up his boots.
#2 Andrey Arshavin
When Arshavin joined Arsenal back in 2009, he wrapped up one of those transfer sagas that were never-ending. United, Chelsea, Tottenham all of them wanted him after an impressive Euro in 2008 with Russia, but Arsenal managed to get hands-on him for 15m, Arsenal's record signing back at the time. So when the £15million deal was eventually confirmed overcoming obstacles like wage demands, deadlines and even Vladimir Putin — Arsenal fans were justifiably excited.
He was a player that perfectly suited Wenger's playing style, a two-footed player who could dribble, a quiet superstar who, if used rightly, could bring back Arsenal's dominance in the league. He had a successful career at the club, winning games for Arsenal on numerous occasions, but his 4 goal haul against Liverpool will go down as one of the best individual performances in PL.
#1 David Beckham
The former English captain wore the number 23 in his stint at Real Madrid, he chose this number when he joined the Spanish giants in honor of the legendary basketball player Michael Jordan who wore the number 23 on the back of his jersey during his time with American basketball side Chicago Bulls. Beckham continued to wear the number even when he moved to LA Galaxy after playing four seasons for Real Madrid.
Making him the most popular player in this list of the 5 Popular Players who have worn jersey number 23 in Football history. Known for his range of passing, crossing ability and bending free-kicks, David showcased his skills at Real Madrid. During his four seasons at the club, he won the La Liga title once in the 2006-07 season, which was his farewell season at the club as well.