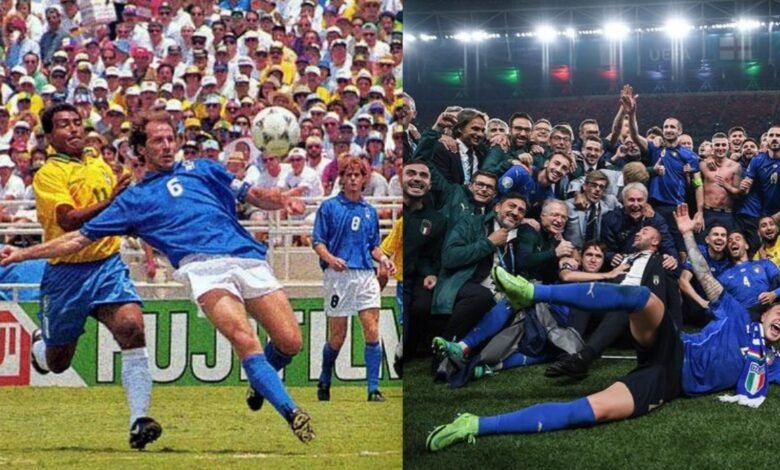 Compared to the history of club football, international football has produced very few teams with the "Invincibles" tag. The reason is the most international teams have to contend with notable absentees in their ranks, unless there is a major tournament on the horizon. Going unbeaten for a period of time in international football is an achievement that deserves much praise. In this article, we will take a look at the five longest unbeaten runs in international football.
Note :- Italy(1935-1939) has been left out due to contrasting historic data. Also, defeats in penalty shootouts are not considered.
#5 France(1994-1996) – 30 games
France missed out on qualifying for the 1994 World Cup and decided to rebuild the team under Aime Jacquet. Veterans such as Deschamps were joined by young sensations such as Zidane and the team embarked on a remarkable run of form.
France's run started on February 2, 1994 and ended with a shootout defeat in the EURO 1996 semi-final. In spite of the defeat, this team extended their dominance by winning the 1998 World Cup and EURO 2000.
#4 Argentina(1991-1993) – 31 games
Argentina reached their second consecutive World Cup final in 1990 but lost 1-0 to West Germany. It was thought to be the end of an era, but Argentina surprised everybody by going 31 games unbeaten after the final defeat. The run started with a 2-0 victory over Hungary and ended with a defeat against Colombia in the 1994 World Cup qualifiers.
The run included two Copa America triumphs in 1991, 1993 and a Confederations Cup victory in 1992 . Gabriel Batistuta was the star of this Argentina team as he was the top scorer in 1991 Copa America and scored a brace in the final of 1993 Copa America.
#3 Brazil(1993-1996) – 35 games
After the World Cup triumph in 1970, Brazil endured a dry spell and did not win a major tournament for 19 years. They finally won the Copa America in 1989 but were eliminated by arch-rivals Argentina in the 1990 World Cup. Under Carlos Parreira, a new defensive-minded Brazil team started taking shape in 1993.
Brazil emerged victorious in the 1994 World Cup, with Romario and Dunga being key contributors. In 1995, they reached the final of the 1995 Copa but lost out on penalties. Finally, Mexico ended their run in the 1996 CONCACAF Gold Cup.
#2 Spain(2007-2009) – 35 games
Among the longest unbeaten runs in international football, Spain's streak from 2007 to 2009 deserves a special mention. It is because their 35 game unbeaten run consisted of only two draws. Spain's streak began after a shock defeat at the hands of Romania in November 2006.
Spain revived themselves spectacularly and won EURO 2008 in a dominating fashion. They were favorites for the 2009 Confederations Cup, but were knocked out by USA. The defeat did not deter Spain's ambition as they reached the 2010 World Cup with 12 consecutive victories. They went on to win the World Cup despite a defeat in the opening fixture, and successfully defended their EURO crown in 2012.
#1 Italy(2018-present) – 35 games
In the last four years, Mancini's Italy has exceeded expectations, considering the fact that Italy failed to qualify for the 2018 World Cup. Italy lost 1-0 against Portugal in September 2018 and are yet to lose a game till date. Mancini's team does not have superstars, but they play an enthralling brand of football that is the envy of many countries.
Italy were not favorites for EURO 2020  but as the tournament went on their potential was increasingly clear. They won the tournament by defeating England at Wembley in the final, not an easy task by any means.