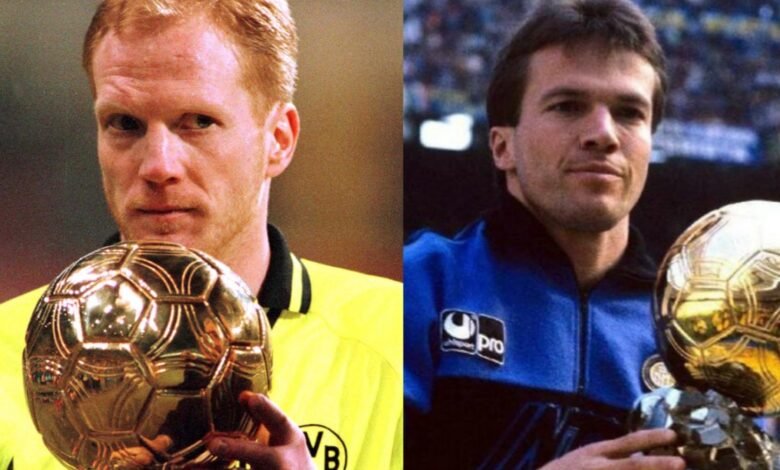 In football, Germany is a European heavyweight, as it has won four World Cups and three European Championships. Die Mannschaft has also produced great strikers, centre-backs and keepers who have been the best players in Europe at their peak. In this article, we will look at five Germans who have won the Ballon d'Or.
#5 Matthias Sammer – 1996
Sammer primarily played as a defensive midfielder but was capable of adapting to the role of a centre-back. Sammer started his senior career at Dynamo Dresden, a popular club in East Germany. In 1993, he signed for Dortmund and soon became a core part of the team. Borussia Dortmund enjoyed massive success after Sammer became a central defender.
Dortmund won back-to-back league titles in 1995 and 1996 and Sammer was at the heart of Dortmund's success. In 1996, he won the Ballon d'Or by a margin of one point over Ronaldo Nazario. The next season, Sammer led Dortmund to Champions League glory over Juventus. Just a season after lifting the UCL trophy, Sammer retired from football due to a serious knee injury.
#4 Lothar Matthaus – 1990
The most capped German player of all time, Matthaus represented his country for 20 years. Maradona once described Matthaus as the toughest opponent he has ever faced, and this comment speaks volumes about Matthaus' defensive prowess. Matthaus was mainly deployed as a box-to-box midfielder and under his leadership, West Germany won the 1990 World Cup.
In the 1989-90 season, Matthaus scored 11 Serie A goals while representing Inter Milan. Consequently, he won the Ballon d'Or by defeating his nearest competitor Salvatore Schillaci by 53 points. Matthaus is also a Bayern Munich legend and has won seven league titles with the Bundesliga giants.
#3 Gerd Muller – 1970
Muller is unarguably the most famous name among the Germans who have won the Ballon d'Or. Nicknamed "Der Bomber", Muller is the deadliest penalty box striker in the history of this game. In the 1960-70 season, Muller scored 42 goals in 38 appearances for Bayern Munich but did not win any trophy. In the 1970 World Cup, Muller scored 10 goals in six appearances. But West Germany could only muster a third-place finish.
Muller won the 1970 Ballon d'Or despite not winning any trophies, due to his goal-scoring exploits. Four years later. Muller won the World Cup and kept breaking several goal-scoring records in the following seasons. Muller scored 563 goals in 605 appearances for Bayern Munich, a truly astounding record.
#2 Karl Heinz-Rummenigge – 1980,1981
From 1974 to 1984, Rummenigge was a permanent fixture in the Bayern Munich team. He played a wide variety of attacking roles for Bayern Munich and scored 217 goals in 422 games. In 1980, Rummenigge won the Bundesliga and the European Championship. He won the Ballon d'Or comfortably over fellow German Bernd Schuster.
In the 1980-81 season. Rummenigge scored 39 goals in 45 appearances for Bayern Munich. He retained the Ballon d'Or, this time, defeating his teammate Paul Breitner. Rummenigge was affected by injuries during his spell with Inter Milan and retired in 1989 while playing in the Swiss league.
#1 Franz Beckenbauer – 1972
Beckenbauer tops the list of Germans who have won the Ballon d'Or due to the manner in which he revolutionized the role of centre-back. He won a very closely contested Ballon d'Or race in 1972. His competitors Gerd Muller and Gunter Netzer finished with just two points lesser than Beckenbauer.
In 1976, Beckenbauer won the Ballon d'Or after leading Bayern Munich to the third successive European Cup triumph. Beckenbauer finished second in both 1974 and 1975. Beckenbauer, Deschamps and Zagallo hold a unique distinction of having won the World Cup as both a player and a manager.