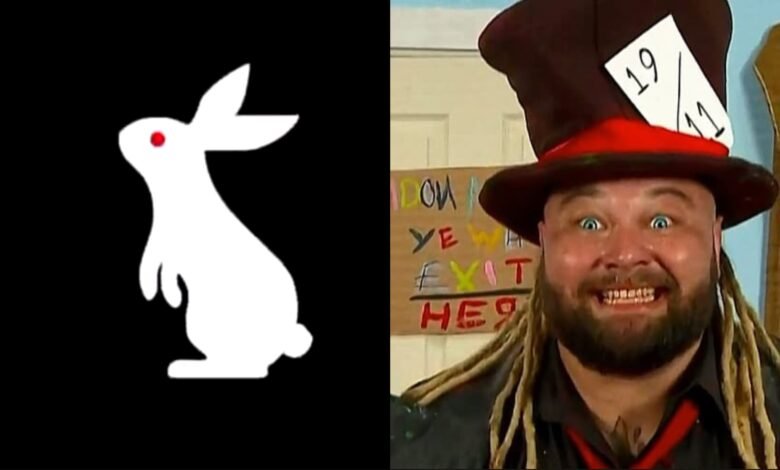 The global juggernaut of Professional Wrestling, WWE has been moving progressively towards a new creative direction in terms of its in-ring matches, Superstar development, and storylines making the WWE Programming better than ever under the watch of Co-CEOs Stephanie McMahon and Nick Khan with WWE Chief Content Officer Triple H taking the charge as Head of Creative who has been personally responsible for the product improvements and return of former WWE talents such as Braun Strowman, Karrion Kross, Dexter Lumis and Johnny Gargano.
Speaking of interesting TV programming, one current storyline in the WWE that has made rounds and got the fans talking is titled, the White Rabbit QR Code Story. For the past weeks, fans in attendance for WWE Live events have been hearing the song 'White Rabbit by Jefferson Airplane played in the arena with a red brooding light flashing signaling a clue to a big and unresolved mystery.
WWE dropped another White Rabbit tease at tonight's live event in Fresno. Check out the red lights. pic.twitter.com/qWBw8r7AGO

— Wrestling News (@WrestlingNewsCo) September 26, 2022
List of events which have happened in WWE White Rabbit Storyline
This has also been spotted by fans during commercial breaks of RAW and Smackdown, most recently on the last week's episode of the blue brand. WWE added fuel to the fire by introducing QR codes flashing in the arenas as breadcrumbs for the fans to solve the mystery one step at a time.
Anoche salió un QR en #WWERaw. Te lleva a un críptico vídeo de WWE, con un conejo blanco de protagonista (White Rabbit, la música que ha estado sonando en pausas de publi y house shows) y una fecha: 9:23. 23 de septiembre. El #SmackDown de esta semana. pic.twitter.com/TAyG9mQJQr

— Alejandro Gómez (@SrAlexGomez) September 20, 2022
Last week's Monday Night RAW displayed a QR code and every code scanner was led to a video featuring the white rabbit and a game of hangman, revealing the clue "Who Killed the World?" The answer to it; "You Did."
The next clue was dropped on this week's Smackdown with another set of QR codes during backstage segments leading the scanners this time to a simple online maze game featuring a white rabbit. Every individual who managed to reach the end of the maze was able to unlock another clue featuring a white rabbit, coordinates, and the word "patricide. While the word meant the killing of one's father, the coordinates found pointed towards Rogers Place in Edmonton, Alberta, Canada which is the sight for this week's Monday Night RAW.
Many fans and Wrestling conspiracy theorists believe Bray Wyatt to be behind the viral mystery and all these QR clues once resolved, would lead to the return of The Eater of Worlds in the very near future.