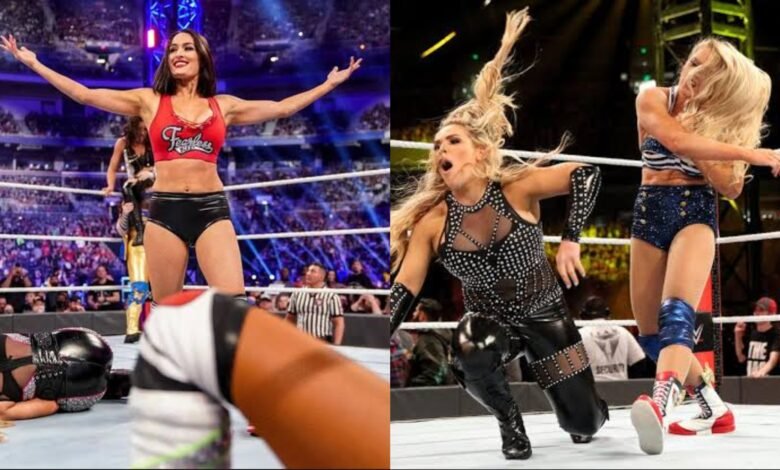 The 2023 Women's Royal Rumble match will happen this Saturday at Alamodome in Texas, where 30 women will compete against each other to grab the golden opportunity to headline WrestleMania. Last year, Ronda Rousey made a surprise return to WWE and won the match to challenge Charlotte Flair for the WWE SmackDown Women's Champion.
However, as per reports, Ronda will not be a part of the Royal Rumble show in 2023. Not many female Superstars have made their entries official for the match. Only Rhea Ripley and six other female Superstars have announced their entries thus far.
Although a majority of the participants are yet to be disclosed, in this listicle now, we will predict the five possible endings to the Royal Rumble match.
1. Rhea Ripley wins the Women's Royal Rumble match
Ain't no one throwing me out the rumble… #RoyalRumble #TheJudgmentDay ⚖️ pic.twitter.com/SnvJU2MF1m

— RheaRipley_WWE (@RheaRipley_WWE) January 22, 2023
Rhea Ripley is among the top favorites to win the 30-woman match this Saturday. The former RAW Women's Champion has been away from the title scene for quite some time. She has reinvented herself after joining The Judgment Day, and it should not be a surprise if she ends the Rumble as the last woman standing.
2. Becky Lynch wins Women's Royal Rumble by eliminating Rhea Ripley
As per rumors, the planned RAW Women's Championship match for WrestleMania 39 is Becky Lynch vs. Rhea Ripley. WWE have been teasing this feud, and the Rumble could be the perfect place to kickstart it. Becky could win the Rumble and ask for a match before WrestleMania, defeat Bianca Belair and set up a match with Rhea.
3. Liv Morgan stuns the world
Liv Morgan has been showing off a new wild side of her character on SmackDown. The former SmackDown women's champion could make history by entering the Rumble first and then outlasting 29 other women to win the match.
4. Alexa Bliss hijacks the match and miraculously wins Royal Rumble
Alexa Bliss is scheduled to battle Bianca Belair for the RAW Women's Championship at Royal Rumble. Fans would have noticed that Uncle Howdy and Bray Wyatt have troubled Bliss on RAW. They could probably take her under their control by first costing her the title match at Royal Rumble and then helping her win the Rumble in a bizarre way through their dark powers.
5. Lita surprises the WWE Universe
Lita and 2 more wrestling legends who want to face Charlotte Flair in WWE https://t.co/4AtvZi3Hsf

— Wrestle Tracker (@wrestletracker1) January 21, 2023
Lita vs. Charlotte Flair is a feud which many fans wish to see. It could happen at WrestleMania 39 if Lita makes a return at Royal Rumble, wins the match and chooses the SmackDown Women's Champion as her opponent. It could be a fairytale ending to Lita's legendary career.