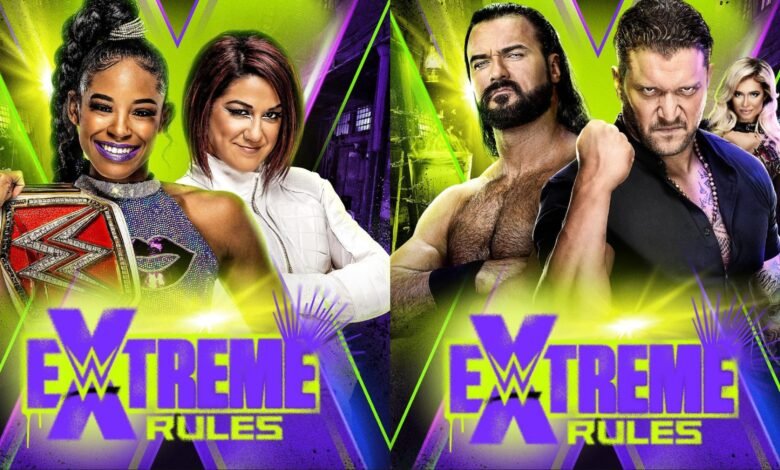 WWE Extreme Rules 2022 Predictions are the trending topic of discussions right now as we have 6 matches confirmed till date. It's turning out to be an exciting premium live event as all matches have an extreme stipulation attached to them.
All competitors have a long history with each other, making the matches more personal, which is always a good thing. Here is the full list of matches for WWE Extreme Rules 2022 match card:
Bianca Belair (c) vs. Bayley in a ladder match for the WWE RAW Women's Title
Liv Morgan (c) vs. Ronda Rousey in an Extreme Rules match for the WWE SmackDown Women's Title
Matt Riddle vs. Seth "Freakin" Rollins in a Fight Pit match
Drew McIntyre vs. Karrion Kross in a Strap match
Edge vs. Finn Balor in an "I Quit" match
The Brawling Brutes (Sheamus, Ridge Holland, and Butch) vs. Imperium (Gunther, Ludwig Kaiser, and Giovanni Vinci) in a Good Old Fashioned Donnybrook match
In a competition, someone has to win, and someone has to lose. Let's look at the WWE Extreme Rules 2022 Predictions for the winners and losers.
WWE Extreme Rules 2022 Predictions – Who will win Bianca Belair vs. Bayley?
Bianca Belair vs Bayley to main event Extreme Rules please. 🤞🏽 pic.twitter.com/fbxYPwyJqD

— Andrew (@bigtimeEST) September 27, 2022
Bianca Belair should come out on top in this ladder match because Bayley with her Damage CTRL buddies, Dakota Kai and Iyo Sky, has been causing problems backstage and they want to be an all-champions team when Bayley beats Belair for the Women's title.
The heels have been mostly getting the upper hand in their matches against Belair and friends including a win at WWE Clash at The Castle. Bayley, however, has an upper hand here, being the 2019 Money in The Bank Contract winner, which is a ladder match like this, but Belair will have to win to cement her legacy.
Prediction – Bianca Belair defeats Bayley to retain WWE RAW Women's Championship.
Who will Liv Morgan vs Ronda Rousey match?
#SmackDown Women's Champion @YaOnlyLivvOnce thanks @SuperKingofBros for his help in preparing to battle @QoSBaszler at #WWECastle pic.twitter.com/P968btkalW

— WWE (@WWE) September 3, 2022
Liv Morgan should win this match although she is the underdog here against the former UFC champion Ronda Rousey. Astonishingly, Morgan has used her wits to successfully survive against Rousey in a rematch and has even beaten another MMA fighter, Shayna Baszler in the UK.
This match being of an Extreme Rules stipulation, should provide her plenty of opportunities in the form of weapons and underhanded tactics to wriggle out yet another victory.
Prediction – Liv Morgan defeats Ronda Rousey to retain WWE SmackDown Women's Championship.
WWE Extreme Rules 2022 Predictions – Who will win Matt Riddle vs. Seth "Freakin" Rollins?
Special guest referee announced for Matt Riddle vs. Seth Rollins fight pit match https://t.co/ATN2cBSoYH #WWE #ExtremeRules pic.twitter.com/WooP1dTy9X

— NoDQ.com: WWE and AEW news (@nodqdotcom) October 2, 2022
Matt Riddle has to finally come out on top in his long brewing rivalry with Seth Rollins. The Visionary Rollins has always found a way to get under Riddle's skin, even beating him the last time they met in the ring.
They have since, cost each other matches on RAW. But this time at the Fight Pit, Riddle will have the upper hand as he is no stranger to the structure. For Rollins, it will be a whole new game.
Although Riddle had lost the first ever Fight Pit match in NXT, he has a lot more motivation now as his feud with Rollins is personal as he has mentioned his divorce in a promo. Also, Riddle's validity as a competitor could be tarnished if he keeps losing to Rollins every time.
Prediction – Matt Riddle defeats Seth 'Freakin' Rollins.
Who will win Drew McIntyre vs Karrion Kross match?
Drew Mcintyre vs Karrion Kross Extreme Rules Strap Match #wwe #drewmcintyre #karrionkross#ExtremeRules #ExtremeRules2022 pic.twitter.com/L1gkxWOCrs

— RAW SMACKDOWN PREDICTIONS | IWF🇮🇳 (@MdSadiqueOffic1) September 29, 2022
Drew McIntyre should win this match against his nemesis Kross because he has been laid out every time the two have met, although by ambush. Kross will have no option but to face the Scottish Warrior face to face as he will be tied to him with a leather strap.
No attacking from behind this time. Also, with the top babyface of the company, McIntyre losing in his last premium live event bout, he needs a big win to keep the momentum going for the future.
Prediction – Drew McIntyre defeats Karrion Kross.
WWE Extreme Rules 2022 Predictions – Who will win Edge vs Finn Balor?
Edge vs Finn Balor card advertising in red light and also lantern on the card ⭕ #wwe #BrayWyatt #WhiteRabbit #WWERaw pic.twitter.com/xdwX3EF0zw

— Normy Wrestling ( IWF 🇮🇳 ) (@Normywrestling) September 27, 2022
Edge should make Balor utter the words "I Quit" because Edge's own teammates of Judgment Day had gotten the better of him and left him unconscious after a brutal chair attack. He has been after them ever since their new leader Balor had taken Edge's leadership position and they have always had him laid even after their losses to him.
With Finn uttering "I Quit" the Rater R Superstar can finally have some closure. But he should have some backup on standby if they try attacking him again.
Prediction – Edge defeats Finn Balor.
Who will win The Brawling Brutes vs Imperium match?
Listen to this crowd reaction for @WWESheamus 🔥🔥🔥 #SmackDown pic.twitter.com/U3TZLUmQEY

— Wrestle Ops (@WrestleOps) September 10, 2022
The Brawling Brutes should emerge victorious in this free for all, weapons at every corner donnybrook brawl, as it's right up their alley. Imperium's leader Gunther was victorious over the Brutes' leader Sheamus in their last match at Clash at The Castle for the Intercontinental title and the two factions have been at war ever since.
Recently, Imperium even cost them a tag team titles match against the Usos. Therefore, the English Irish team has to settle a score with their fellow European rivals. And Sheamus is no stranger to this match either, having faced Drew McIntyre in it this July.
Prediction – Brawling Brutes defeat Imperium.