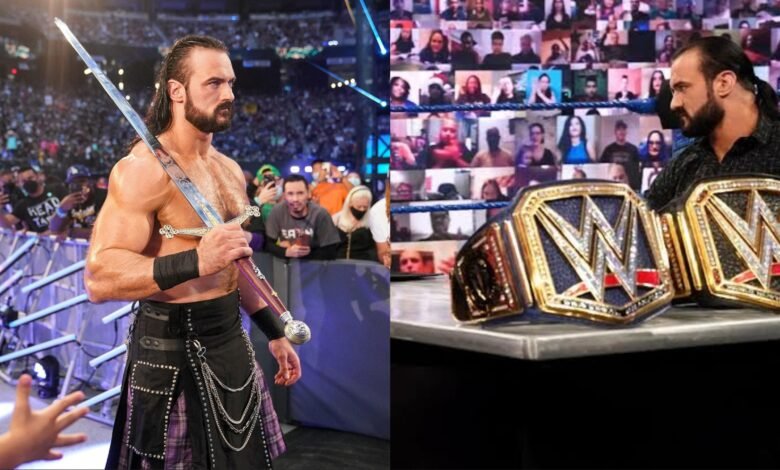 WWE Clash at the Castle is coming up soon, and WWE is going all out to promote the huge UK PLE. The main event for WWE Clash at the Castle 2022 is currently scheduled to be Drew McIntyre vs Roman Reigns. Roman Reigns is on the run of a lifetime. He has been undefeated for more than two years.
Thus, fans have been speculating about the one who will dethrone him.  Drew McIntyre is a backstage favorite, and over with the fans. Here are three reasons why he should beat Roman Reigns at the September PLE.
1. Demand by network executives
USA Network reportedly wanted an interim world champion on Raw pic.twitter.com/3VFpWhI7lC

— WrestlingWorldCC (@WrestlingWCC) August 7, 2022
There were reports recently that the executives at FOX and USA networks were demanding the unified titles to be separated. Roman Reigns has taken on a part-time schedule. As a result, the lack of a world title every week hurts the programming.
News outlets like Xero News have reported that WWE has agreed to separate the titles. Thus it would make sense for McIntyre to take it off Roman at WWE Clash at the Castle.
2. Perfect moment for Drew McIntyre at WWE Clash at the Castle
Drew McIntyre is going to receive a hero's welcome at WWE Clash at the Castle. WWE is holding a big event there after a long time. It would make sense to give the sold out stadium a great moment. There would be nothing better thanDrew McIntyre beating Roman Reigns for a world title.
3. Time to shine for Drew McIntyre at WWE Clash at the Castle
Drew McIntyre "Broken Dreams"Custom Titantron remake @DMcIntyreWWE #raw #wwe #drewmcintyre #brokendreams pic.twitter.com/9gaOXKtiRE

— DR6Edits (@DR6Edits) August 16, 2022
Drew McIntyre was an absolute anchor for WWE during the pandemic. The Scottish superstar was the WWE World Heavyweight champion through the Thunderdome era. Both of his championship victories were not in front of the crowd.
It would be a great opportunity for WWE to give McIntyre his due. Him winning a world championship in front of a racuous UK crowd would be a great way to do so.