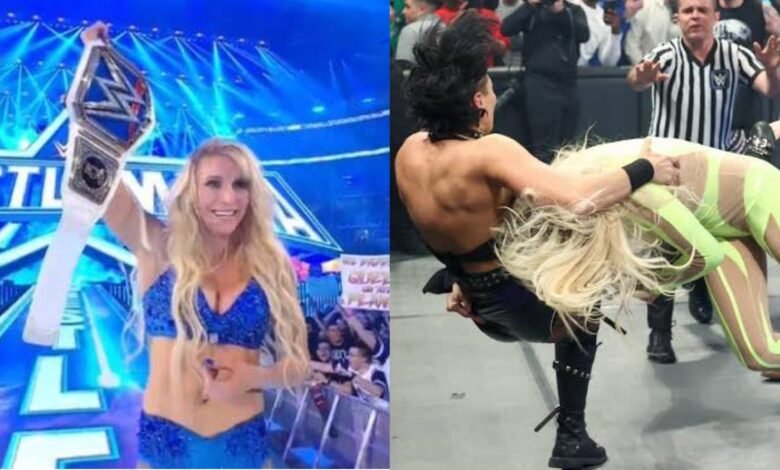 Charlotte Flair vs Rhea Ripley is one of the marquee matches on WWE WrestleMania 39 match card. The match will be for the SmackDown Women's Championship, with the champ Charlotte putting her title on the line against the 2023 WWE Women's Royal Rumble winner, Rhea.
Fans should note that this will be the first ever women's match to be repeated at WrestleMania. Charlotte Flair vs Rhea Ripley also happened at WrestleMania 36, where The Queen beat the Nightmare for the WWE NXT Women's Championship.
While Charlotte won the first meeting between the two Superstars at WrestleMania, here's how their upcoming WrestleMania match could conclude:
1. Charlotte Flair records another WrestleMania win vs Rhea Ripley
Given how dominant Charlotte Flair has been since her WWE return in late 2022, it should not be a surprise if she beats Rhea Ripley once again at the Grandest Stage of 'em All. This will establish Flair as one of the greatest champions in SmackDown history.
2. Rhea Ripley levels the score vs Charlotte Flair at WrestleMania 39
Rhea Ripley has worked hard over the last few months and emerged as one of the top candidates to become the new face of the women's division. If WWE wants to push her to the next level, booking her to defeat Charlotte Flair clean would be a great decision.
3. Dominik Mysterio helps Rhea Ripley win
Rhea Ripley is Dominik Mysterio's on-screen girlfriend. Dominik has been an important part of this feud, which is why he can interfere and help his girlfriend win the match.
4. Dana Brooke re-aligns with Charlotte Flair, helps her win
Dana Brooke and Charlotte Flair were one of the top heel pairings in the women's division a few years ago. Brooke has not done anything significant in WWE after that run, and Charlotte's character has become a little stale as well. Reuniting the duo at WrestleMania 39 would benefit both of them and surprise the fans.