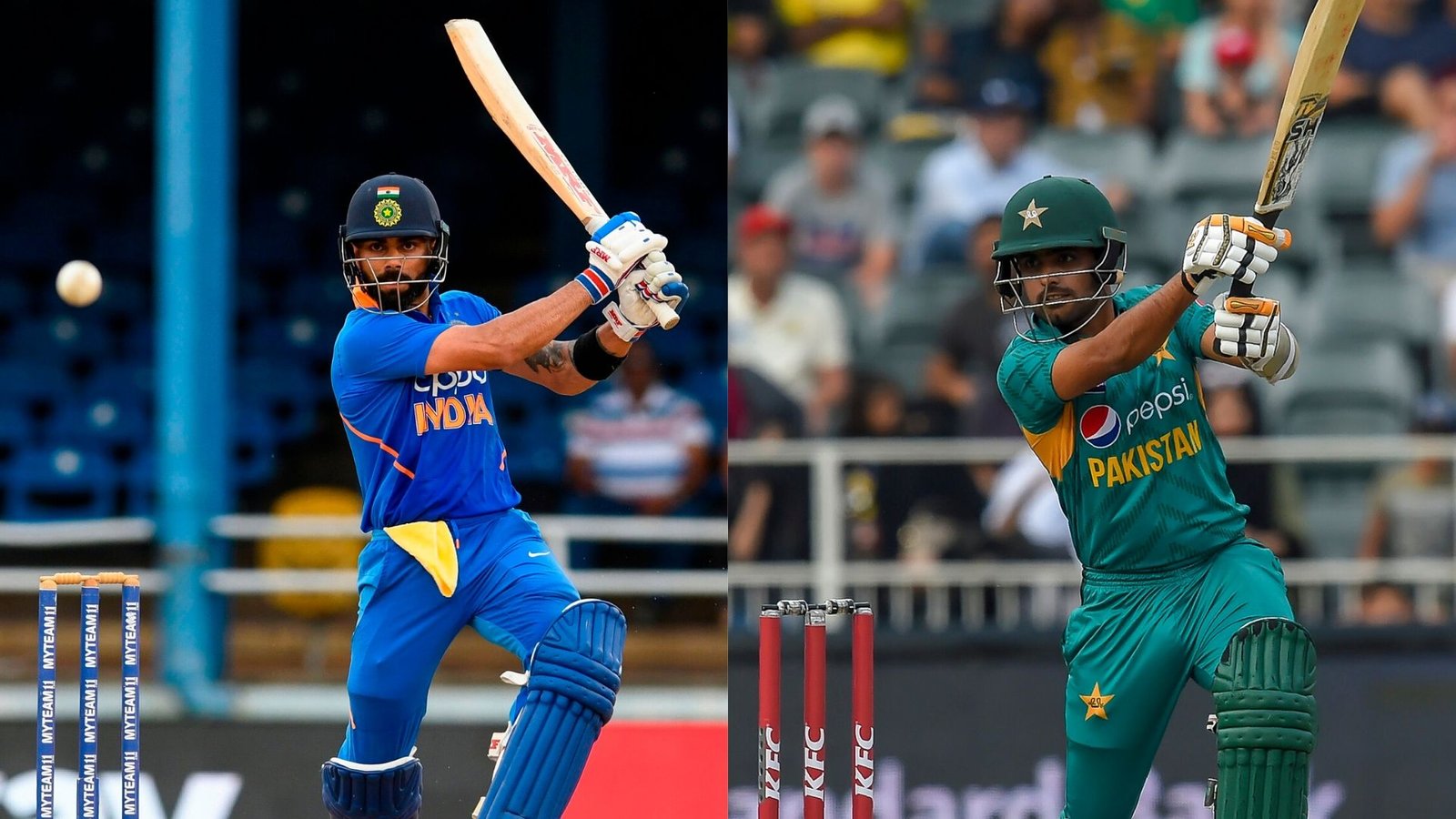 One of the most passionate and heated discourses in cricket at the moment is the comparison of Babar Azam and Virat Kohli. Both the batters from the subcontinent has showcased exemplary character and batted with panache from a different dimension.
Though Azam is still to play as many matches as Virat and it is believed that with time, he will struggle to maintain his consistency. He has not let his fans and supporters down until now and has done a commendable job. With all said and done, Kohli still holds sway over Azam and the enduring test of time that the Indian run-machine has went through, Azam is still to feel the heat of the same.
We will compare the statistics of Virat and Babar in all formats of the game and will try to draw a clear line of dominance that one may hold over the other, momentarily.
Kohli vs Azam Test Stats:
This comparison is not an entire picture of the contest between these two batting stalwarts. The duo has a fair difference between them when it comes to the number of tests that they have played. Kohli has played 86 tests so far while Babar has been a part of 29 tests. The Indian run machine has managed to score 7240 runs from 86 Test matches that saw him drafting 27 centuries and 22 half-centuries. Azam, on the contrary, has so far played 29 tests that saw him stitching together 2045 runs and score 5 centuries and 15 half-centuries. Kohli has scored at an average of 53.63 in Test cricket while Azam has garnered his runs at an average of 45.45. Kohli's highest score in Test Cricket is an unbeaten 254 while Babar Azam's best figures in Test cricket is 143. Given the fact, that there is a stark contrast in the number of games played between Kohli and Babar, hence, it won't be wise to draw a line yet, however, Kohli has a slight upper edge considering the average that he has batted and also the duration of Kohli's residence in the international circuit.
Kohli vs Azam ODI Stats:
Once again, the number of ODI's played between these two cricketers has a monumental gap. Kohli has so far been a part of 248 ODI's while Babar has so far played 77 ODI's. Kohli has scored 11,867 runs and is also the fastest player in the world to achieve the landmark of 10000 runs. In the 77 ODI's played by Babar Azam, he has managed to score 3580 runs. The Indian captain has scored at a batting average of 59.34 while the Pakistani paragon has struck runs at a rate of 55.93. Kohli has smacked 43 centuries in the shorter version of the game and has laced it with 58 half-centuries. Azam has so far mastered 12 centuries and 16 half-centuries. Kohli's best figures in ODI are 183 while Azam has managed to smash an unbeaten 125 as his highest. More importantly, Kohli has pulled off many of these heroics as a captain of the team and under the pressure of a chase. This clearly elevates Virat above Babar in the shorter format of the game.
Kohli vs Azam T20 stats:
When it comes to the number of games, Kohli once again leads the race by a proverbial mile as he has so far played 82 T20 internationals while Babar Azam has so far played 43 T20 internationals. Kohli is currently the leading run scorers in international T20's with 2794 runs followed by another Indian, Rohit Sharma. Babar Azam has so far managed to garner1681 runs and lag by a comprehensive distance as he has managed to gather 1681 runs. The Indian linchpin has scored at an average of 50.80 while Babar has managed to score at a rate of 50.93 that underlines the slight lead that Azam has in the whole race. Kohli has so far managed to score 24 half-centuries while Babar Azam has managed to gather 16 half-centuries. Kohli's best in T20 cricket is an unbeaten 94 while Babar has managed an unbeaten 97 as his career-best.
With all said and done, Kohli does hold a comprehensive sway over Babar Azam and in the offing to arrive, this bout of two batsmen is just going to accentuate further with fans being gifted an aggressive brand of cricket.