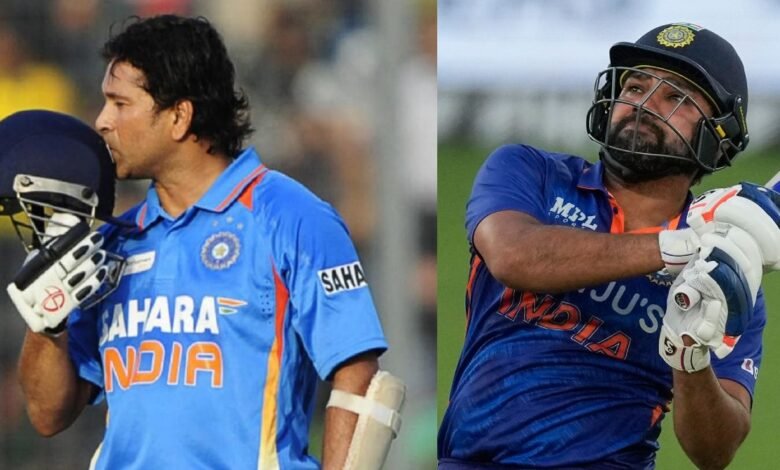 England is one of the toughest conditions for the batter, especially for those who arrive from the subcontinent. Although the white ball offers more relief than the red ball to the batter, scoring in England in any format is a big achievement. A few Indians have done it very consistently and hence, India has managed to do decently well in the shorter formats in England. On that note, in this article, we take a look at the list of most ODI runs scored by an Indian in England till now.
Note: The stats are as of 25th June 2022.
1) Rohit Sharma
Matches: 24 || Runs: 1335 || Average: 66.75 || Hundreds: 7 || Fifties: 6
The current captain of the Indian Team is the leader of this list. However, the start was not a memorable one for Rohit. He played his first ODI in England back in 2011. Unfortunately, in the first delivery that he faced, he got hurt and had to be retired hurt.
Nevertheless, since then, he has been consistent in the English conditions. While he did have crucial roles to play in the Champions Trophy of 2013 and 2017, it was in the ICC 2019 50-over World Cup that he did his best. He scored five centuries in that tournament, which helped him climb this illustrious list.
2) Virat Kohli
Matches: 31 || Runs: 1316 || Average: 54.83 || Hundreds: 1 || Fifties: 12
Virat Kohli stands at No.2 in this list of most ODI runs scored by an Indian in England till now. The former India skipper got the going tough at the start in England. However, once he found the groove, it was difficult to stop him.
Barring the hundred in 2011 against England, Virat still has not got an ODI century in the country. However, in all the subsequent ICC tournaments, he made vital contributions, which is further re-iterated by the twelve fifties that he secured.
3) Rahul Dravid
Matches: 32 || Runs: 1238 || Average: 45.85 || Hundreds: 2 || Fifties: 11
The journey of Rahul Dravid in English conditions in the ODI format is similar to that of Virat Kohli. He started well, scoring consecutive hundreds in the 1999 ODI World Cup.
After that, though, the current Indian Head Coach played a lot of cameos, which were helpful from a team's perspective. The last few games for Dravid were forgettable because he got very few runs. His final ODI was also played in England back in 2011.
4) Shikhar Dhawan
Matches: 19 || Runs: 1101 || Average: 64.76 || Hundreds: 4 || Fifties: 4
Shikhar Dhawan is also a part of this list of most ODI runs scored by an Indian in England till now. Dhawan made his ODI debut in England in the 2013 Champions Trophy. The start was brilliant as he scored two consecutive hundreds. He scored 363 runs in that tournament and was named as the Player of the Series.
The southpaw then got centuries in the 2017 Champions Trophy and the 2019 World Cup, as well. In the latter tournament, he had to be replaced by the squad after he suffered an injury. It was a big blow to Team India because Dhawan had been batting very well.
5) Sachin Tendulkar
Matches: 26 || Runs: 1051 || Average: 43.79 || Hundreds: 3 || Fifties: 4
In any batting list, Sachin Tendulkar is almost an inevitable name. However, unlike in most of the other records where he enjoys top honors, Sachin is at No.5 on this list.
Barring 2007 which was the last time Sachin played ODI cricket in England, the Master Blaster actually did not do extremely well when he had toured the country on the previous occasions. Nevertheless, the standards he had set for himself for high. Sachin ended with three centuries and four fifties in English conditions.