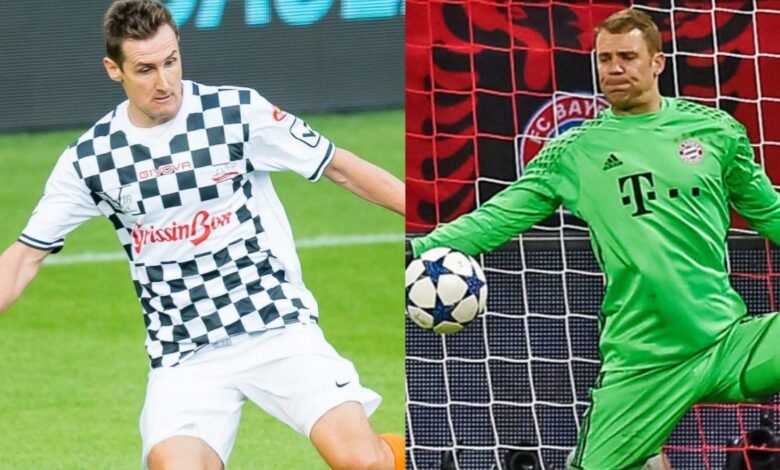 Germany is one of the most successful football teams in Europe, with three World Cup titles and three EURO victories to their name. This article talks about Germany's greatest XI, considering only a player's record for the national team.
SYSTEM : 4-3-1-2
GOALKEEPER: Manuel Neuer
Oliver Kahn is also a strong candidate for the role, but Neuer edges him due to his 2014 World Cup victory. Neuer has been at the forefront of a goalkeeping revolution and is much more than a shot-stopper. He has the passing range of a midfielder, and his adventures outside the penalty box has a separate fan base.
DEFENDERS : Philipp Lahm, Franz Beckenbauer, Per Mertesacker, Paul Breitner
Lahm was the captain of the 2014 World Cup-winning team and is a deserving right-back in Germany's greatest XI. He had a tremendous work rate, in addition to his gifted technical abilities. His impact on the German team was huge and Germany is still struggling to replace him.
Franz Beckenbauer was the first defender to show the world that the art of defense requires much more than just a hard tackle. He had composure on the ball and never panicked even when under immense pressure. In the 1966 World Cup, he was the third-highest goal scorer despite a non-attacking role.
Mertesacker amassed over a hundred caps for Germany and played in three World Cup campaigns. He partnered Hummels or Boateng in the 2014 World Cup and formed a stable defensive partnership. Jurgen Kohler is a strong contender for this spot, but Mertesacker edges him due to longevity.
In the 70's, Breitner was one of the very few full backs in the international circuit to be equally adept at attacking and defending. Breitner won the EURO in 1972 at the age of just 21 and was a world champion two years later. In the 1974 World Cup final, he opened the scoring for West Germany with a penalty kick.
MIDFIELDERS : Lothar Matthaus, Bastian Schweinsteiger, Michael Ballack, Thomas Muller
Matthaus is Germany's most capped player and represented Germany in five World Cups. He starred in 25 World Cup fixtures, a world record tally. After the painful final defeat in 1986 WC, Matthaus led West Germany to their third World Cup title in 1990. He also won the EURO in 1980 at the age of just 19. A box-to-box midfielder, Matthaus was described by Maradona as his toughest opponent.
Schweinsteiger is credited by many as a midfield mastermind due to his tactical and positional awareness. He was capable of playing any role in the midfield and possessed unlimited energy. In EURO 2012, he was employed by Low as a defensive midfielder, while his passing was better utilized in the 2014 World Cup.
Ballack is arguably the most under-rated player on this list, as he does not have a World Cup trophy to his name. However, he scored a remarkable 42 goals for Germany, despite never playing as a forward. Ballack was also part of the FIFA World Cup all star team in the 2002 and 2006 editions.
Thomas Muller was just 21 when he won the 2010 World Cup golden boot. He also had three assists to his name, a remarkable contribution for someone so young. In the 2014 World Cup, he scored five goals and was one of the tournament's best players. In this team, Muller can play in front of the two strikers as a classic number 10 or can roam across the pitch looking for passing lanes.
FORWARDS: Miroslav Klose and Gerd Muller
Partnering "Der Bomber" up front in Germany's greatest XI is Klose, the man with the most World Cup goals. Gerd Muller has more goals than appearances for Germany, an insane record. Klose was never that prolific, but he was an unselfish player and can play the role of a second striker.