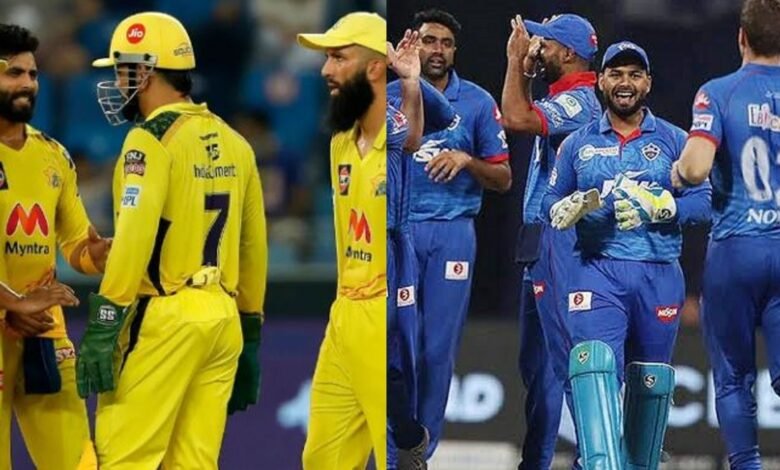 Retention before a mega-auction is important for a franchise to secure success in the next cycle of the competitions. At times, a few teams could go wrong with their decisions while a few do well. Recently, ahead of IPL 2022 auctions, teams announced the list of retention choices. In this article, we rate the retention choices of each franchise before IPL 2022 Mega Auction out of ten points.
Note: The ratings are out of 10, with one being the minimum and ten being the maximum.
Chennai Super Kings – 8
Retentions: Ravindra Jadeja (16 crores), MS Dhoni (12 crores), Moeen Ali (8 crores), Ruturaj Gaikwad (6 crores)
When it comes to the retention choices of each franchise before IPL 2022 Mega Auction, CSK actually did a good job. While the team had one eye on the future, they also ensured that there is an experience in the core. The retention of Moeen Ali is the best decision since IPL is likely to be played in India from 2022. However, it is not sure if MS Dhoni has been retained for the upcoming season alone. If he extends his playing career beyond 2022, the decision of CSK seems justified.
Delhi Capitals – 8.5
Retentions: Rishabh Pant (16 crores), Axar Patel (9 crores), Prithvi Shaw (7.5 crores), Anrich Nortje (6.5 crores)
Delhi Capitals has been one of the consistent teams in the last two years. While it was inevitable that they lost Shreyas Iyer, the team has made a few smart decisions in the other retentions. Especially with the retention of Axar Patel and Anrich Nortje, the team has already accounted for eight good overs in the bowling innings.
Kolkata Knight Riders – 7.5
Retentions: Andre Russell (12 crores), Varun Chakravarthy (8 crores), Venkatesh Iyer (8 crores), Sunil Narine (6 crores)
Although KKR has retained four players, there seems to be a concern with all of them. While Venkatesh Iyer is inexperienced, Andre Russell and Varun CV have injury issues. Sunil Narine's remodelled bowling action still needs revalidation on Indian pitches. Hence, if the franchise had retained Shubman Gill, it could have been helpful in multiple aspects.
Mumbai Indians – 7
Retentions: Rohit Sharma (16 crores), Jasprit Bumrah (12 crores), Suryakumar Yadav(8 crores), Kieron Pollard (6 crores)
Mumbai Indians had a few tough decisions to make in the retention choices of each franchise before the IPL 2022 Mega Auction. In the end, they have decided to leave Ishan Kishan and Hardik Pandya for Suryakumar Yadav. It seems surprising because both Kishan and Hardik offer more than one attribute, unlikely SKY.
Punjab Kings – 6
Retentions: Mayank Agarwal (12 crores), Arshdeep Singh (4 crores)
Mayank Agarwal is good retention, but blocking of INR 14 crores does not seem justified. Nevertheless, Punjab Kings could have tried to retain one of Ravi Bishnoi and Sharukh Khan in the uncapped category, which could have made their core stronger.
Rajasthan Royals – 7.5
Retentions: Sanju Samson (14 crores), Jos Buttler (10 crores), Yashasvi Jaiswal (4 crores)
Whether Rajasthan Royals have done well or not in the retention choices depends on their performance at the auctions. The franchise has retained the Top 3 of the batting line-up, and all are justified selections. That said, if RR can forge a good middle-order and a bowling line-up, they will be a force to reckon with.
Royal Challengers Bangalore – 7.5
Retentions: Virat Kohli (15 crores), Glenn Maxwell (11 crores), Mohammed Siraj (7 crores)
RCB had a tricky retention, but they decided to stick with three players. The likes of Harshal Patel, Devdutt Padikkal and Yuzvendra Chahal will be missed but RCB must now place confidence on the retained men. It is still a good core with all three departments covered.
Sunrisers Hyderabad – 5
Retentions: Kane Williamson (14 crores), Abdul Samad (4 crores), Umran Malik (4 crores)
SRH made a few poor choices. While leaving out Rashid Khan for Kane Williamson was one, retaining both Abdul Samad and Umran Malik at INR 4 Cr is another. They will now look to make amends at the auction.