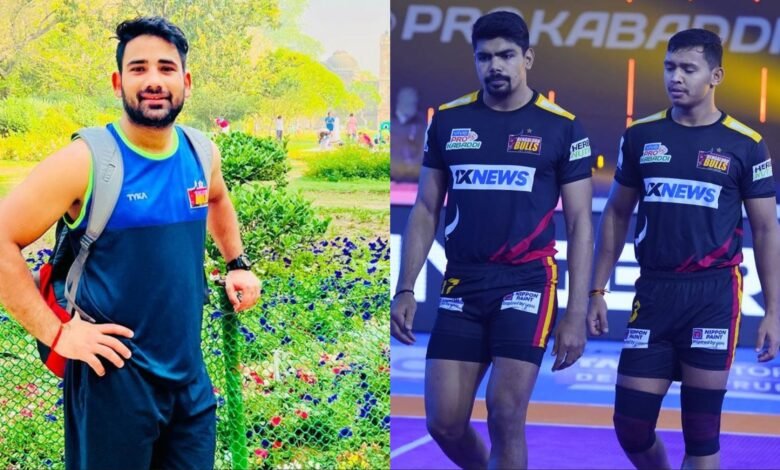 The Bengaluru Bulls were in phenomenal form in the preceding edition of the tournament that saw them finishing in the fifth position of the points table and amping up their game in the knock-outs. Sadly, for the Bulls they failed to kiss the required heights, considering the fact that they lacked consistency and stuttered at crucial moments in the game.
However, they will be hoping to carry forward the same momentum in the forthcoming edition that will be kickstarting itself from December 2022. However, as a matter of fact, they made a surprise release ahead of the latest edition of the tournament, a star that gave the Bulls the rage that it needed, Pawan Kumar Sehrawat.
A total of 10 players were retained by the Bengaluru Bulls, out of which a few starry names will always be leading the lines but the young names retained wouldn't be too bad either for a franchise who are looking for another breakthrough season. Here are the ten retained players of Bengaluru Bulls.
1. Bengaluru Bulls have retained Mahender Singh
Singh was an eminent defender who managed earn 40 points from the 20 games that he played in the preceding season. He had a strike rate of 8 percent raids and 48 percent tackles. He made a total of 12 raids and 8 super tackles. He bagged two high 5s and attempted 8 tackles.
2. Bengaluru Bulls have retained Mayur Jagannath Kadam
Mayur Kadam was a part of 19 contests from which he registered a tackle strike rate of 25 percent that earned him 14 valuable points. Even though his numbers weren't exceedingly promising yet it had ample sting to be retained under the elite player category.
3. More GB
With 20 points from 50 percent strike rate of tackles, More GB struggled to hit the right chord on occasions. He put in a couple of super tackles, 1 high five and a total of 34 tackle attempts were made.
4. Saurabh Nandal
Saurabh was an overwhelming promising young player who managed to bag 69 points from the 24 games that he and the franchise was a part of. He was not out on 50 percent of the occasions while he made a total of 112 tackles from which he bagged a success rate of 56 percent. He managed to rack up a fine 2.88 successful tackle per game that also starred 6 super tackles and 2 high 5s.
Bengaluru Bulls NYP Player List for PKL 9
Bharat out of the three was in extraordinary touch as he managed to amass 129 points from the last season. He was a part of the 3 contests that the Bulls played and laid absolute waste to the oppositions with his staggering display. With a not-out percentage of 70.92 and a 48 percent success from the 196 raid attempts made, Bharat is an interesting retention. Rohit Kumar and Vinod Lachmayya will need to deliver more promising numbers as they battle in the upcoming season.
Aman, Rajnesh and Yash Hooda were retained under the franchise nominated new young players. Though these are the young guns that can create significant impact in the upcoming days, yet Bengaluru had a few questions about their retention. However, they chose to bring them back and rally their forces from the scratch in the latest edition of the PKL.