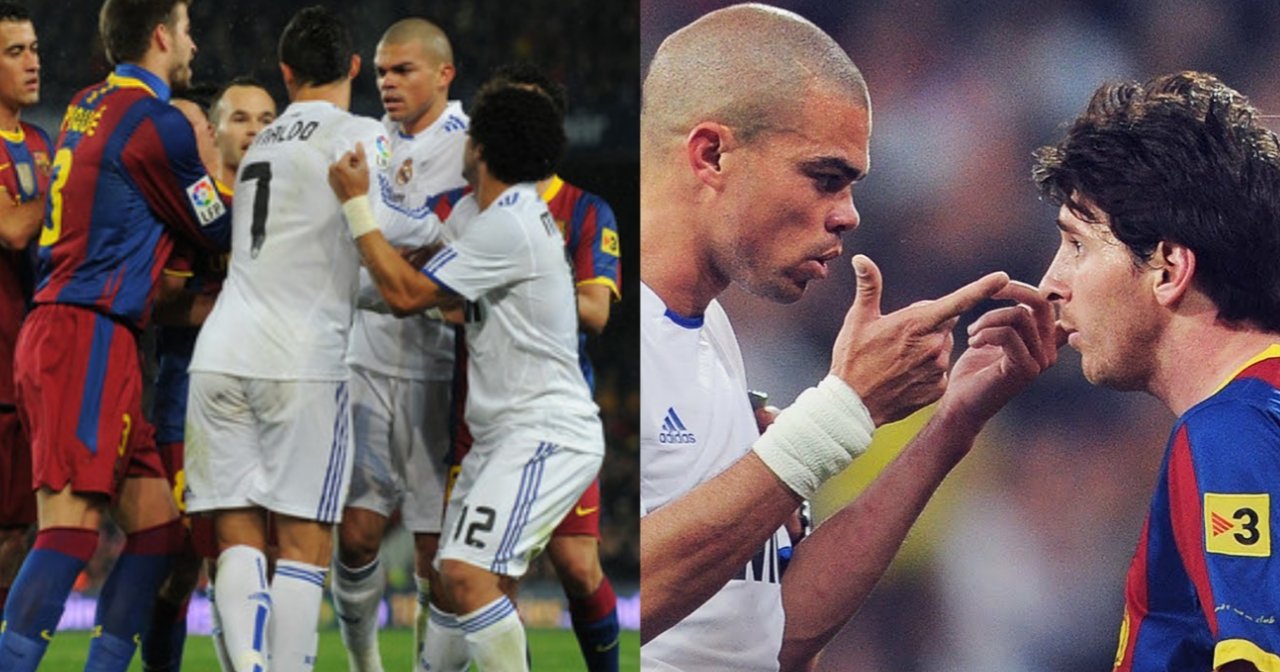 Rivalries and fights on and off the pitch have provided the viewers with some of the most enjoyable moments in football. War of words or physical altercations between players often adds an element of intrigue to future match-ups between the involved players. Most of the on-field fights happening between players are because of arguments over a foul or a decision taken by the referee. Sometimes, these altercations go from enjoyable to really ugly and have resulted in racist remark or abuses about personal life. In this article, we will look at five fights which are memorable for a variety of reasons,
5. Ronaldo pushes Pep Guardiola, Barcelona vs Real Madrid, 29th Nov 2010
One of many unforgettable match-ups between Jose Mourinho and Pep Guardiola, this particular game is held dear by all fans of Barcelona. In the 30th minute of the game, the ball went out of play and Guardiola took the ball. Ronaldo went up to Guardiola to get the ball for a throw-in and pushed him in a moment of frustration with his team's performance. Iniesta who came to console Ronaldo also got the same treatment and this created in a huge ruckus between Football's greatest enemies. In the end, Barcelona inflicted a 5-0 thrashing on their arch rivals and made a statement to the entire footballing world.
4. Pepe steps on Messi's hand, Real Madrid vs Barcelona, 19 Jan 2012
The master of dark arts, Pepe always provided football fans new reasons to hate him with his despicable acts every week or so. He infamously got a red card in the previous season's UCL semi-final against Barcelona and went one step further in this Copa Del Rey clash. Messi was already lying on the ground injured and Pepe walked by his side, casually stamping his foot on Messi's left arm. Messi started shouting in pain but the foul was disguised neatly as the referee did not quite spot the reason for Messi's agony.
3. Maradona's mad assault, 1984 Copa Del Rey final
This encounter between Athletic Bilbao and Barcelona took place at a time when racist taunts towards players were a common sight in football. The Bilbao fans present in the stadium kept taunting Maradona throughout the game and he finally broke after resisting relentless abuse about his race. He went head to head with opposition player Sola and knocked him out. He did not stop there and broke the arms and legs of many Bilbao players around him. All of this happened with the King of Spain in attendance and the publicity of this incident embarrassed Barcelona hierarchy. This resulted in Barcelona selling Maradona to Napoli, where he would cement his legacy as one of the best to have played football
2. Carvalho elbows Messi and Ramos red card, Barcelona vs Real Madrid, 29th Nov 2010
The famous 5-0 El Clasico gets another entry in this list as anyone who saw the game live will tell you about the unmatched intensity and tension on the pitch. Moments later the brawl created by Ronaldo had happened, Messi went down in pain after what initially looked like a push from Carvalho. However, replays clearly showed his ugly intention as the image of him elbowing Messi would find it's place in every newspaper in Spain. Carvalho escaped with just a yellow card but Ramos received a red for another foul on Messi. Ramos being Ramos did not go off silently as he pushed and fought with his Spanish team mates before finally getting out of the pitch.
1. Zidane headbutts Materazzi, 2006 World Cup final
In his last tournament as a professional footballer, Zidane lit the field with his magic and was clearly the best player in the tournament by the time France clashed with Italy. He put France ahead with a panenka penalty but the Materazzi equalized soon and the match went into extra time. In the 110th minute, Zidane headbutted Materazzi after an exchange of words and later it was revealed that Materazzi abused Zidane's sister. Zidane was sent off and thus could not participate in the penalty shootout which France lost.