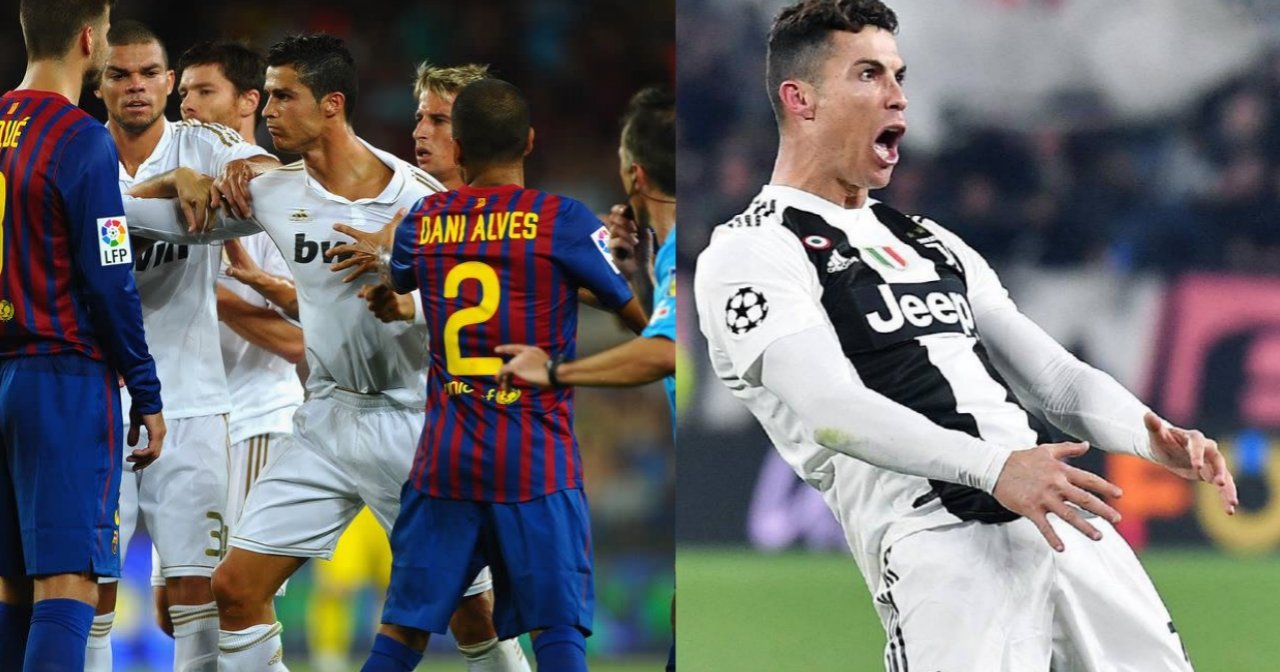 In the ongoing UEFA World Cup qualifiers, Portugal were held by Serbia to a draw amidst a lot of controversies. Ronaldo's winner from a narrow range was denied by a horrendous refereeing error as the flagman did not see the ball cross the line. Ronaldo walked off the pitch in visible anger, a few seconds before the actual completion of the match. This is not the first time Ronaldo's reaction had sparked controversy in his lengthy career. In this article, we will revisit five moments where Ronaldo lost his cool.
#5 versus Benfica, 2005
In the 2005-06 Champions League, Sir Alex's men were struggling for form and a victory in the last matchday was essential to qualify for Round of 16. United faced Benfica away from home and Scholes scored early in the game. However, Benfica bounced back and Ronaldo was nowhere to be seen as the Portuguese outfit scored twice before half time.
The crowd kept jeering Ronaldo and after being substituted in the 67th minute, he lost his composure. Ronaldo made a single finger gesture towards Benfica fans and earned a one-match suspension from UEFA for his actions.
#4 versus Portsmouth, 2007
Ronaldo ended the 2006-07 season on a high as he scored a career-best 17 goals in the league. But controversy followed in the starting stages of the 2007-08 season as he received a three-match ban for his actions against Portsmouth.
Ronaldo was repeatedly being targeted by Portsmouth players, but the referee did not find a valid reason to take action. Ronaldo was infuriated by the way the opposition was treating him and headbutted Richard Hughes. It was a moment of sheer frustration, and he was given a straight red.
#3 versus Atletico Madrid, 2019
After his transfer to Juventus, Ronaldo was enduring a difficult season in Serie A and UCL. A 2-0 defeat away from home against Atletico made Ronaldo angry as the crowd kept booing him. Before the second leg, Simeone promised he will sell watermelons in the streets of Madrid if Atletico do not qualify.
One of the greatest Champions League comebacks followed and Ronaldo was at the centre of it with a memorable hat-trick. After scoring the third goal, Ronaldo went to the away stand and made a "suck it" gesture. It was in reply to Simeone's gesture in the first leg, but Ronaldo escaped any kind of action and played the quarter-final.
#2 versus Barcelona, 2017
Ronaldo ended the 2016-17 season with a memorable brace against Juventus in the UCL final. However, Injury issues meant that he was not fit to start the first leg of the Spanish Super Cup. After coming on as a substitute, Ronaldo scored a phenomenal goal to give his team the lead and was booked for removing his shirt. Minutes later, the referee gave him a second yellow for allegedly diving inside the box.
Amidst the chaos, Ronaldo pushed the referee and was given a five-match suspension for his actions. He was lucky to escape severe punishment as Spanish football rules allow up to 12 matches ban for contact with officials.
#1 versus Barcelona, 2010
One of the most hyped games of this century, this Clasico featured so many controversial moments. It was billed as the game to determine the best manager and best player in the world and naturally, emotions were running high. Barcelona were running riot and Ronaldo was frustrated by the way his team was playing.
The ball went out of play and cristiano pushed Pep Guardiola in an attempt to start the play quickly. Iniesta tried to calm down Ronaldo, but he also received a slight push. A huge brawl ensued between the teams and play did not resume for a few minutes.