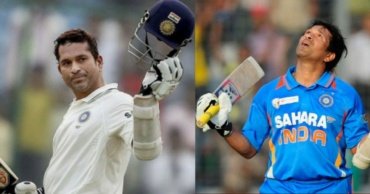 Sachin Tendulkar, who is considered to be the God of Indian cricket has set and broken so many international records that you can't even count. Sachin Tendulkar started his international career at the age of 16 and he was facing top-class Pakistan bowlers on his Test debut. Tendulkar has done everything for Indian cricket. After many attempts, he finally got to hold the World Cup Trophy as India won the World Cup in 2011.
There are many records set by the mighty Sachin Tendulkar which other cricketers can't even dream of. Some of them are just unimaginable. There are cricketers who can challenge these records but breaking them will be a herculean task. So, let's have a look at five records of Sachin Tendulkar that will be difficult to break.
5. Most Test runs
Sachin Tendulkar who had a long Test career has scored 15921 runs in 329 innings at an average of 53.79 with 51 centuries and 68 half-centuries to his name. The next three in the list of most Test runs are Ricky Ponting, Jacques Kallis, and Rahul Dravid with 13000+ Test runs.
At one point in his career, Sir Alastair Cook threatened to break that record but he announced his retirement in 2018. Recently Geoffrey Boycott mentioned that Joe Root can break Sachin Tendulkar's record but he is just halfway through that record and it is a long way ahead. It will be very difficult for any batsmen to score more than 15000 Test runs in a Test career.
4. Longest International Career
Sachin Tendulkar who made his debut in 1989 at the age of 16 went on to play his last Test in 2013 at the age of 40. His international career lasted for more than 24 years which is hard to believe. His career lasted for more than two decades.
In today's day and age when there is so much cricket going around it is difficult to play at the international level till the age of 40. There aren't many players who can make their debut at the age of 16 and then sustain a career for 24 years. There is no way any cricket player is going to break this record in the near future.
3. 100 Centuries in International Cricket
The god of Indian cricket has managed to score 100 international centuries in his cricket career. He scored 51 Test centuries and 49 ODI centuries. The next on the list of most international centuries is Ricky Ponting with 71 centuries to his name.
Some people think that Virat Kohli might be able to break this record but he is still 30 centuries away from that number. Kohli will break the record for the most ODI centuries but to score more than 100 international centuries will be a difficult task for the Indian captain.
2. Most ODI matches
Sachin Tendulkar has played 463 ODIs for his country. The next players on the list are Mahela Jayewardene and Sanath Jayasuriya with 448 and 445 ODIs respectively. Due to the arrival of T20 cricket, the number of ODIs in a bilateral series has reduced from five to three on most occasions.
There are not many tri-series happening and so the number of ODIs played by the current players will always be less than Tendulkar. This is a record that will be almost impossible to break for any current cricketer.
1. Most Test matches
Sachin Tendulkar not only holds the record for the most number of ODIs but he also holds the record for the most number of Tests player as he has played 200 Tests in his international career. As mentioned earlier he played his first Test at the age of 16 and the last at the age of 40.
The fitness, the hunger, and the desire to keep playing so many Tests is a commendable achievement. Joe Root who played his 100th Test can come close to this record if he keeps playing for another 8-9 years, but it won't be an easy task.