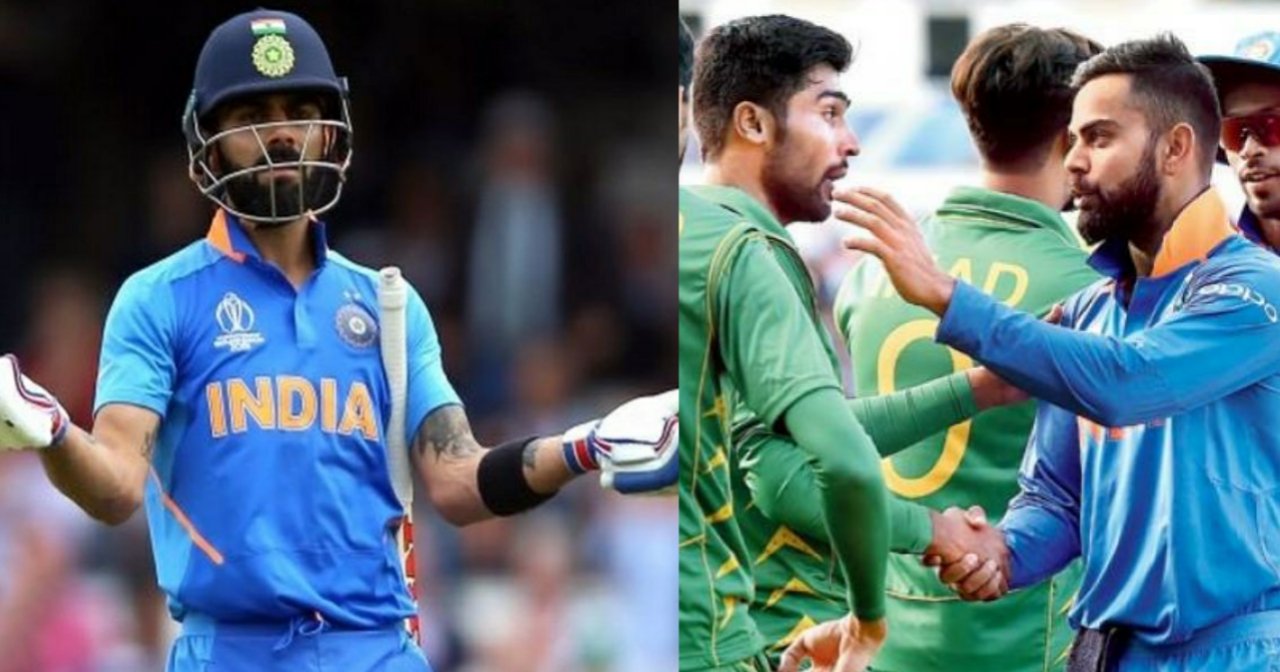 Virat Kohli is the captain of the Indian cricket team. He has set new benchmarks for fitness with his hard work and dedication. It will not be an understatement to say that Kohli is one of the most successful cricketers of the modern era. He has dominated the bowlers in all formats. Also, he has mastered the art of attacking and defending.
In the early stages of his career, Virat Kohli was a bad boy, who often got involved in fights. Every cricket fan of the early 2010s could recall at least one fight of Virat Kohli on the field. However, as the years have passed, Virat has evolved. He is a calmer individual now who shows equal respect to his teammates and rivals. Here are the top five sportsmanship acts by Virat Kohli.
5. Virat Kohli hands the trophy to KS Bharat
KS Bharat has not made his international debut yet. However, the young wicket-keeper batsman has already touched the international cricket series trophy. It happened during India's historic series against Bangladesh. The series was historic because it featured India's first pink-ball Test. Kohli's team won the series easily.
After the day/night Test in Kolkata, Virat received the trophy. He followed the tradition set by MS Dhoni and gave the trophy to KS Bharat. The wicket-keeper was a back-up for Wriddhiman Saha in the squad. Rishabh Pant was playing in Syed Mushtaq Ali Trophy then. Hence, Bharat got a chance to lift the trophy.
4. Virat Kohli urges crowd not to boo Steve Smith
Steve Smith received a temporary ban from international cricket for his involvement in the infamous ball-tampering scandal. That incident happened in the series against South Africa. Smith soon made his return after the ban. However, the fans did not welcome him well. People went to stadiums with sandpapers.
Also, they booed Steve Smith when he was on the field. Despite being his rival, Virat Kohli asked the fans not to boo him. He gestured the crowd to clap and cheer for Smith. This act gave Kohli the ICC Spirit of Cricket in 2019. He was also nominated for the ICC Spirit of Cricket award of the Decade.
3. Checking on Wahab Riaz after his fall
In the same ICC World Cup, India battled Pakistan a few days after their match against Australia. Virat Kohli produced another example of sportsman spirit in the game. Rohit Sharma and Kohli destroyed the Pakistani bowlers. India even recorded a fantastic victory in that game. That win helped them maintain their clinical record versus Pakistan at World Cups.
During India's innings, Pakistani fast bowler Wahab Riaz gave his 100% on the field. After bowling one of his deliveries, Riaz fell on the ground in the follow-through. Rohit and Virat were batting in the middle then. The two batsmen ran to add runs to the team's total. While running, Virat checked on Wahab Riaz and put his hand on Riaz's back, winning the fans' hearts.
2. Praising Mohammed Amir before Asia Cup
Mohammed Amir received a ban from all forms of cricket for the match-fixing scandal in 2015. He made his return to cricket after five years and impressed everyone with his left-arm pacer. Amir was going to play his first match against India after return in Asia Cup 2016. Ahead of that game, Virat Kohli offered his views on Amir. Here's the heart-warming statement by Kohli:
"I have always believed that he (Amir) is a world-class bowler and had he been around for the five years that he was banned, he would have certainly been a top three bowlers in the world. He has a lot of talent, has got pace, bounces a very good yorker." Thus, Virat Kohli boosted Amir's confidence. This statement received positive response from the cricket fans.
1. Appreciating debutant Haseeb Hameed
England tried a new opener during their Test series against India in 2016/17. Haseeb Hameed was his name. The youngster looked quite impressive in his first Test series. Unfortunately, he got injured in the third Test after Umesh Yadav's delivery hit him on his left hand. He returned to the pavilion soon. However, Hameed came out to bat lower down the order in the second innings and scored 59 runs despite being in pain.
Hameed's inning won Virat Kohli's respect. Here's what the Indian skipper commented about Hameed after his inning: "I wish him a speedy recovery. He showed great character for a 19-year-old at this level. He put his hand up when his team wanted him to do it. The way he played with James Anderson, in the end, showed great maturity, to play with a tail like that. He knew exactly what he wanted to do."
Thus, these are the top 5 sportsmanship acts by Virat Kohli that touched many cricket fans.