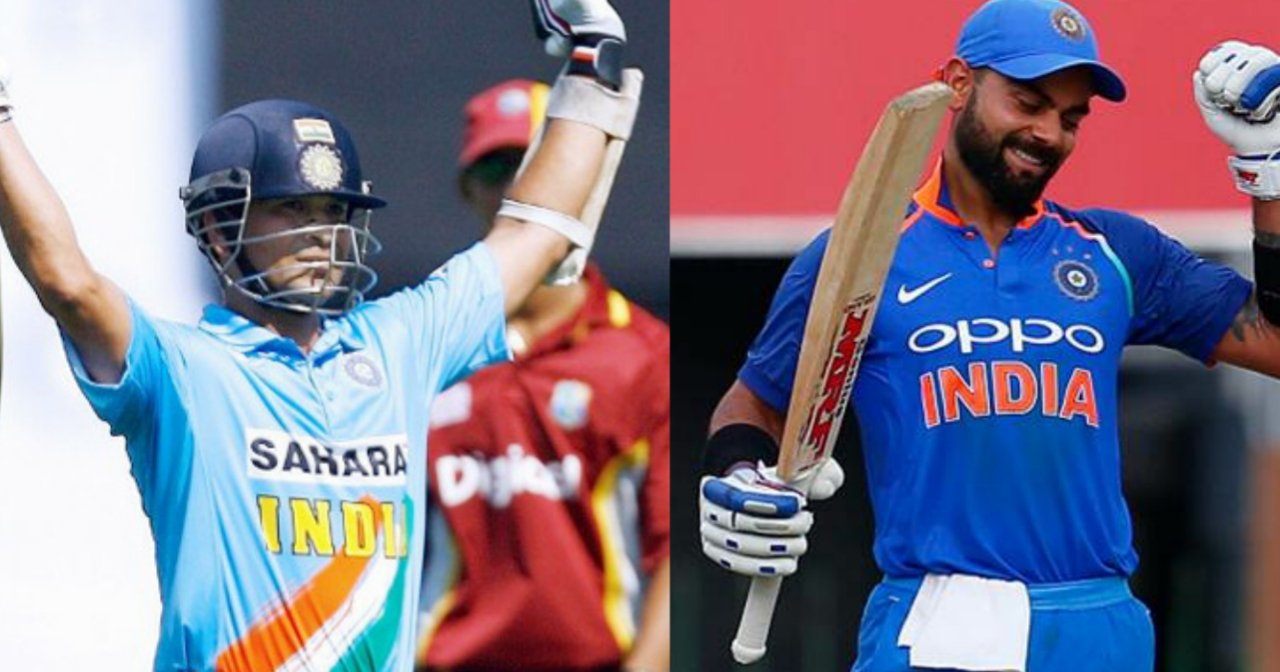 ODI cricket is a format which is an amalgamation of Test cricket and T20 cricket. While you need to have the stroke-making ability to be a good ODI player, you also need to have the grit to get through tough bowling conditions. Because of the different dimensions attached to ODI cricket, it's a very intense format and ODI hundreds are often a true reflection of the qualities of batsmanship.
While there have been many great ODI batsmen around the world over the years, some of them stood out in the sense that they took the world to take note of them even before they reached the age of 30. Here are the 5 batsmen who scored most ODI hundreds before the age of 30 –
1. Virat Kohli
When we talk about batsmanship, it's not surprising at all that Virat Kohli is topping many of the lists, considering how consistent he has been in all formats of the game for India, particularly in ODI cricket. Kohli made his ODI debut for India in 2008 against Sri Lanka when he was just 20 years of age and before celebrating his 30th birthday, Kohli already had 35 ODI hundreds to his name.
Kohli is now 32, and he has already added 8 more ODI Tons to his tally. With a total of 43 hundreds in 251 ODIs at the moment, Kohli has got the most ODI hundreds among all the active international cricketers at the moment. And if we talk about the batsmen of all time, he is second on the list, only behind Sachin Tendulkar.
2. Sachin Tendulkar
Sachin Tendulkar played his first One-Day International game for India when he was just 16 years of age. It was a game against Pakistan in 1989 and although Tendulkar scored a duck in that game, he piled on a total of 34 centuries before he was 30-year-old.
When Tendulkar retired from ODI cricket in 2012, he had got more ODI Tons to his name than anyone else in the history of the game, and he still holds that record to this date. The master blaster played 463 ODI games in his career and scored over 18000 runs at an average of a little over 44 with 49 centuries.
3. Chris Gayle
When we talk about Chris Gayle, we talk more about his heroics in T20 cricket, but he was very, very consistent in ODI and Test cricket as well in the initial stages of his career. The Caribbean southpaw played his first ODI against India in 1999 and before 2009 when he turned 30, he had gone past the three-figure mark 19 times in ODI cricket.
Chris Gayle, although, hasn't announced his retirement from international cricket officially yet, he doesn't turn up for West Indies any more and mostly plays league cricket around the world. The devastating left-handed opening batsman has played 301 ODIs for West Indies so far and has scored 10480 runs with 25 hundreds.
4. Sourav Ganguly
Sourav Ganguly, who is regarded as one of India's best white-ball opening batsmen, was also one of those players who flourished early in his ODI career. Ganguly made his ODI debut for India in 1992 at the age of 20 and although he got dropped from the team for a few years after that, he made a remarkable comeback around 1996 and went on to score 18 ODI hundreds before turning 30.
Ganguly's game declined a bit towards the end of his career, but he still finished with outstanding numbers in ODI cricket. In a total of 311 ODIs that Ganguly played, he scored 11363 runs for India with 22 hundreds and 72 half-centuries. The Kolkata left-hander also captained the Indian ODI team for a long time.
5. AB de Villiers
AB de Villiers was probably the most skillful ODI batsman of all time and although he still plays franchise cricket around the world, he announced premature retirement from international cricket at a time when he was not too far away from completing his 10000 runs in One Day International cricket.
De Villiers made his ODI debut for South Africa when he was 20-year-old. The first ODI that he played was against England in 2005. De Villiers, who started his career as an opening batsman, scored 16 ODI centuries before reaching the age of 30. At the time De Villiers announced his retirement from ODI cricket, he had 9577 ODI runs to his name in 228 games at an average of 53.50 with 25 centuries.