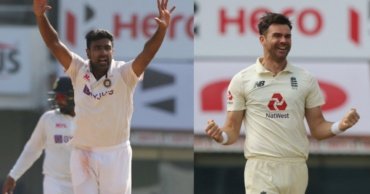 Ravichandran Ashwin who hails from Chennai has played 75 Tests so far in his Test career. He made his Test debut way back in 2011 against West Indies at the Arun Jaitley Stadium in Delhi. The 34-year-old off-spinner is close to 400 Test wickets and will become only the fourth Indian to cross 400 Test wickets once he does that.
One of the things which Ashwin does is he picks up five-wicket hauls. Some people say that a five-wicket haul for a bowler is like a century to a batsman which is a fair comparison and so picking up five-wicket-hauls is a great thing. There are many other bowlers around the world who have picked up a lot of five wicket-hauls in their Test career. So, let's have a look at the four bowlers who have picked up the most five wicket-hauls in Test cricket since R Ashwin's debut.
4. Nathan Lyon – 17
Australia's off-spinner who played his 100th Test last month and is stuck on 399 test wickets made his debut just a couple of months before R Ashwin. Nathan Lyon who is considered to be the greatest Australian off-spinner made his debut in August 2011, and he picked up a five-wicket haul on his debut.
Lyon has managed to take 18 five wicket-hauls in his career so far out of which 17 came since Ashwin's debut. He has taken a lot of five wicket-hauls against India in Australia and in India but in this recently concluded series, he couldn't manage to do the same. Having said that Lyon is a class bowler and he will come storming back in his next series.
3. James Anderson – 19
James Anderson at the age of 38 is uprooting the stumps of the Indian batsmen on a pitch that had nothing to offer for the pacers. The England pacer who has played more than 150 Test matches made his debut way back in 2003. Anderson is the most successful bowler as he has picked up the most number of wickets by any fast bowler.
He has the chance to go past Anil Kumble and become the third-highest wicket-taker in the history of Test cricket. Anderson has picked up 30 five wicket-hauls but 19 of those came after Ashwin's debut. This shows that he is getting better with age as he has taken the most number of wickets by any bowler after the age of 30. He is still pretty much fit and it seems as if he will keep taking wickets for at least a couple of years.
2. Rangana Herath – 28
Rangana Herath who made his debut way back in 1999 played his last Test in 2018 against England. The left-arm spinner has played 93 Tests and picked up 433 Test wickets at an average of 28.08 and a strike-rate of 60.03. In his initial years, he didn't get many opportunities because Muttiah Muralitharan was their lead spinner.
After Murali's retirement, Herath became their lead spinner and he picked up a lot of wickets. Herath has 34 five wicket-hauls to his name out of which 28 came since R Ashwin's debut. Herath was one of the finest left-arm spinners to have played Test cricket.
1. R Ashwin – 29
Ravichandran Ashwin took his 29th five-wicket-haul in the Second Test against England. R Ashwin has played 76 Tests and has picked up 391 Test wickets and he would be aiming to reach the milestone of 400 Test wickets.
Ashwin picked up a five-wicket haul in his debut Test and since then he hasn't looked back. People criticized him for his overseas performances but he showed his value in the recently concluded India-Australia series where he was dismissing their best batsman – Steve Smith. Ravichandran Ashwin still has a lot of cricket left in him and he can break a lot of records in his Test career.