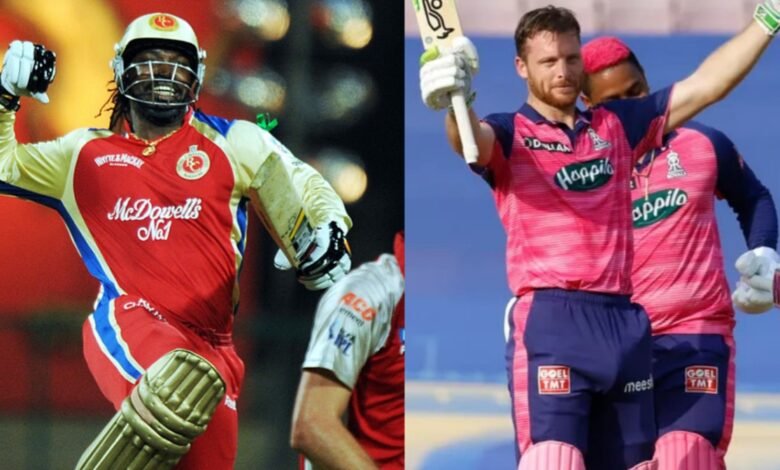 It is always a terrific achievement to score more than one century in a single IPL season. There are multiple factors due to which batters could find it hard to do well for a longer duration in an IPL campaign. Be it due to the opposition team finding out the tactics of the batter or the fatigue of a long season, many batters taper off. However, a few have avoided this. On that note, in this article, we take a look at the list of players who have scored multiple centuries in a single IPL season.
Multiple centuries in a single IPL season
Here is the list of players in IPL history who have scored more than one century in a single IPL campaign:
Virat Kohli – 4 (IPL 2016)

Chris Gayle – 2 (IPL 2011)

Hashim Amla – 2 (IPL 2017)

Shane Watson – 2 (IPL 2018)

Shikhar Dhawan – 2 (IPL 2020)

Jos Buttler – 2 (IPL 2022)*
Virat Kohli holds the record for scoring the most number of centuries in a single IPL season. It happened during 2016 when he made 973 runs. The player scored two centuries against Gujarat Lions, one each against Rising Pune Supergiant and Punjab Kings.
The rest of the batters have made two centuries in a single IPL campaign. Chris Gayle did it in IPL 2011, a few weeks after he went unsold in the auctions. In fact, he scored a hundred in the first game of his return, that too, against his old team Kolkata Knight Riders.
Hashim Amla surprised many when he scored two centuries for Punjab Kings. Shane Watson also belongs to this list and one of his hundreds came in the final. Shikhar Dhawan scored two centuries in IPL 2020 and both these knocks came within a span of three days. Jos Buttler is the latest entrant to this list. It is not even halfway through IPL 2022 and hence, he has a great chance to break the record this year.
A brilliant feat to score more than a single century in the same season
As mentioned earlier, consistency is a tough job for a cricketer in IPL. A century in the T20 format is a massive feat and doing it more than once takes a lot of skills and determination. That said, batters are only improving in this format and it may not be a surprise if we see more achieving it as the tournament progresses.