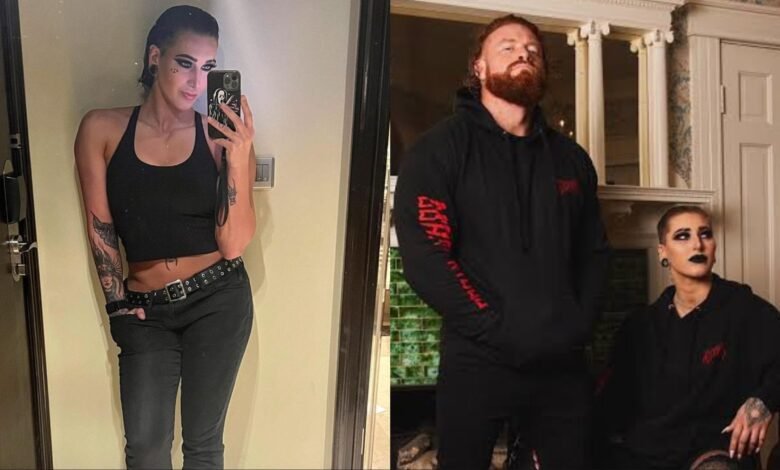 Rhea Ripley has been quite a substantial force in the arcade of wrestling and the kind of heavy artillery that he she has brought amongst others have been phenomenal to say the least. Things went berserk when she braved insurmountable challenges in the ring to become the Women's Royal Rumble winner on Sunday.
However, this is just one trait of her relentless domination and the kind of unparalleled legacy that she has stitched over the years in the women's circuit, Kofi Kingston even drew comparisons with Chyna. Despite her dominant personality, she also has an amazing romantic side that has seen share her in romantic interests over the years. Here is a list of a few romantic interests of Rhea Ripley.
#1 Independent wrestler Dimitri Jackson was the first for Rhea Ripley
New Mirror Pic of Rhea Ripley With Demetri ACTION Jackson at GYM! @RheaRipley_WWE 😍😘❤️ pic.twitter.com/PXwBPPaHXj

— ᗞᏆᏞᗴᗴᑭ ⅅK ᎫᎪᏆᏢᎪᏞ💙 (@DileepWWE) December 8, 2019
Rhea and Dimitri met at the gym and the duo kicked off instantly in 2019. Jackson holds a Master's degree in Sports and Exercise science and walked down the path of becoming a professional wrestler. During that stint, Ripley was already a buzzing WWE star. In an interview, Ripley said that she was trying to help her rookie boyfriend, however, the latter evidently wanted to succeed on his own. After a few years of dating, the duo decided to walk their separate paths.
#2 AEW star Buddy Matthews is currently dating Rhea Ripley
In 2018, when Buddy Matthews called off his engagement with Alexa Bliss, the former started dating one of the most terrifying personalities of the Women's roster, Rhea Ripley. After a few weeks of dating, the couple confirmed their relationship as Rhea posted a picture of them hugging with a black heart emoji. The duo still continues to date as Rhea keeps on proliferating in WWE while Buddy thrives with AEW.
#3 Damian Priest
Currently her squadron member at the Judgement Day, Damian Priest was also Rhea's love interest for a while according to rumours. Considering the fact that the duo were seen to be pretty close, there were hearsays fanning around that stated that Priest and Rhipley were together, But crushing them all, the news of Rhea dating Buddy came out and that was the end of discussion.
#4 Dominik Mysterio
You're the best! @RheaRipley_WWE https://t.co/4yfkFFiStY

— Dominik (@DomMysterio35) January 28, 2023
Amongst the wild rancour between the Mysterios and the Judgement Day, the latter kept on goading Dom to join their glistening ranks, post which he did walk the same path. However, one of the major reasons behind Dominik's entry into the team was Rhea Ripley.
In a recent chat with Hindustan Times, Ripley commented on Dominik and said: "Our chemistry kept growing and growing and growing, and that's what you see today. It was just meant to be."