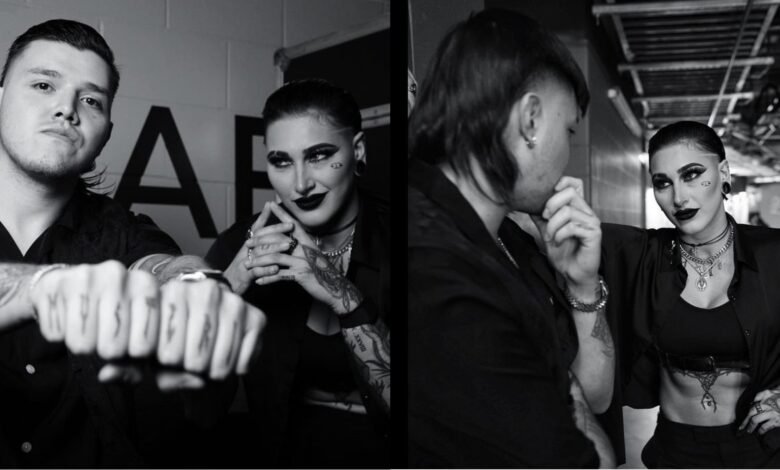 An interesting angle turning up heads these days on Monday Night RAW is the ongoing chemistry seen between Judgment Day faction member Rhea Ripley and the group's newest recruit Dominik Mysterio.
The son of Rey Mysterio shockingly betrayed his father and his tag team partner Edge right after their high-profile tag team match against other members of the destructive group, Finn Balor and Damien Priest, and pledged his allegiance to Judgment Day on the following edition of RAW in an attempt to break away from his father's shadow and begin the road to his own legacy under the dark tutelage of the Judgment Trio, after weeks of suffering torment and physical abuse at their hands.
What is happening between Rhea Ripley and Dominik Mysterio in WWE?
Family portrait #TheJudgmentDay style #WWERaw @FinnBalor @DomMysterio35 @RheaRipley_WWE @ArcherOfInfamy pic.twitter.com/04uuvyqfin

— WWE New Zealand (@WWENZ) September 21, 2022
Mysterio jr has established a completely new dark demeanor in the weeks following the shocking betrayal and has morphed into a completely new person. But one of the most appreciated angles highly appreciated among the Judgment Day stable is the brewing and growing professional relationship between Dominik and The Nightmare Rhea Ripley.
This newfound relationship between the duo has been compared to the immensely popular pairing of the two WWE Legends during the Attitude Era, Eddie Guerrero and Chyna drawing many similarities, especially in their black attires and Ripley addressing herself as Dominik's Papi. Papi is a colloquial term used for daddy in Spanish, whereas it can be also used as a general term of endearment like "buddy" or "my man".
He is clearly following every instruction and teaching fed by the former RAW Women's Champion on his quest to make his own identity. This has seen Dominik make a significant change in his appearance and adopt the demonic traits laid down upon him to live up to the faction's level of operation. Moreover, The Eradicator claimed that she saw huge potential in a boy and made him a man or in reality her own play toy.
What was even funnier and entertaining was that Dominik referred to his Australian mentor as 'Mami' during a strange backstage promo on this week's edition of RAW, gaining massive hilarious reactions from the WWE Universe.
Papi… Mami… Whatever you wanna call me Dom Dom ⚖️#TheJudgmentDay@DomMysterio35
📸 – @TheMattyCox pic.twitter.com/EmHQxZvUkk

— RheaRipley_WWE (@RheaRipley_WWE) September 20, 2022
This newfound odd partnership between Mysterio and Ripley has become one of the most exciting programs in recent memory on the flagship show leading many people to speculate whether they may be involved in a romantic angle as well right now or in the coming future due to the pair's massive ongoing popularity.
To be clear to the audience, the pairing of Dominik and Rhea is only in kayfabe, and part of the storyline produced by WWE Programming. Rhea Ripley, in real life, is currently involved in a steady relationship with former WWE Superstar Buddy Mathews, someone also previously close to a member of Rey Mysterio's family; his daughter Aaliyah back in 2021 being involved in a romantic storyline during his feud with The Master of the 619. Dom on the other hand has been dating his high school girlfriend Marie Juliette for the last 11 years and is high over heels in love with her.