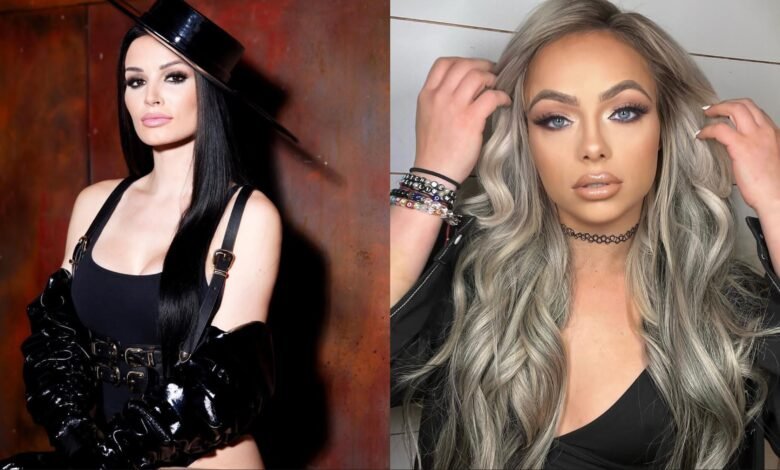 WWE goes crush at workplace: Workplace romance hasn't been a thing of today. It has always been doing the rounds since the beginning of time and has seen countless colleagues take the professional relationship a notch higher and turn it into something for life.
While a few have come close to making that for life part but due to some obligation or the other, they remained confined in the bounds of being just 'crushes' instead of being the full-blown lover that would always motivate you to go out of the line. While we talk about crushes, in the cruel world of WWE, we are always looking at new love stories being formed while these crushes that we are talking about is a thing that happens as frequent as a knock on the doors of a locker room.
Here are 7 WWE superstars who had crushes on fellow wrestlers:
#1 Paige had a crush on WWE Hall of Famer Stone Cold Steve Austin
See ya soon, who's tuning into @AEW tonight? pic.twitter.com/GHZnbSofNC

— SARAYA (@Saraya) February 1, 2023
Speaking on the Stone Cold Podcast, Paige committed on Stone Cold's face that she had a crush on her. She said, "I was obsessed with you. It was mostly your character – it was just so cool when I was growing up.
I was like, 'Man, this guy coming down on a quad bike, drinking beers, flipping people off.' I was like, 'This is madness!' I was, like, in love. I'm gonna embarrass myself. I was, like, in love with you. I was like, 'This guy is awesome!' Am I embarrassing myself?"
#2 Ruby Riott had crushes on 2 WWE legends
SCSA has been one of the perennially 'badass' wrestlers that has been produced by the company while Razor Ramon was a heel for eternity.
Talking about heels, Ruby Riott, a former member of the Riot Squad that wreaked a lot of havoc in the WWE roster confessed on her Youtube channel, stating that she had a crush on both Austin and Ramon.
#3 Roderick Strong admitted to having a crush on Holly Molly
Yeah, you read that right. Roderick Strong confessed on his Youtube channel that while he was a kid, he had a crush on Holly Molly.
Stating the reason, he said, "He had a really cool move, and so Victoria was looking for a new finisher and I showed it to her and when I showed it to her in the ring, Vince McMahon was ringside talking to some people… he saw her practice it on me and Vince McMahon went, 'Ohhhh, ohhhh,' and I thought, 'If we can get Vince to react that way, then we know it's a good one.'"
#4 Vanessa Borne had a crush on the Rock
Dwayne Johnson, more popularly known as the Rock has been a cult figure in terms of his presence with the company. He still makes his guest appearances and the list of his admirers is more than a book can hold.
Speaking on a YouTube Video, Vanessa Borne named the Rock as her crush. Her exact words were, "I said, 'That's awesome.' And then what went through my mind was just how cool and exciting it is. And then I thought, 'Wow, we've pretty much reached the pinnacle.' I'm not quite too sure where we go from here. I've done it all, this is it."
#5 Liv Morgan had a crush on former WWE champion John Cena
— LIV Morgan (@YaOnlyLivvOnce) February 2, 2023
The name itself sends ripples down the industry and every single time, John Cena makes an appearance, the entire WWE Universe goes berserk.
Liv Morgan openly admitted in having a crush on John Cena. She said on a Youtube video, "I had a huge, huge, huge, huge, huge, huge, huge crush on John Cena. I thought he was the coolest ever. He came out with his backwards hat, chain gang soldier. I was like, 'Me too, bro."
#6 The Miz had a crush on Sable
The Miz has already prove himself as one of the most seasoned warriors in the history of the ring. Irrespective of the laurels around his waist, his personality and his mic skills have placed him above several superstars of the current era.
Admitting his love for Sable, on the WWE.com, Miz said, "I thought she was absolutely breathtaking. I always loved blondes as a kid growing up, even to this day. That's probably why I married one (Maryse)."
#7 Becky Lynch had a crush on Jeff Hardy
The modern wrestling fans may not resonate with Jeff as much as the 90s fans would do but his personality and his in-ring antics would make any wrestling zealot instantly fall in love with younger sibling of the Hardy Brothers.
Becky Lynch has now proven to be a substantial force in the current Divas roster and confessed to having a love-interest at heart for the Rainbow Haired Warrior.