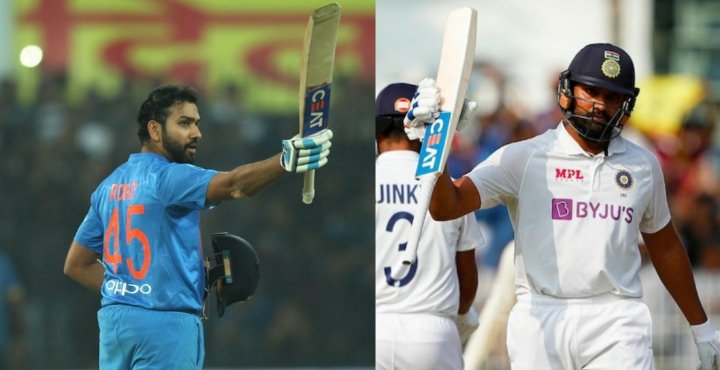 Rohit Sharma who is the vice-captain of the Indian team in the white-ball formats is a superstar in Indian cricket. He has managed to dominate the white-ball formats over the last 8-9 years and is slowly but steadily making it big in the Test format. The right-handed batsman who started as a middle-order player was asked to open in the 2013 Champions Trophy, and he became an instant hit.
He has scored three double centuries and a lot of centuries while opening the batting for India. But at the moment it seems as if Rohit Sharma is planning as to when to score these centuries. Sharma has scored a century whenever there has been a special occasion for his wife – Ritika Sajdeh. He has managed to give her a special gift whenever there has been a special occasion with a century. So, let's have a look at four instances when Rohit Sharma gave a special gift to Ritika.
4. 208* vs Sri Lanka – Wedding Anniversary
India had lost the first ODI of a three-match ODI series against Sri Lanka. It was a do-or-die game for India in the second ODI on 13th December 2017 which is also Rohit Sharma's wedding anniversary. India was put in to bat first and Rohit Sharma and Shikhar Dhawan got off to a great start.
Dhawan got out after scoring a fifty, but Rohit Sharma carried on as he went on to score his third double century in the ODI format. Rohit Sharma was unbeaten on 208 off just 153 balls with 13 fours and 12 sixes. India won the game by 141 runs and Rohit Sharma was the Man of the Match on his wedding anniversary which was a special gift for his wife.
3. 118 vs Sri Lanka – Ritika's birthday
Nine days after that special gift on their anniversary, Rohit Sharma gave another gift to his wife on her birthday. After the ODI series, it was time for the T20I series, and India was asked to bat first in the 2nd T20I at Indore. The Indian openers Rohit and KL Rahul were on fire from ball one as they started smashing the Sri Lankan bowlers.
Rohit Sharma scored a century in just 35 balls which is the joint-fastest T20I century. At one point it seemed as he could get a double hundred in a T20I game, but he was dismissed on 118 off just 43 balls with 12 fours and 10 sixes. As it turned out the Indian opener managed to give another gift to his wife, this time on the occasion of her birthday.
2. 115 vs South Africa – Valentine's Day Gift
This time it was a special occasion for all the couples as it was Valentine's Day. Rohit Sharma was struggling to score runs in the ODI series against South Africa but in the 5th ODI on 13th February Rohit was in a different mood. Rohit Sharma was the only Indian who crossed 50 in that innings as he went on to score a century.
The Indian vice-captain scored 115 off 126 balls with 11 fours and four sixes on 13th February 2018 which is just one day prior to Valentine's Day. Rohit Sharma continued the trend of giving gifts as he scored another century on a special occasion.
1. 161 vs England – Valentine's Day Gift
Three years later Rohit Sharma still continues the trend as he scored a magnificent 161 in the first innings of the second Test match against England on a difficult wicket to bat on. Once again, the date was 13th February and Hitman's wife Ritika was enjoying this special innings from the stands.
The ball was turning square, and it seemed as if the Indian opener was batting on a different pitch. He got out on 161 off 231 balls as India posted a score of 329 on the board. You can call it a coincidence, but Rohit Sharma is known for giving special gifts on special occasions to his wife as he did it the fourth time.