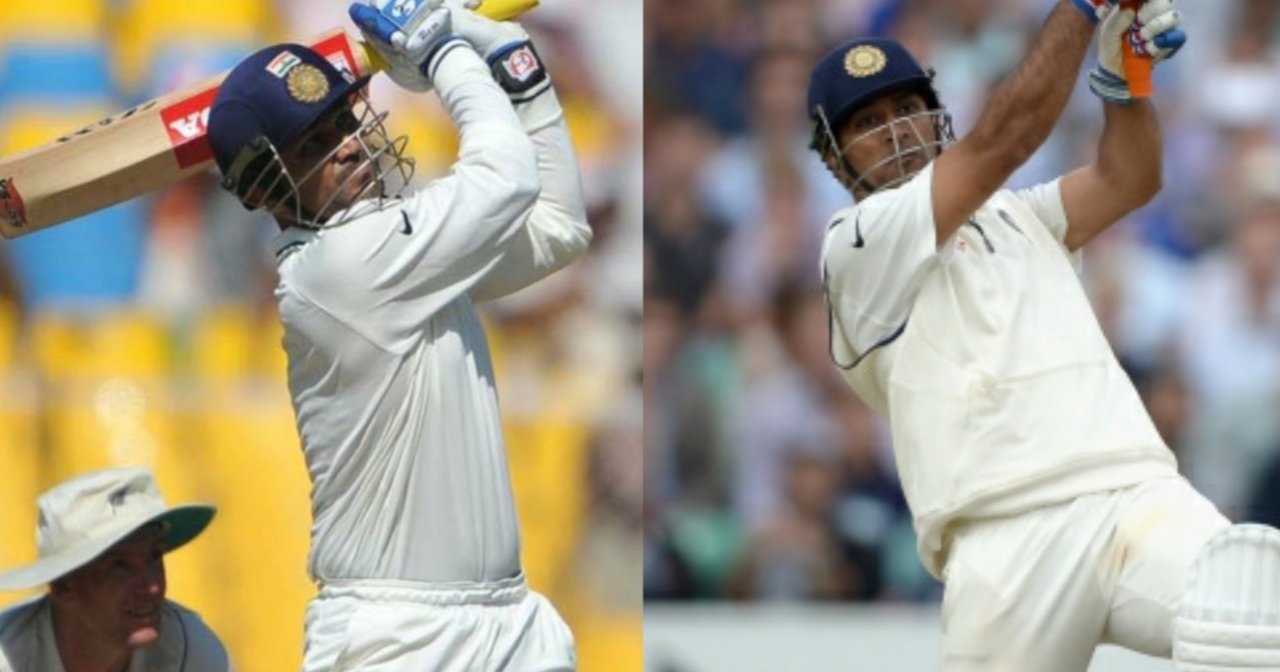 Test cricket batting is about patience and who you tire out the bowlers throughout the innings. Tradition players like Rahul Dravid, Sunil Gavaskar, Cheteshwar Pujara will talk about batting the whole day and staying at the crease. They will not even think of hitting the ball in the air unless there is a need for quick runs. Most times batsmen end up committing a mistake by looking to hit sixes in the longer format.
On the other hand, there will be players who won't defend as much as the traditional players do but might end up scoring somewhat similar to these players. They believe in boundary hitting and six-hitting even in the Test format. So, on that note, let's have a look at the five players with the most number of sixes for India in Test cricket.
5. Sourav Ganguly – 57 sixes
Sourav Ganguly who is also known as Dada was one of the finest left-handers to have played the game for India. He has scored more than 7000 runs in his Test career and was an integral part of the middle-order in the Indian test team. He led the Indian team in more than 40 Tests and was a successful captain.
Ganguly hit 57 sixes in his 113 match Test career. He loved to step out against the spinners and hit them out of the park when the opportunity was there. With 57 sixes, Dada is fifth on this special list.
4. Kapil Dev – 61 sixes
Kapil is one of the greatest all-rounders to have played the game and probably India's best all-rounder to have played Test cricket. He was a naturally attacking batsman and loved to deal in boundaries instead of ones and twos. He has hit 61 sixes in 131 Tests in an era where six-hitting was very rare.
He once famously hit four sixes in an over to avoid the follow-on. His batting strike-rate in Tests is 94.76 which was unimaginable in those days. The legendary Kapil Dev is fourth on the list with 61 sixes.
3. Sachin Tendulkar – 69 sixes
If you have played 200 test matches then you would have hit at least some sixes in your Test career. Sachin Tendulkar who is the world's leading run-scorers in Test cricket has hit only 69 sixes in 200 Tests. It is not that he wasn't capable of hitting more but he knew how to control his instincts in the longest format.
Tendulkar also liked charging the spinners and hitting them over their head. One more shot that resulted in six on many occasions is the uppercut which he used against the bouncer. If any other player would have played 200 Tests then probably would have hit more sixes than Tendulkar.
2. MS Dhoni – 78 sixes
MS Dhoni retired from Test cricket in 2014 but before that, he had a successful Test career which many people might not remember. He played some crucial knocks for the Indian team on various occasions. Dhoni smashed 78 sixes in 90 Test matches.
Dhoni is a natural ball striker and so whenever he got an opportunity, he would showcase his six-hitting ability in the longest format. With 78 sixes to his name, only one person is ahead of him on this list.
1. Virender Sehwag – 90 sixes
People say that Virender Sehwag changed the way batsmen played Test cricket. Whether it was an ODI or a Test, Sehwag batted the same way. He is the only Indian to hit two triple centuries in Test cricket.
He has hit 90 Maximums in 103 Test matches which is almost a six per game. Many batsmen can't even think of playing like Sehwag but he managed to dominate the bowlers in his own style. Whenever Sehwag was on song it was always a treat to watch and he tops this list with 90 sixes to his name.